Junior debater dominates opponents
By Miranda Cardenas, James Bowie High School
January 29, 2020
Nick Van Lente finds a passion in arguing about difficult issues and voicing his opinions
Scrambling to prepare cases, waking up at 5 a.m. and running down unfamiliar school halls frantically trying to find the right room for rounds are all in a typical Saturday for anyone apart of the Forensics team.
Junior Nick Van Lente, who competes as a debater, is no stranger to this familiar routine and has been devoting his Saturdays to these competitions for a couple of years now.
"I actually first got into debate because I had a freshman teacher, who after a Socratic seminar took me to the debate classroom and insisted I joined the team right away," Van Lente said. "I didn't fight it and I ended up falling in love so that worked out really well."
Van Lente competes in various events of debate such as congressional debate, extemporaneous speaking, and world schools which just goes to show there are many different options for competitors.
"Debate is a really open ended term for me because there's so many different forms and variations of it so that everyone can find something that they're passionate about," Van Lente said.
Having gone to the state of Texas Forensics tournament in Houston earlier this year, Van Lente was able to win not only a national ranking in the event of world schools, but also a global ranking  as well.
"I'm globally ranked number nine in the world for world schools debate with my teammates from this school and two students from Anderson High School, Which is kind of a  big deal," Van Lente said. "We all worked extremely hard and it was very surprising we're this highly ranked."
Aside from global rankings, Van Lente has also shown how much of a serious competitor he is by placing well in local tournaments.
"Last school year I took first place at a congressional debate tournament held at the state capital, and I've also places top-5 for congressional debate numerous times last season and this one," Van Lente said.
Apart of Van Lente's globally ranked world schools team is junior Katie Golson who shares his success and hopes of returning to state for a chance to place better than last season.
"It was fun and really cool and it was nice to win the place we did, but we're going to do it again this year at the state competition and hopefully get better than ninth," Golson said.
Receiving their first ranking as sophomores, the team of debaters had never had much practice in world schools before they ranked so well.
"Last year was the first year we ranked and we were sophomores, so coming in this year as juniors will add another year of practice and expertise to us that will hopefully be really helpful," Golson said.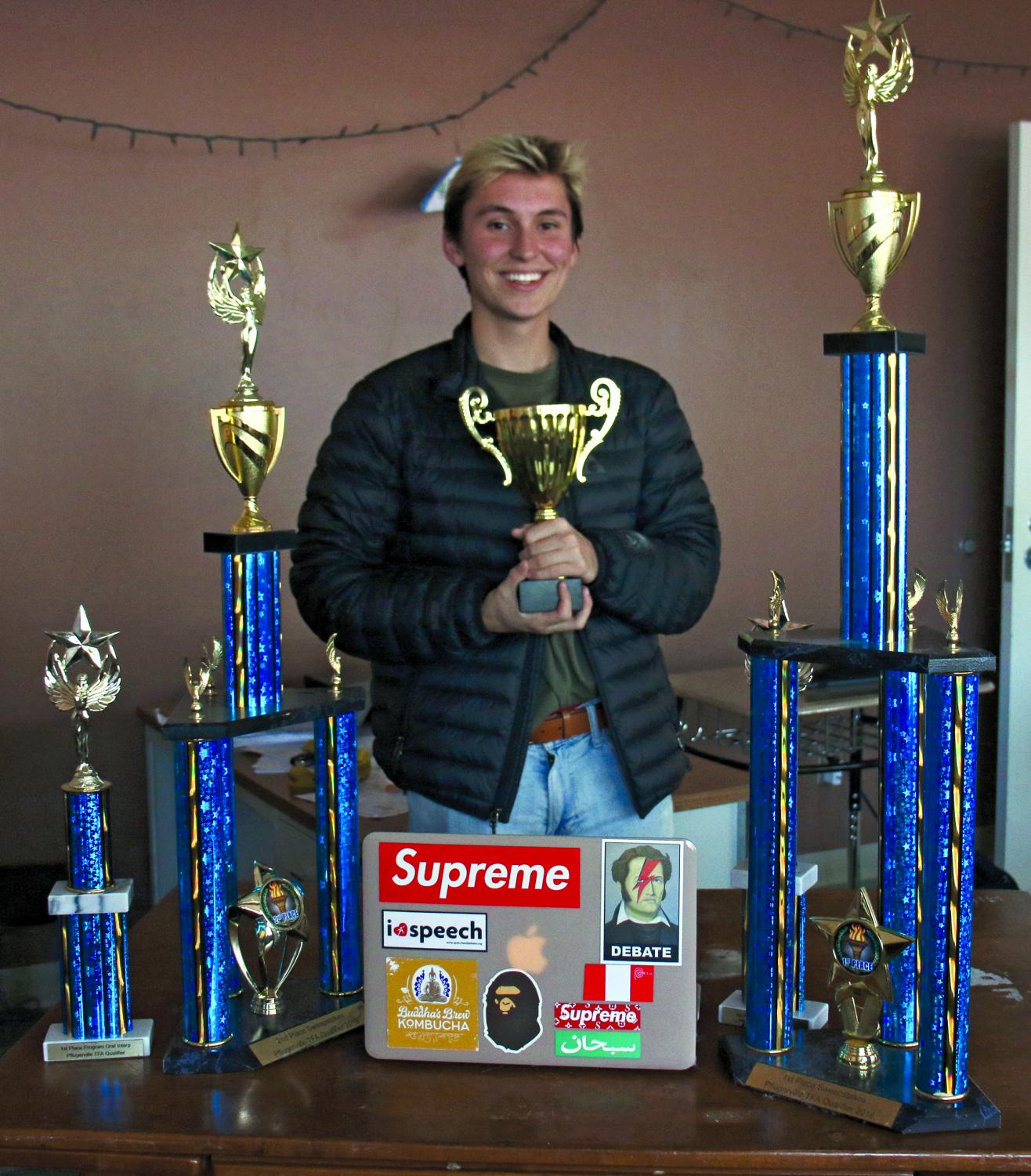 Spending hours with one another in class and at various tournaments, the team relies on teamwork and cooperation to accomplish their goals.
"Nick and I work really well together and so does the rest of our team so I'm very confident that we can place way better this year," Golson said. "One of my favorite things about debate is being apart of leadership with Nick because we're both officers so we have a lot of fun together."
Another person who supports and encourages Van Lente is his brother, freshman Luca Van Lente.
"Nick has some of the best work ethic I've ever seen, he's always working towards his goals and I really admire that," Luca said.
Preparing cases or memorizing speeches can look very different depending on the person, but Nick prefers to have actual feedback rather than just talking to a wall.
"Sometimes if he has a speech that he needs to practice then he'll present it to me even if I'm doing homework or texting I can always help him by being a practice audience or giving him my opinions on the issues if I know what he's talking about," Luca said.
Many cases in congressional debate require research for clearer understanding, and topics randomly drawn in extemporaneous speaking require outside knowledge to already be known So to some, debate can look like a daunting activity.
"I don't think I could ever do debate just because a lot of the topics talked about tend to just go above my head and you have to stay really on top of current events," Luca said. "Competing against my brother would be so intimidating to me especially since there's already that healthy sibling rivalry and I feel like when he beat me I wouldn't be able to live it down."
With parents needed to run the booster club, provide transportation to and from tournaments, or to say a quick pep talk  before a round, having that support can also be beneficial.
"Our whole family is super supportive of him as well, my parents are always asking what he's working on and we always cheer each other on no matter what regardless if we win or lose," Luca said.
Debate teacher John Mast works one-on-one with students everyday in class to ensure the best possible outcomes for his team.
"It's an interesting event that's fairly new that's designed to incorporate current events and real world experienced as opposed to factual jargon which is different than a lot of other events available," Mast said.
Mast has confidence in his team and continues working with them to encourage them to place better at the state tournament this year.
"They're one of the best teams in the country and globally ranked, and considering they had never done the event before," Mast said.
Nick encourages others to look into debate if they're interested because it helps with life skills that could be useful in the future.
"Put yourself out there,I think there are a lot of people who think debate kids are scary but truthfully, it's a pretty loving community," Nick said. "It's really important to put yourself out there, the purpose of a public speaking is to be more comfortable speaking around people because that's an important life skill and people really find their voice."
This story was originally published on The Dispatch on December 27, 2019.