BP Photo by Maia Lefferman
Politics meets streetwear as presidential candidate Andrew Yang comes to Fairfax
About 240 Yang supporters show up for meet-and-greet, merch drop and brief appearance by Childish Gambino
Waiting in line for a Supreme clothing drop on Fairfax Avenue Dec. 19, senior Ben-Tsion Oliel was surprised to see a commotion down the block. Then he saw cars approaching with "Yang" stickers pasted on.
"People were just going around painting the sidewalk, writing 'Yang' on the floor, giving out stickers, putting stickers up everywhere," said Ben, who buys and sells Supreme and other top-brand merchandise as a hobby.
It turned out that he was in the neighborhood where Andrew Yang, 2020 candidate for the Democratic presidential nomination, was greeting supporters and selling merchandise of his own — limited-edition hats, sweatshirts and posters with various Yang logos.
The campaign stop was at Tried And True Co., a vintage clothing store on Fairfax between Rosewood Avenue and Clinton Street, in the middle of one of the city's best known streetwear districts — which also happens to be right up the street from Shalhevet.
Mr. Yang, an entrepreneur who has never run for political office before, was in Los Angeles to attend the sixth Democratic debate, held later that day held at Loyola Marymount University.
Ben was waiting for the release of a Bandana Box Logo T-shirt and a few other items and had driven over during a free period after lunch.
"I found it somewhat obviously pretty cool for people to be going around like that, just spreading a presidential message…trying to get people to know their candidate," Ben said. "This is probably the only time where I saw such a presidential campaign taking place so up close."
Also on hand for the event was Donald Glover — better known as Childish Gambino — who had endorsed the candidate the day before. Mr. Glover stayed out of sight and at the back of the store for most of the time, but came out at one point to speak with Mr. Yang.
As supporters browsed the merchandise — or "merch" as streetwear is often called — Mr. Yang told reporters that his campaign has earned "multiple millions of dollars of merch sales." He also chatted with customers and signed some of their merchandise.
He talked about pilot tests of his flagship proposal, dubbed the "Freedom Dividend," which would provide every American over 18 with $1,000 a month — a "universal basic income" (UBI) — for as long as they lived.
"We've been giving $1,000 a month for families around the country for months now," Mr. Yang told reporters inside. "What I want people to take from this is that we can solve our own problems."
"We can rewrite the rules of the 21st-century economy to work for us. The fact is that politicians in D.C. succeed whether or not we the people succeed or fail, and it's going to be up to us to come together and provide a new way forward that actually provides for ourselves and families in a different way."
He said that was the theme of his campaign, and that his support was rising even as other candidates had dropped out of the race. Mr. Yang had already outlasted congressmen, senators and governors, and candidates Julián Castro, Cory Booker, Marianne Williamson, and John Delaney have all dropped out since the event.
"We are growing when other campaigns are shrinking, and we're gonna be there through the spring as the voting gets underway," said Mr. Yang.
The event was scheduled for noon, but some of the crowd had arrived at 6 a.m., waiting as they might for a drop of rare clothing from a popular manufacturer.
By the time the doors opened, about 240 stood in a line that began at Fairfax and Rosewood, then wrapped around the corner and reached halfway down Hayworth Avenue more than a block away.
Kai Watson, an energetic 19-year-old art student in Atlanta, runs a YouTube channel about the Yang campaign and traveled to Los Angeles for the events.
"We're just really excited," said Kai. "Yang Gang will travel forever, man, they'll be here… they want to see Andrew again.
"Whenever there's media as well we just want to show the Yang Gang's enthusiasm, because that's when we set ourselves apart from other candidates — is when we show how much enthusiasm we have, how much we're willing to travel and do what we need to do for Andrew," he said. "That's kind of the big message that we have."
The Tried & True Co. storefront had been completely revamped. Among the merchandise were 10 blue sweatshirts signed by Mr. Yang and Mr. Glover, priced at $1,000 each.
There were also $40 hats embossed with the candidate's signature acronym, MATH —"Make America Think Harder"; $50 limited-edition hats saying "$1K," referring to the universal basic income; — and $25 limited-edition posters.
Mr. Yang told reporters that along with the dollars, the sales provided name-recognition benefits for the campaign.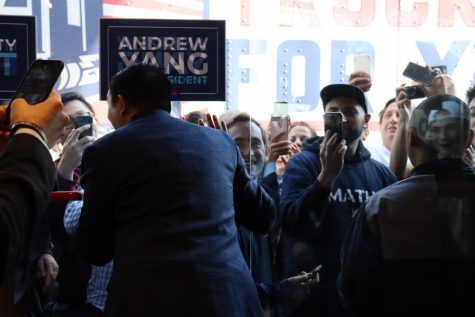 "Plus, someone's walking around wearing it," Mr. Yang said, "and then someone says, 'What the heck does that mean?' And then they get a conversation going, and that's how the campaign grows."
"Is it okay if I go say hi to the line outside?" Mr. Yang asked Zach Graumann, his campaign manager.
"Uh, no, but you can wave," Mr. Graumann responded. "You're never gonna get back!"
So Mr. Yang walked up to the window and waved to supporters who huddled together pressed against the window. They replied by immediately chanting and cheering.
Meanwhile, parked outside the store was a 53-foot 18-wheeler announcing Yang's presence to passersby. Driven by Fred Ramey of Maricopa, Ariz., it was painted in red, white and blue and proclaimed "Truckers for Yang," along with "Freedom Dividend" and other Yang policies.
Mr. Ramey is a self-proclaimed former "staunch Republican" who voted for Trump in 2016 but now supports Mr. Yang and founded Truckers for Yang, whose goal is to put 16 semis on the road to essentially act as mobile billboards around the country.
In March of 2019, Mr. Yang rode along with Mr. Ramey in his truck for a few hours and spoke with him about economic issues and self-driving trucks. Mr. Ramey had initially dismissed Mr. Yang as a socialist, but later became a supporter.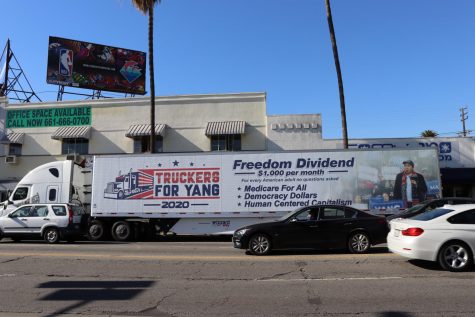 Truckers for Yang, though not officially connected with the campaign, has raised almost $55,000 so far, according to its ActBlue donation page.
Emilio Medina, a 27-year-old volunteer from Minnesota who considers himself the hype man at Yang events, could be seen running up and down the line of waiting buyers yelling chants like "when I say 'Cali', you say 'Vote Yang!'" and "when I say 'President,' you say 'Yang!'"
"I truly believe in Andrew," said Mr. Medina. "I heard him speak, I got to meet him. That's one of the coolest things about Andrew, is everyone he meets, he's just super genuine."
Cody Como, co-host of a pro-Yang YouTube radio program, had arrived at 8 a.m.
He had heard about the event on Twitter, and knew the Yang campaign had been teasing a couple of celebrity endorsements. He thought the Glover endorsement would help the campaign.
"I mean, Hillary had a lot of celebrities endorse her," said Cody, "but at the same time for someone like Andrew Yang trying to get name recognition, I can't imagine a better way to do it."
Another of Mr. Yang's policy ideas is to establish data as a property right, letting people decide how their information is used and charge companies to use it. That got him the support of a man who gave his name only as "D.C."
"People don't even know that their information is being taken out from under them and used for other people's profit motives," said D.C., who lives in Atwater Village. "So I want to own my information and I'd like to see a little coming back towards me."
An anti-Yang person was also at the event — Chad Brown, representing American Descendants of Slavery, which he said reflects "an ethnic designation that re-centers the identity of black Americans properly around lineage versus melanin content or some kind of amorphous black designation."
Mr. Brown said African-Americans are tired of being "political mules" for others and that Mr. Yang would not provide economic justice for his community if elected.
"I'm in support of a black agenda, period; I will vote for a black agenda period," Mr. Brown said. "So if he comes out unequivocally for a black agenda and reparations, I will support him."
According to RealClearPolitics' (RCP) average of the last six polls from Jan. 21 to Jan. 29, Mr. Yang currently has 4.7 percent support nationally, though he's been at 5, 6 and 8 percent in recent polls. He has an RCP average of 3.8 percent support in Iowa and 4 percent in New Hampshire, which hold presidential primaries on Feb. 3 and Feb. 11, respectively. He received 10 percent support in a poll out of New Mexico, one of the last states to hold primary elections.
According to the website FiveThirtyEight.com, Mr. Yang's strongest support is among voters under 45, especially those 18-29. An Iowa youth straw poll completed Jan. 28 of students and youth groups across the state reflects that support, with Mr. Yang coming in first with 22.8 percent of the vote followed by Bernie Sanders with 20.3 percent support.
He raised $16.5 million in the fourth quarter of 2019, a 66 percent jump from the quarter before, putting him in fifth place behind Sen. Elizabeth Warren.
Mr. Yang's fundraising has also been improving. He raised $16.5 million in the fourth quarter of 2019, a 66 percent jump from the quarter before, putting him in fifth place behind Sen. Elizabeth Warren, and then $6.7 million this month alone — including $1.2 million on Jan. 31.
He was excluded from the Democratic debate Jan. 14 after reaching 5 percent support in only two of the four polls required for him to qualify by the deadline. He complained that the low number of polls released during the qualifying period did not reflect his actual support.
And even though he did not participate that night, Mr. Yang was the fourth-most tweeted about candidate during the debate, right after Sen. Warren.
After tweeting that the January debate would be the last one he'd miss, Mr. Yang qualified for the upcoming February debate in a wave of polls released last weekend.
In addition to funding, the Yang campaign also has celebrities behind him. Aside from Mr. Glover, the Yang Gang now includes comedian Dave Chapelle, actors Teri Hatcher and Ken Jeong, director James Gunn, and Tesla and SpaceX CEO Elon Musk.
They may not seem like a "gang," but it's a convenient rhyme for the name of the entrepreneur who's never run for office before — and perhaps an accurate description of the scene at events like last month's.
Ben-Tsion Oliel said the people he saw giving out Yang stickers and painting the sidewalk "did seem to me like they were part of a team or like a gang."
But he stayed in line for his Bandana Box t-shirt and other items didn't join them.
"Honestly I wish I knew about it before, and I wish I did go and see what was going on," Ben said later. "I just thought people were just coming out just to kind of make noise."
This story was originally published on The Boiling Point on January 31, 2020.