Students Weigh-in on Trump's Impeachment
By Yoav Pinhasi, Beachwood High School
February 12, 2020
On Dec. 18, 2019, President Donald J. Trump joined the likes of Andrew Johnson and Bill Clinton when the House of Representatives voted to impeach him on counts of abuse of power and obstruction of Congress.
Trump was accused of making military aid to Ukraine contingent on their investigations of both an outlandish conspiracy theory and an energy company where a son of presidential contender Joe Biden served, then pressuring witnesses to disobey Congressional subpoenas.
Less than a year following the release of the Mueller Report, which effectively ended the Russia inquiry, Democrats once again urged Nancy Pelosi to start impeachment hearings this fall—this time successfully.
With considerations like justice and partisanship, executive authority, and Election Day come November all in the balance, there's no question this is a historic moment in American political culture. 
And while issues such as this often seem bigger than us, too far away to matter, or plainly out of our hands, it is worthwhile to reflect on our own ideologies to understand how they shape us and our community.
In an anonymous survey emailed to the BHS student body, 53.9% of those who responded indicated they "Strongly agree" with the impeachment, while 19.1% strongly disagreed. Fewer than 4% were "Undecided and/or unsure". 65.2% of responders further expressed approval or strong approval for the removal of Trump from office in a potential Senate vote.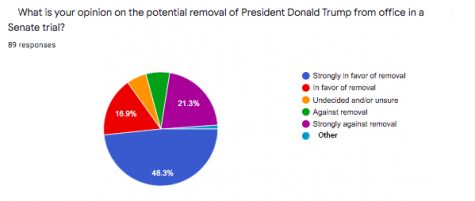 89 students responded to the survey, 16% of the 555 students currently enrolled at BHS. Asked where they heard discussion of the impeachment, nearly all students mentioned "Outside sources (news, television, radio, newspapers, magazines, books, social media, online, advertisements)", while only three out of every four selected "School" and even fewer included "Home". However, "Home" was the most frequently mentioned location (selected by 82%) for students to engage in discussion of the impeachment. 
It is important to note that the survey may be somewhat unbalanced because a large majority of students did not respond—and its voluntary nature statistically favors the strongly-opinionated—but it certainly gives insight into Beachwood's political scene nonetheless.
For instance, 51.7% of students considered themselves Democrats, 11.2% Independents, and 19.1% Republicans, with 6.7% remaining undecided. A further 11.2% specified political subgroups ranging from far-left to moderate to far-right. Even with a large margin of error, the results appear to indicate a significant leftward lean in the student body. 
In addition to the survey, students were also invited to provide written commentary and attend a focus group. In both, many tended to agree that the impeachment was necessary.
"[It was] definitely the right thing to do for both the nation and the world," yet one which "polarized preexisting political divisions".
 "[The process] has shifted the government away from helping people as [politicians] are all so fixated on impeachment," one student noted.
"The Democrats were looking for any little thing to impeach Trump on, but I also don't believe this was any little thing," remarked one student during the focus group.
"As people begin to see that change in the executive branch is possible, they have more hope for a better political future," another student commented.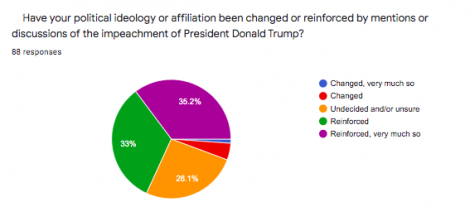 Others opposed these views. 
"The saddest part of all of this is that most Liberals in our school have zero clue about how politics work and won't accept the fact that Donald Trump is by far our best president since Reagan", wrote a right-leaning responder. In the words of another, "It's been a complete farce and the Democrats have corrupted the impeachment process."
Contentious in both the survey and focus group and was the issue of political tolerance. Exemplifying that discussion was the singular response from a student who, in the survey, expressed interest in attending the focus group but was afraid to because "most teachers are liberal and most of my peers are too, so I don't want to go", further citing the concern of "peer pressure because they will say something mean to me". 
In the coming weeks, months, and years, fires left raging in the wake of Trump's impeachment are sure to permanently scar the whole of America, and even local discussions here in BHS seem unlikely to subside. Differences in ideology are widely debated in the school environment, and will remain so for the foreseeable future, if the survey is any indication.
For now, however, all eyes are now on the Senate, which is presently holding a trial to determine whether to remove Trump from office. Despite bitter, partisan, and increasingly personal debates on the matter seizing national attention, it seems more than likely the Republican majority will ultimately acquit Trump, who will then finish his first term in office.
This story was originally published on The Beachcomber on January 25, 2020.