Not da Vinci but Devine: Taking On the Career He Once Dreamed of as a Child
By Dakota Canzano, La Salle Catholic Preparatory High School
February 13, 2020
For the students at La Salle who know Mr. Brian Devine, they know him as the Vice Principal of Student Life. But, that's not the only title that he holds.
He is also an artist.
"I've been an artist my whole life," Mr. Devine said.
When Mr. Devine was younger, he took art classes in grade school and all throughout high school.
In grade school, Mr. Devine had an art teacher that went beyond just making traditional art projects.
"I had a really amazing art teacher when I was in grade school, which is a time that you don't really think about creating art," he said. "A lot of times in grade school you're making Christmas cards for your parents or making ornaments for Christmas, but we had an art teacher… that really took art seriously and she worked with me to give me feedback and to help me learn how to be an artist."
At a young age, Mr. Devine valued her encouragement. It was an important milestone for him to receive such vital advice to pursue art.
Mr. Devine even considered majoring in art at a time in his life.
However, when it came time to decide on a major, Mr. Devine felt discouraged from following the career path of becoming an artist, "mainly because there was a sense then and probably still is a little bit of a sense today that it's not very lucrative to pursue a career in art [and] that it's hard," Mr. Devine said.
After deciding that art was a difficult career path to take, Mr. Devine chose English as a major. He set art aside and took on the role of coaching track and cross country.
About three years ago, Mr. Devine decided to grab his paint palette and jump back into his passion for art.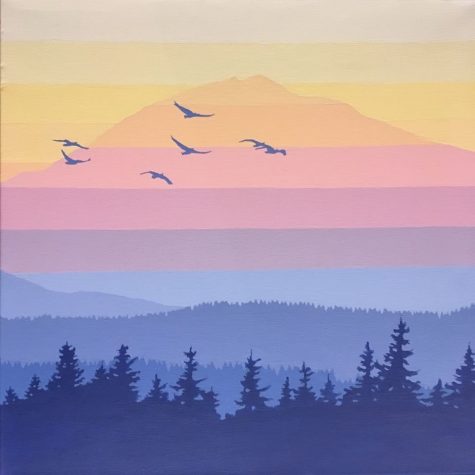 "I just decided that I was missing it, and I felt like I had sort of this untapped potential," Mr. Devine said. He felt that he had a talent that he could grasp but he wasn't truly exploring it.
Mr. Devine has a daughter who is eight years old and loves to draw. When she was four or five, they spent a lot of time together drawing and painting.
"I was really trying to encourage her as a young artist," Mr. Devine said. "When kids are little, they have all the potential in the world, and so you're always trying to foster their talents and foster their interests."
Although Mr. Devine was trying to inspire and encourage his daughter to follow her dreams, he felt that he was not modeling these words in his own life.
"I think when you're a younger artist, there's a lot more opportunities for your artwork to be shown," Mr. Devine said. "Ms. Cha does an amazing job with our students in terms of getting their artwork out into the world… and I think, as an adult, you really have to seek out those opportunities."
Ms. Cha has even invited Mr. Devine to present in her art classes and has pushed him along the way to continue painting.
Mr. Devine needed someone to nudge him. He needed encouragement to pursue what he has a strong passion for, so he began talking with his wife about how he needs to create space in his life to be creative. He recognized that he has a job, a family, and a wonderful life to live, but he felt that the opportunity to share his passions and talents was missing.
When Mr. Devine attended school at the College of William and Mary in Virginia, he drew political cartoons and illustrations for a local newspaper called, "The Flat Hat."
People that worked with Mr. Devine for days on end at the local newspaper in Virginia ended up pursuing a variety of careers. These include a bestselling children's book author for the New York Times, and Hollywood screenwriters for the "Avengers" and "X-men" films.
Mr. Devine acknowledged that his previous co-workers were off living their dreams, and he came to the realization that he wanted to put his painting apron back on and get back to business with his art.
He specifically reminded himself not to "forget about [the] dream you had when you were younger."
So, Mr. Devine eventually started painting again in his unfinished basement using samples of leftover house paint.
Mr. Devine was specifically inspired by the old Works Progress Administration National Parks posters. He admired the style of the posters by how simplistic they were and the limited color palette they used.
He then started crafting his own graphic landscape paintings that were inspired by the WPA posters, such as the St. Johns Bridge and Mt. Hood.
"Initially I was just doing it for myself," Mr. Devine said. "But then, I decided with the encouragement of my wife, [that I] should try and share some of these paintings."
At first, Mr. Devine strayed away from painting graphic landscapes, but he eventually grew to enjoy them. In his recent paintings, Mr. Devine has incorporated figures into the landscapes. He usually incorporates tones of blue and green to represent the Pacific Northwest.
Mr. Devine admits that he was feeling nervous and uncertain at times when he was about to submit his work. He feels that he had previously limited himself from reaching his fullest potential.
With the spark of encouragement from his wife that inspired him to reach out to coffee shops, he was able to share and promote his artwork, through his website "CellarSkyStudio." His wife pushed him to not only be an artist in Portland, but to expand nationally.
Mr. Devine has had two paintings that were commissioned. One of his commissioned paintings was for his friend's wife and happened to be his biggest painting yet. It measured as a 3-foot-by-3-foot painting of a person looking out at the Columbia Gorge.
Mr. Devine now has 15 different paintings, which have been printed and are currently being sold at a shop called Tender Loving Empire. Mr. Devine's prints sold at Tender Loving Empire are carried at all five of their locations.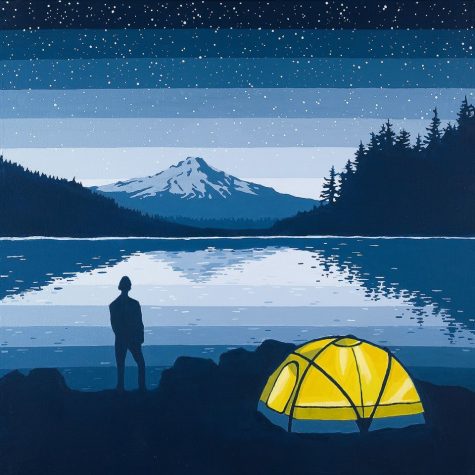 With Mr. Devine's prints being all over Oregon in coffee shops, local stores, and online, he said that the process has been a "whirlwind." When Mr. Devine first picked up a bucket of house paint and grabbed a paintbrush, he didn't expect to end up where he is now.
Mr. Devine has participated in several art shows in Portland and has had the opportunity to sell 100 pieces of his artwork. People all over Oregon, as well as throughout the country, have Mr. Devine's prints hung in their living rooms.
Mr. Devine feels content with the responses he has received. A lot of his feedback has complimented the connection that the audience feels with the artist.
With Mr. Devine making a comeback with his art career, he has high hopes for the future. He is determined to expand his horizons outside of Portland as an artist and join the San Francisco and Seattle art markets.
Mr. Devine recommends young artists to "take advantage of the opportunities you have to get your artwork out there and be willing to share it, because the feedback you get and the affirmation that you get is really valuable."
"People can make great careers out of website design and doing digital art and illustration," he said. "Those [careers] didn't feel like very accessible careers to me [when] I was younger."
If given the opportunity, Mr. Devine would go back and tell his younger self to "follow his heart" and to "not let people distract you from your dream."
"I think if I had to go back to when I was younger… I would [not] lose sight of that dream of being an artist and recognize that it can be something that you could make a career out of."
Correction: February 13, 2020
An earlier version of this story misstated the name of a local newspaper in Virginia and the correct college town he lived in.
This story was originally published on The La Salle Falconer on February 12, 2020.