Demonstrators call for impeachment on street corners around Bay Area on the eve of historic impeachment vote
By Kathy Fang, The Harker Upper School
February 20, 2020
On the eve of a historic House vote on two articles of impeachment, activists voice their support for impeachment at demonstrations around the Bay Area, joining over 600 rallies and protests nationwide organized by the advocacy group MoveOn.
The rallies and demonstrations took place across the nation, in various public areas and congressional offices, at 5:30 in each rally's local time, featuring speakers, protest signs and protest chants.
After a months-long process, the House is expected to vote tomorrow on two articles of impeachment, abuse of power and obstruction of justice.
Protestors dotted street corners and public squares across the Bay Area, bearing signs that read "Nobody is above the law" or "Impeach the president" and chanting slogans in support of impeachment.
On the intersection of Stevens Creek Boulevard and De Anza Boulevard in Cupertino, protestors gathered with light-up signs and waved at cars trickling by at the height of traffic hour.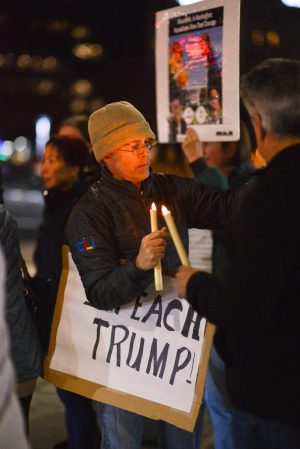 For Kirk Sanders, an engineer from West San Jose, participation in protests like these offer a chance to use his voice to leave an impact on the course of national politics. When he heard about the MoveOn initiative from his wife and Rachel Maddow, among a number of other sources, he decided to join other protestors in the streets, bearing an electric candle and handmade sign that read "Impeach Trump!"
"It's frustrating as an individual. You feel like you can't do anything. Well, this is one of the things you can do other than vote, and so here I am trying to do what I can," Sanders said.
Others hope to raise awareness among voters and citizens. A Stanford freshman who asked to be identified as OJH heard about the rallies via Twitter, and having recently taken a political science elective course, he decided to take action and join his first demonstration.
"I want to try making, hopefully, a statement, for all these young people who come out," he said. "Younger generations should also participate instead of just being home and watching TV. Let's make a statement."
Many also voiced their concern for the upcoming 2020 elections, citing past investigations into the integrity of the 2016 elections.
"Now is the time to be doing this because our election is coming up, we are running right up against it, and he's messing with them. And so we have to say something," said Crystal Carroll, a technical writer from San Jose who also demonstrated on the corner of Stevens Creek Boulevard and De Anza Boulevard.
Carroll's friend and fellow demonstrator, Rachel Fox, agreed, emphasizing the importance of speaking up during a historic moment in American history.
"This is something that we're going to look back on and we're going to want to think about what we did to stop what is going on in the White House," Fox, who lives in Sunnyvale, said. "We need to be out here, we need to be saying something, we need to be having discussions and talking and being prominent."
This story was originally published on Harker Aquila on December 17, 2019.