The Political Case for Amy Klobuchar
By Kelsey Marx, Lake Forest High School
February 20, 2020
With New Hampshire behind us and Illinois' own primary coming up next month, the process of selecting a Democratic presidential candidate is well underway. This cycle brings the broadest, and arguably the most experienced, batch of candidates yet. Virtually every candidate offers a vast set of qualifications for the job of president itself, and each has a capacity to serve in the Oval Office far exceeding that of the current occupant.
So beyond this bountifully fulfilled basic standard of competence, what else are we looking for? The consensus is in: one who inspires and one who can win. Come Nov. 3, these factors will determine not only how Americans will mark their ballots, but also whether they will show up to the polls at all. From a political perspective, one candidate is uniquely equipped to win big in the upcoming presidential election: U.S. Senator Amy Klobuchar.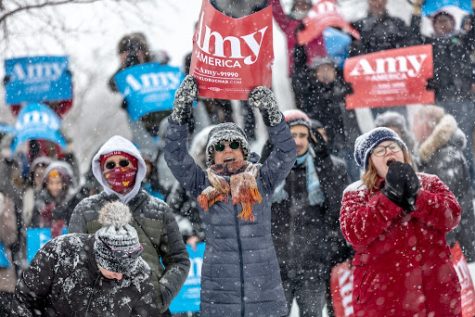 Klobuchar, who has served as a senator from Minnesota since 2007, recently emerged as the underdog after an unexpectedly high third-place finish in New Hampshire. But to those who know her, Klobuchar's success hardly comes as a surprise. The folksy midwestern senator who famously kicked off her candidacy in a blizzard has a track record of bipartisanship and a "progressive but practical" policy agenda. Having won 1,250 Minnesota precincts that voted for Trump in the last election, Klobuchar proves a perfect match for Americans looking to escape the hyper-partisan climate exacerbated by the current presidency.
But perhaps most importantly, Klobuchar appeals to key demographics that will make or break the election for Democrats. Obama-Trump voters, religious voters, and older voters are essential to a blue electoral map in 2020. Disaffected Biden supporters are also a growing faction of the electorate. Conservative fearmongering has created millions of socialism-fearing voters.
Amy Klobuchar wins with all of them.
Obama-Trump Voters
---
Obama-Trump voters—those who voted Democratic in 2012 and Republican in 2016—are emphasized by pundits as crucial demographic for Democrats this election cycle. They constituted a number of Trump's supporters in 2016, and they don't necessarily associate with either party. Instead focusing on a candidate's personal merits, Obama-Trump voters notably found appeal in Trump's anti-elitist demeanor.
Was he a celebreous multi-billionaire? Yes—but in the context of the 2016 election, his unhinged, unfiltered takes and spontaneous tweets riddled with spelling errors proved antithetical to Hillary Clinton's guarded, pedantic presence and extensive resume in Washington. Obama-Trump voters suggest that many Americans want someone who feels like "one of them" in the White House.
Democrats must consider this to avoid the shortcomings of 2016. How does the current field measure up? The leftmost wing of the Party seems to have found the magic "one of us" appeal in Bernie Sanders (more on him later). But among the top moderate candidates vying for the nomination, there's a clear winner in this category.
Last spring, Pete Buttigieg sent the mainstream media into a "Mayor Pete" news frenzy when he emerged as somewhat of a political wunderkind. The novelty of a Rhodes Scholar and Harvard graduate who speaks eight languages, worked at one of the most elite consulting firms in the nation, and became a mayor by the age of 29 is impressive — but it evokes the same objective-strengths-turned-weaknesses of candidate Hillary Clinton. Needless to say, Buttigieg has had a hard time aligning with more populist voters in light of his extraordinary achievements.
Bernie Sanders supporters (and possible Russian bots) on Twitter have already trended hashtags like "Mayor Cheat," spreading conspiracy theories that Buttigieg has an "in" with the Democratic National Committee and somehow engineered the infamous app used in the Iowa caucuses to his advantage. Sound familiar? It was exactly these types of theories — really without regard to their accuracy — that  hindered Hillary Clinton and made Donald Trump so appealing to anti-establishment voters in 2016.
After Buttigieg, Amy Klobuchar currently has the second highest delegate count among the moderate candidates. Unlike Buttigieg, Klobuchar has for years branded herself as "the senator next door," to the point where she made exactly that the title of her autobiography. Her campaign has successfully maintained and continued this message to her advantage, selling branded ice scrapers to fundraise and recently selling out of tea towels with Amy's hotdish recipe.
Klobuchar's stump speech proudly highlights her humble beginnings with parents who worked as "a schoolteacher and newspaperman," a grandfather working as a "miner in the Iron Range," and the fact that she "didn't grow up with money." It's going to be a lot harder to dub that as elitist. Klobuchar's resume in Washington is limited only to "senator" which, not coincidentally, is exactly the same degree of D.C. experience held by Barack Obama when he won over these prized Obama-Trump(-Klobuchar?) voters.
Religious Voters
---
Religious voters pose another key demographic in 2020. Some practicing Christians are dissatisfied with the current president's political and personal conduct. The prominent Christian magazine Christianity Today shocked the nation in December when they published and stood by an editorial entitled "Trump Should Be Removed From Office." And they're not alone—a number of religiously affiliated Americans have expressed a reluctance to support President Trump and are looking to the Democrats for a more righteous candidate in 2020.
Bernie Sanders, who is non-practicing and ethnically Jewish, might have a hard time winning religious, Christian voters in this situation.
Pete Buttigieg, who was raised Catholic and continues to be a practicing Christian, has often touted his religious beliefs throughout his campaign. Faith is clearly a major value to him, but the reality remains that many religious voters will invalidate his beliefs because he is married to a man. A video of an Iowan caucus-goer went viral this month in which the voter finds out that Buttigieg is gay, is appalled, and asks to retract her vote. She doesn't speak for every Christian, and support for gay marriage is at an all time high in our country. It doesn't mean he (or Sanders, for that matter) can't win a national election. Nonetheless, the reality remains that the demographic in question is Christian voters who are specifically concerned with the current president's unrighteous conduct. These voters are significantly less inclined than the general electorate to look past Buttigieg's sexuality and especially unlikely to accept his claim of faith because of it.
It seems that Amy Klobuchar, hailing from the same religious domination as Barack Obama, is the best bet for Democrats to win over this demographic. But beyond the anecdotal evidence and speculations, the numbers are undeniably on Klobuchar's side. New Hampshire exit polls confirm that Amy Klobuchar not only wins among voters who attend religious services on a weekly basis, but beats Pete Buttigieg—the second place pick for this demographic—by 10 entire percentage points.
Older Voters
---
Also according to exit polls from last week's New Hampshire primary, Amy Klobuchar actually won the election among voters aged 45+ in spite of the state's proximity to Bernie Sanders' home state. Among voters aged 65+, Klobuchar beat Sanders by 18 percentage points. She beat Buttigieg by eight percentage points in the same category. Voters 65+ comprised a quarter of the New Hampshire electorate, and voters 45+ were a whopping 63%. Amy Klobuchar won both.
What can we conclude nationally from old people in New Hampshire? Turnout among these age groups in last week's primary is almost identical to their national turnout rate. Even with record youth turnout in 2018, voters aged 45-64 and 65+ respectively showed up to the polls at rates 23.9 and 30.5 percentage points higher than voters aged 18-29. Voters aged 65+ alone, which Klobuchar won with by an even higher margin in New Hampshire, are expected to constitute a quarter of the 2020 electorate. Old people vote like crazy. A win for the White House is absolutely contingent on their support. As confirmed by Klobuchar's 18-point lead over Sanders among voters aged 65+, this group is far less inclined to support the more radical policies proposed by the self-proclaimed democratic socialist. Not surprisingly, older voters also tend to value age and experience, categories which are arguably both weaknesses for Buttigieg. As voters in New Hampshire have affirmed, Klobuchar — whose age (59) is nearly dead center between Buttigieg (38) and Sanders (78) — provides the golden balance between these traits.
Disaffected Joe Biden Supporters
---
On a similar note, an underwhelming performance by Joe Biden in both of the early states suggests that his campaign is losing traction. While he is expected to bounce back to some extent in upcoming states like South Carolina and Nevada, it's hard to see his candidacy returning to its frontrunner status after placing fifth in the last primary. If and when Biden ultimately drops out, to whom will his supporters turn? To find out, we must examine the principal appeals of Biden and the factors that drew in these supporters initially.
For one thing, Biden supporters are clearly more receptive to his moderate policy agenda over the left-wing proposals offered by Bernie Sanders. Business Insider's political ideology map has Klobuchar and Buttigieg closely aligned with Biden, while Bernie Sanders occupies an end all on his own. When it comes to policy, Joe Biden supporters seem unlikely to adopt Sanders as their new favorite.
Another primary appeal for Biden was his experience. It seems that his supporters value his legislative accomplishments in Washington and the established relationships he already has with lawmakers on Capitol Hill. Pete Buttigieg, lacking any experience in federal office and never having served in Congress, is not going to be appealing in this capacity.
If ideology eliminates Sanders and experience hinders Buttigieg, Amy Klobuchar is, again, the only viable candidate who appeals to this bloc of voters. Though it's hard to predict when and whether Biden will exit the race, it's not hard to conclude that Klobuchar is a sure bet for disaffected supporters of Joe Biden.
As An Antidote to Republican Attacks
---
Perhaps the deepest chasm within the Democratic party and the United States as a whole is the ideological warfare over Bernie Sanders-style socialist policies. People familiar with public policy know that the United States has several extremely popular programs that technically qualify as socialism. Technicalities aside, however, the Republican Party has skewed and slandered the term so badly that it is no longer politically practical to explain the definition in terms of political science.
Conservative groups continue to pump millions upon millions of dollars toward fearmongering the American electorate on the apparent dangers of socialism, and now refer to socialism and communism interchangeably. The Heritage Foundation is running ads about a free book called "9 Ways That Socialism will Morally Bankrupt America," and the Lake County Republican Federation recently co-sponsored an event discussing the "dangers of socialism" at Lake Forest's Gorton Center.
At this point, voters across the country already have preconceived notions of the term that are more than likely to be negative. The merits of an idea and the efficacy of its messaging are two entirely separate things. When it comes to elections, messaging is key. An open embrace of socialism is not a winning message on a national, general election scale.
The Republicans know this, and are actively working toward the prospect of a self-described democratic socialist as their opponent. Republican Party affiliates are running targeted ads on Facebook urging conservatives to take advantage of open-primary states like Illinois and vote in the Democratic primary, dubbing the process "Operation Chaos." The ads implore Republicans to vote for "the craziest Democrat [sic] presidential candidate."
Ads from Donald Trump's Facebook page—on which he's spent nearly half a million dollars in the last week alone—almost always implicate the Democrats' "radical SOCIALIST agenda" followed by some sort of call to action to advance his re-election campaign. We must concede the reality that public perception of the word "socialism" is now completely beyond control in terms of messaging. The American people will see whatever ads the mega-donor  money can buy, without regard to the technical accuracy of their content.
Amy Klobuchar was the only Democratic candidate to stand up and denounce the idea of a democratic socialist leading the Party's ticket when every candidate was asked about it during New Hampshire's presidential debate. Support for her campaign, including a record $2 million fundraising boost, surged after that night. Political analysts attribute her unexpected success in the New Hampshire primary to that very debate performance. Democratic voters rejoiced at the long-awaited voice of reason.
In a field riddled with so many disagreements and discrepancies, one thing is abundantly clear: the numbers are backing Amy Klobuchar. The strategists are backing Amy Klobuchar. The American people are backing Amy Klobuchar, and if you're seeking an alternative to the current administration, perhaps you can back Amy Klobuchar too.
This story was originally published on The Forest Scout on February 19, 2020.