Seeking value in fashion
Junior Malachi Poynor designs, sells clothing
By Anna Velazquez, Lewisville High School - TX
February 20, 2020
He sits in his garage, music blaring throughout the room as he rummages through the endless amounts of fabric. All the materials he needs are scattered around the table in front of him, but none of them are what he's looking for. None of them are spontaneous enough. After referring back to his original sketch, he reaches for the first colored fabric he finds, trusting his instinct and getting to work.
After three years of being interested in fashion design, junior Malachi Poynor decided to kickstart his own clothing brand, SeekValeur, toward the end of his sophomore year. He sells and customizes clothes, ranging from jackets, to shirts, to jeans and overalls. Naming the company after the idea that people are always seeking value in life, Poynor finds inspiration in abstract art and his personal experiences. He hopes to bring a new perspective to the fashion industry.
"Brands are afraid of what people think about [a product] or how the public will view it and I'm not afraid of that," Poynor said. "Whenever I'm designing, if I feel like putting something on a shirt, I'm going to put it. No matter if it's political or anything. I like having an outlet to express myself and I don't think anyone should have a say in the way you do that."
Although his company is fairly new, Poynor has already been faced with a variety of challenges. Like any other business, various factors can pose difficulties, including pricing, materials and marketing. Out of all of aspects, marketing was the easiest to overcome since his friends have helped spread the word about the brand and promote new items.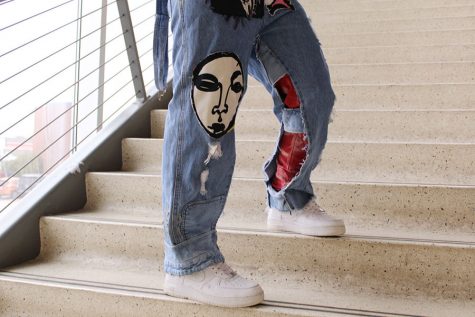 "It was really hard not knowing how to even start a business, from the logo to the actual product, and then just jumping right into it [and] not getting help from anybody," Poynor said. "You have to splash and dive into it, [get] the hang of it and [make] connections with other people."
With the help of his close friends, he has been able to expand his brand in order to reach new people. Since the clothing brand is primarily handled through SeekValeur's Instagram, publicity is a vital aspect. Poynor considers his friends a part of his team, valuing their critiques and feedback.
"SeekValeur's products, so far, are solely from the mind," close friend junior Armando Aguilar said. "These products that have been produced are straight from sketch to material. This [brand] was purely based off an idea we brought up and now it's slowly becoming a brand that can truly benefit from other people who are also creative and appreciate the spontaneous attitude."
Unlike marketing, figuring out how to price his clothes and designs was not a simple task. He had to take multiple factors into consideration before setting a solid price. A standard T-shirt is $20 and custom jeans/overalls vary from $70-$80.
"I've gotten the pricing figured out for now but it'll probably fluctuate," Poynor said. "It depends on what it is and how long it takes. If I'm really going at it on a pair of jeans, I can probably get it out in like two weeks, maybe a week. For shirts, like screen print, [it would be] probably a day, two at most."
The main idea of the brand is to promote originality in the world. Poynor believes society's standards have made people afraid to truly express themselves and he aims to dissolve that idea. He hopes this message spreads to other people.
"He inspires me a lot," junior Jayzey Vasquez said. "He's helped me learn how to express myself and be comfortable being myself. I hope his brand becomes global and successful, he definitely deserves recognition."
Unlike the majority of clothing brands, Poynor's products are not limited to one style or gender. He strives to maintain a unique look that implements different elements and cultures and is available to anyone who wants to wear it.
"You have to start from somewhere," Poynor said. "It's not targeted for a specific audience or gender, if you like it you like it. Gender doesn't have to be a part of clothing, everyone should be comfortable in what they're wearing."
Poynor's ultimate goal is to expand his company and share his ideas with the world. To him, the company message is equally as important as the products that come from it. The process of starting a company and designing clothes has provided Poynor with an outlet and form of individuality.
"To me, it just means people really want to have a purpose in this world," Poynor said. "Some people have had the nerve to do the most outrageous things, to seek recognition and value from somebody."
This story was originally published on Farmers' Harvest on February 13, 2020.