Checking out the Grand Hotel
Directors, performers, technicians of spring musical work hard to create a whimsical world for the audience
By Alysa Spiro, McCallum High School
February 28, 2020
It's 7:30 on a Thursday evening. The fluorescent lights of the McCallum Arts Center Theater dim into a foggy combination of reds and purples. A sudden hush falls over the crowd: whispers replaced with silent yet static anticipation. Suddenly, a limping, elderly doctor stumbles on stage. Music flares from the orchestra. The lights brighten and a marquee with the words "Grand Hotel" illuminate the stage. The audience is transported to 1920s Berlin, where they will experience the love and tragedy that makes Grand Hotel true to its name.
For the audience, Grand Hotel spanned two hours and 30 minutes. But for the show's dedicated cast and crew, Grand Hotel was not just a show, but a process spanning over three months that required much creativity and determination in order to create characters, dances and technical designs.
Manifesting a vibrant, realistic character from the script took a lot of work from both the actors and the creative team. The entire cast was assigned a character analysis profile to help them bring their characters to life.
"
Instead of having a lot of moving sets on wheels to signify moving positions, there was a bunch of stuff on stage all at once. Kind of like a grand hotel."
— junior Dashel Beckett, one of two scenic crew heads
"Mr. Denning kept talking about characterization, but this [the character analysis profile] really forced us to be specific," said freshman Kathryn Dooley, a member of the dance ensemble. "We also got to request our own character props. It's very nice because we got to add a little bit of ourselves into our characters."
For some actors, the process of character development stretched even further and required more attention. Sophomore Charlotte Bearse played the role of Grushinskaya (she shared the role with junior Helena Laing), a 51-year-old ballerina. Bearse credited assistant director Sam Richter with helping her prepare for her role.
"Sam made me walk around as an animal that represented my character," Bearse recalled. "That actually really helped me. It made me think, 'Is my character really motivated or is she hesitant? Would she care if anyone saw her walk like this?' That exercise especially helped with the physicality because Grushinskaya is 51. That can be really hard for a 15-year-old to play because that's literally the numbers of my age reversed."
Grand Hotel is also characterized by its stylistic dancing. The show is a melting pot of different dance styles, including ballet, jazz, ballroom and Charleston. To get the dances looking clean and the dancers feeling comfortable took a lot of love and work. Senior Blair Kinsey, one of the two assistant choreographers (along with senior Owen Scales) believed that cleaning (polishing or fine-tuning) the dances proved to be the most difficult part of the entire process.
"
It was an honor to play such a deep role, and it made me appreciate my life more."
— senior Tosh Arora, who plays Otto Kringelein
"There were times it got tedious to clean number after number," Kinsey said, "but once we worked on a number a lot it always looked so much better. It was so nice to actually see progress."
Dancing also proved to be the most difficult aspect of the show for Bearse, whose character dances en pointe throughout the entire show. Pointe is a technique of classical ballet that consists of a dancer balancing all of his or her body weight on the tips of their feet.
"Pointe is such an art form," Bearse said. "I had to start forcing myself to practice pointe work at home every day until I felt really comfortable so I wouldn't mess up on stage. It was hard not to burn myself out. I really had to sustain energy throughout the entire process— both rehearsals and shows."
The depth of putting a show together extended beyond the on-stage performances. The technical aspects, including lighting, sound, scenic, props and costume design, took another army of students willing to put in many after-school hours. The responsibility of delegating, streamlining and making sure the show's technical designs were completed on time fell partially on one of two co-production coordinators: junior Will Dooley.
"Ms. Vandenburg, the tech teacher, was in charge of everyone, and she would tell us what we needed to do and what things needed to be delegated and planned," Dooley said, "and so we made her job easier. Mr. Denning would have big ideas and plans, then Ms. Vandenburg would tell us what they were. With her, we worked to figure out how to execute everything."
"
I was just really happy to do it because it had LGBT representation, which is weirdly lacking in theater and so it's nice that we got to do that here at McCallum."
— junior Marlee Foster, on playing Raffaela
Execution relied heavily on teamwork, according to sophomore Dashel Beckett, one of two scenic crew heads responsible for creating the show's set.
"So much of it was getting in the right mindset," Beckett said. "A lot of the first week was talking to the crew and getting to know them so that the entire process was more fun and more productive as we went on."
Unlike other shows MacTheatre has done, Grand Hotel had a very static set.
"The show was very much in one location and that location was very interesting, and there was a lot to learn about it," Beckett said. "Instead of having a lot of moving sets on wheels to signify moving positions, there was a bunch of stuff on stage all at once. Kind of like a grand hotel."
So what makes all the hard work, lack of sleep and long hours worth it? Realizing the show, says the cast and crew.
"It was just the satisfaction of seeing the entire show on stage and knowing that you did that and your friends did that," Beckett said. "You find these new people and you realize that everyone has grown because of the show."
Kinsey agreed and added that the show's opening elicited an influx of emotions, happiness foremost among them.
"Seeing the end product and getting to see everyone's parents be proud of their kids was so rewarding," she said. "Even the people who don't have kids in the show were like 'Wow, this is so amazing!' Just seeing the audience love the show; it meant so much."
For the actors, working towards inner satisfaction was a constant, never-ending process.
"I know that I didn't have that pure satisfaction the first time I performed in front of an audience," Bearse said. "But I think near the middle and end of the run, I got so used to the routine I was able to not focus on my dancing and my lines and my singing. I was just able to enjoy myself in the moment."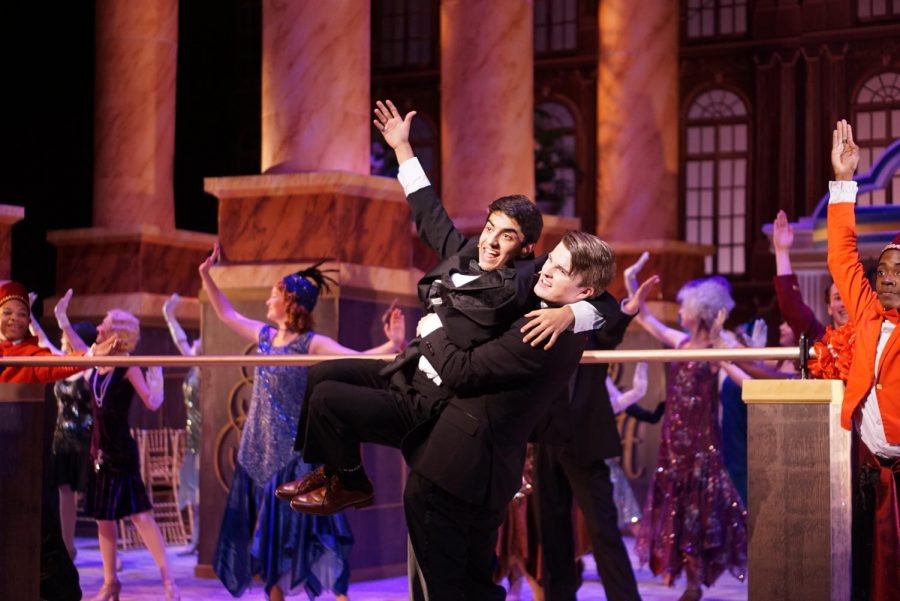 SHOUT L'CHAIM: Junior Corin Vandenburg and senior Toshaan Arora hit their final poses in the number "Raise A Glass." This song is a celebration of friendship between Vandenburg and Arora's characters. "This number is about my character experiencing joy, perhaps for the first time" said Arora. Photo by Alysa Spiro.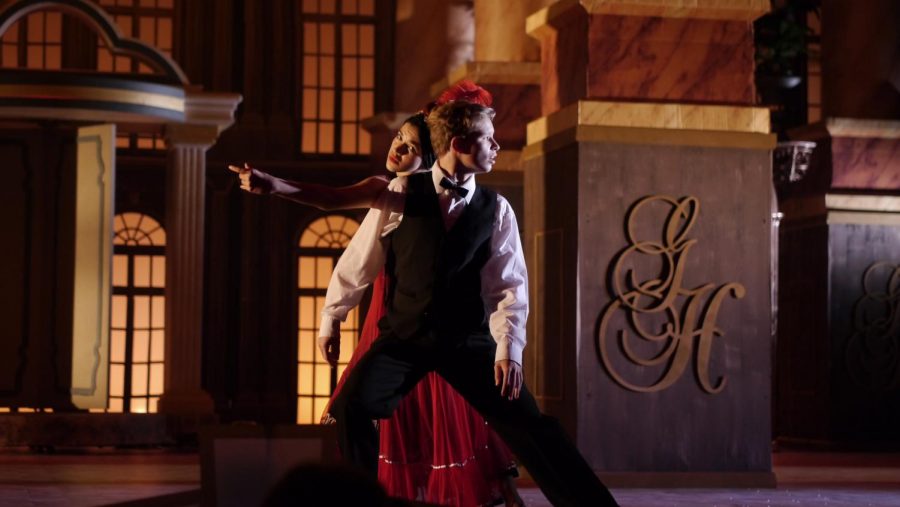 DEVOTION, DEATH AND DANCE: Playing the part of "The Gigolo", freshman Anderson Zoll passionately dances with senior Mia Terminella, playing the part of "The Countess", at the dress rehearsal for Grand Hotel. The two dancers represent the love and death throughout the show and this particular scene, where the two are seen dancing around the adorned set to dramatic music, represents the chaos in the Baron and Elizaveta Grushinskaya's relationship. At the end of the scene, the two are seperated, similar to the Baron and Grushinskaya. "That is one of the moments where we are kind of falling apart," Zoll said. "We are parting ways, almost where we are falling out of love. We are trying to reach back into the place where we were: in love." Photo by Angus Sewell McCann.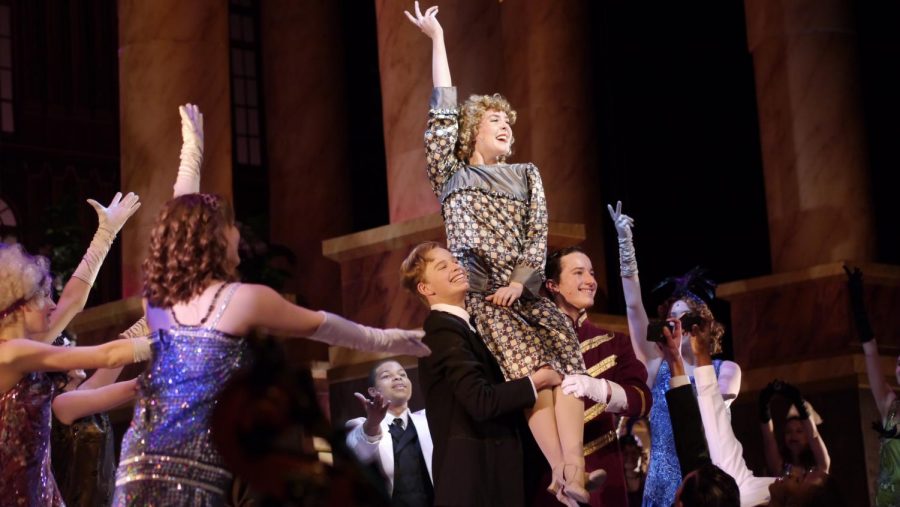 HOLLYWOOD HOPES: Emma Wallace as Flaemmchen performs "I Want To Go To Hollywood," an upbeat dance number where Wallace's character imagines herself as a Hollywood actress. Senior Blair Kinsey, alongside senior Owen Scales, acted as assistant choreographers for the show and helped choreograph the show's major dance numbers such as this one. "This show is just fun," said Blair Kinsey. "I wanted my choreography to make people happy." Photo by Angus Sewell McCann.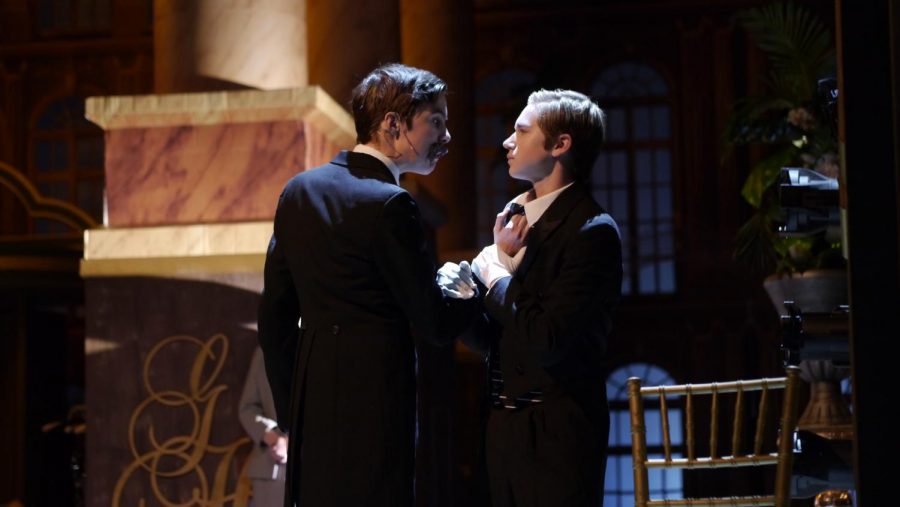 UNCOURTEOUS CONDUCT: Violently gripping young Erik Witnower's shirt, Hotel Manager Rohna, played by freshman Finn Sewell McCann, makes unwanted sexual approaches towards the hotel worker, played by sophomore Tristan Wicall, in the second act's opening scene. Sewell McCann had never played a character as intense as Rohna let alone act out something as uncomfortable as sexual misconduct. "This was a new experience for me. I always play sweet old men characters and so playing a mean character who takes advantage of his power was I little weird," McCann said. "That being said, I like experimenting with new things and I thought it was fun playing a character I've never played before." Photo by Angus Sewell McCann.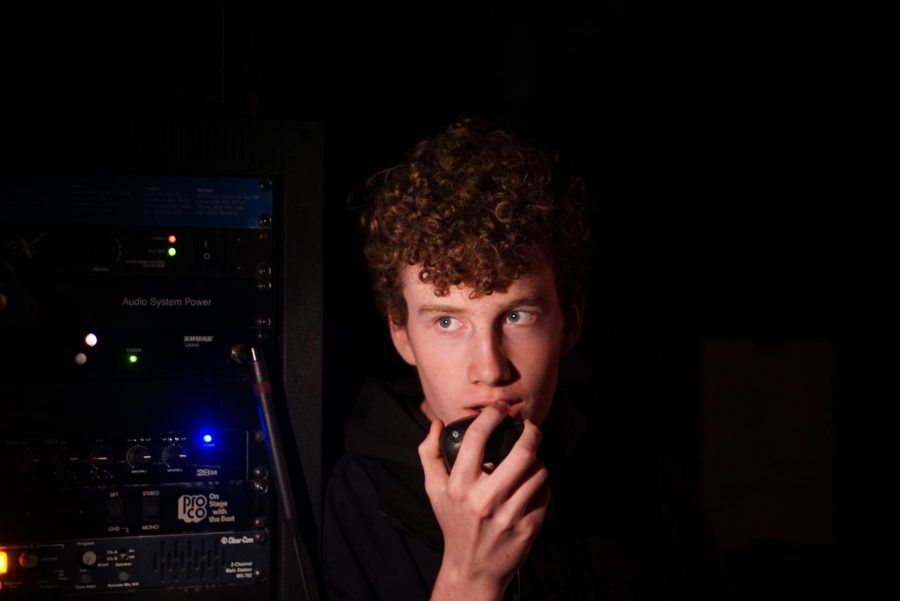 DASHING THROUGH THE SHOW: Junior Dashel Beckett makes calls over the crew speaker. Beckett worked as a scenic crew head and stayed backstage in case anything went awry during the show. "The process never really ends," Beckett said. "There's always more to do." Photo by Alysa Spiro.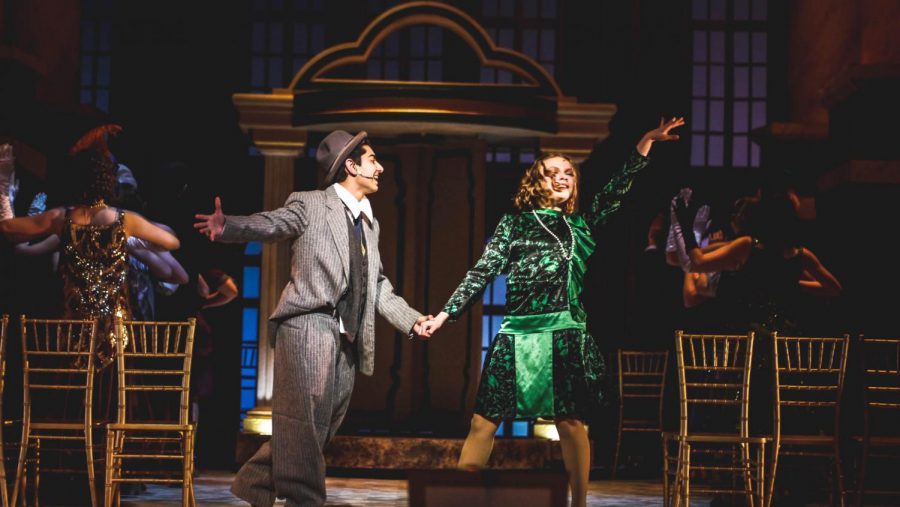 MAKE A MAN OUT OF YOU: Playing the part of Otto Kringelein, a fatally ill Jewish bookkeeper, senior Tosh Arora dances with sophomore Jessie Lucas, playing the part of Flaemmchen, a young typist with theatrical ambitions, when she agrees to have a dance with him after the Baron suggests it. Kringelein illustrates a lot of growth throughout the production: from nearly being kicked out of the Hotel because of his religion at the beginning to getting called a taxi by the entire hotel staff at the end. "He has such a change in the show: it's like from boy to man," Arora said. "I learned a lot about myself playing Otto. I think his message is the one that resonates with me the most." Photo by Angus Sewell McCann.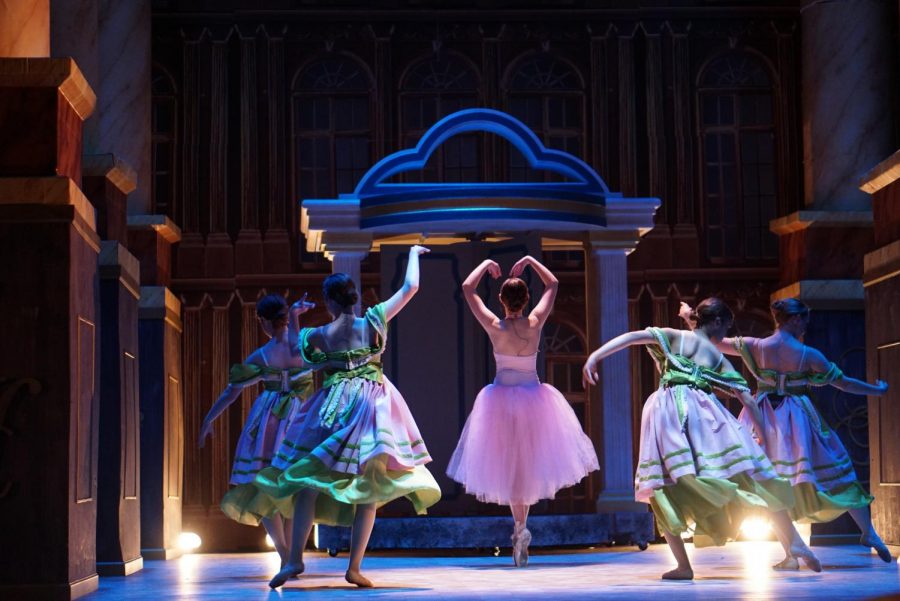 ON YOUR TOES: Charlotte Bearse (center) as prima ballerina Grushinskaya dances en pointe, a style of classical ballet where the dancer balances all of their weight on the tips of their toes. Alongside her dance ensemble members freshman Kathryn Dooley, sophmore Lila Plummer, sophmore Mollie King and senior Mia Terminella. Dancing proved to be the most difficult aspect of the show for Bearse. "Pointe is such an art form," Bearse said. "I really had to sustain energy throughout the entire process." Photo by Alysa Spiro.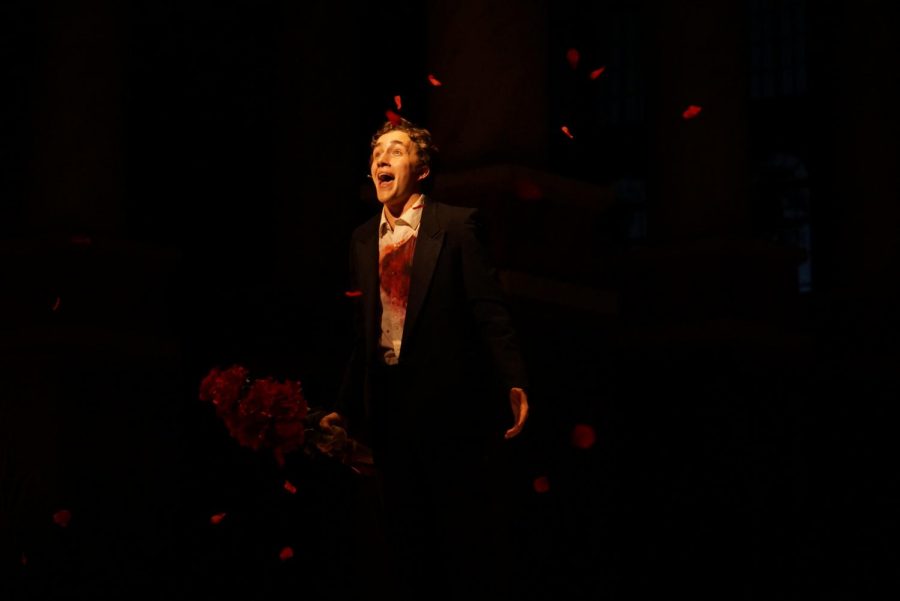 BINGHMAM BRINGS IT: Senior Duval Brigham as the Baron sings "Elizaveta" at the Station. During this song, it is revealed that the Baron has been shot and his ghost has gone to the railway station to meet his love, Elizaveta, who isn't there. Photo by Alysa Spiro.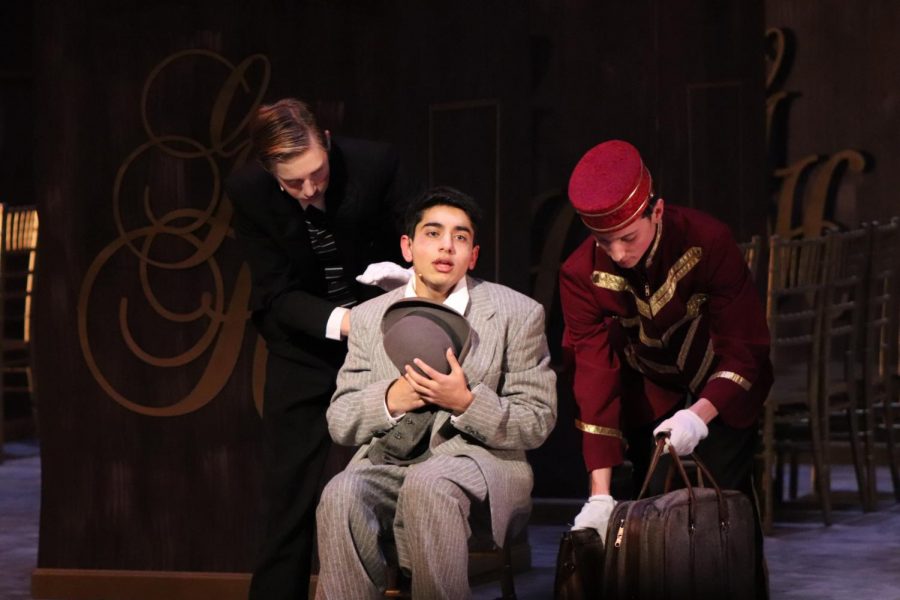 FINDING THE MEANING OF LIFE: In Grand Hotel, senior Tosh Arora plays the role of Otto Kringlein, a sick man searching for the meaning of life. After just having a coughing fit, he is escorted to a chair where he is repeatedly asking for a room at the grand hotel, after being denied because of his Jewish faith. During this moment, Arora is singing the number "Just let my Feet Roam Free," and about to move into a larger number of the musical. "It was an honor to play such a deep role, and it made me appreciate my life more," Arora said, "It served as an exploration for me to understand the unique character and the gift of life." Photo by Gabby Sherwood.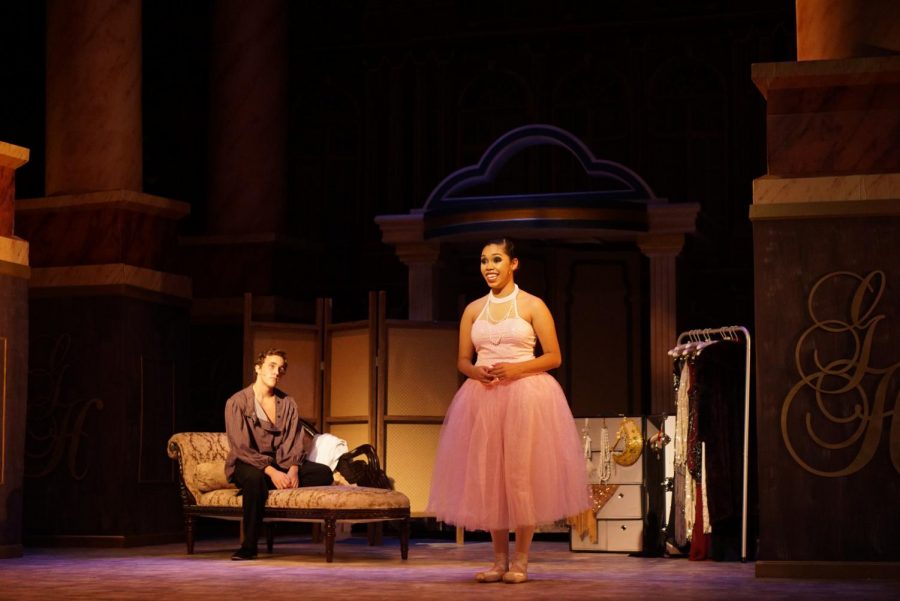 HEARTWARMING HOTEL: Junior Helena Laing, as 51-year-old ballerina Elizaveta Grushinskaya, stands singing in front of co-star senior Duval Bingham, the Baron, during a scene of their opening night Grand Hotel performance on Thursday, Jan. 30. "This scene is the finale of Act One where my character, the Baron, falls in love with Helena's character, Elizaveta," Bingham said. "This scene was very fun to do because of the huge shift from frantic thief to lover." Laing expressed utmost love for the scene while reflecting on the show which closed on Sunday, Feb. 9. "This was my favorite scene in the show because it was one of the most heartwarming scenes," Laing said. "The song is absolutely gorgeous and was my favorite to sing." Photo by Alysa Spiro.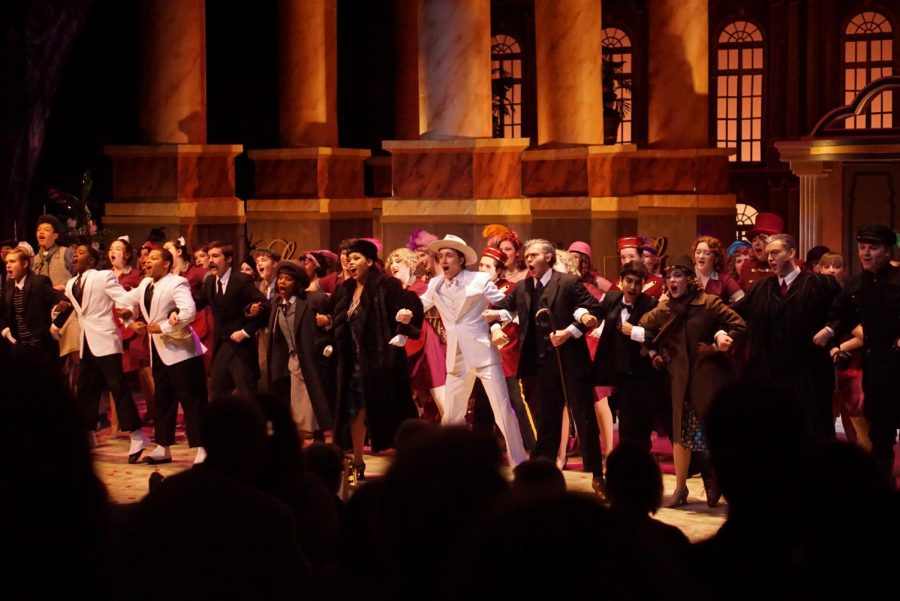 LIFE GOES ON: Mira McFadden, who played the role of Doctor Otternschlag, a cynical, ruined man gravely injured during World War I, joins the other primary actors on center stage during the final bow to close the first Sunday matinee show on Feb. 2. McFadden said at this moment at the end of each show, the cast and crew felt like celebrating making it through another show. "Honestly, I've done a lot of shows, and every time there's a lot of emotions," McFadden said. Those emotions were amplified, they said, at the final bow a week later on Feb. 9. "At the final bow, everyone is not only saying goodbyes to the audience, but they're saying goodbye to each other, and we all know we're going to see each other the next day, but it's always nice to finish up a show and have a strong finish and have everyone standing, clapping, and to be very happy and you know, that's one of the times where, you know my character is very grumpy and always had a frown on his face and that's one of the times I can smile, and show my appreciation for the audience. … Once you've done a show eight times, you feel very relieved to finally, you know, be done with it. You enjoyed it while it was there, and now you get to move on. … You had fun, and now you know it's over and that you did well and there's no more stress." Reporting by Josie Bradsby and Lydia Reedy. Photo by Dave Winter.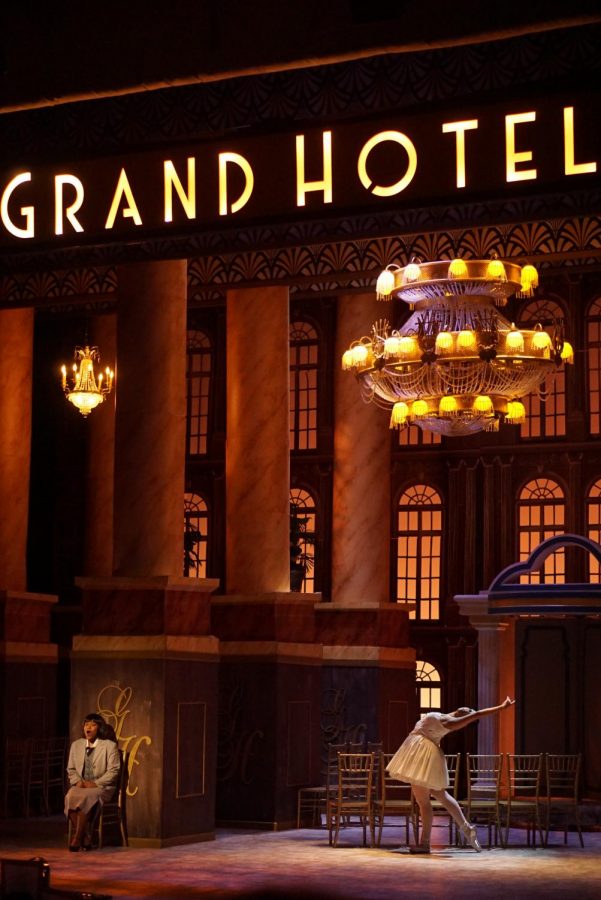 HEAD OVER HEELS: As Raffaela, the loyal companion to fading ballerina Madame Grushinskaya, junior Marlee Foster sings of her character's lifelong love for Grushinskaya (junior Helena Laing) and her dream of moving away with her to Italy, where her character  grew up. "It's very sad but romantic," Foster said. "It's like wanting to have something so bad and you can't have it, but having the hope that maybe it could happen." Foster said that she was proud to portray a gay character on the MacTheatre stage. "In that time period that it was happening … it was such a controversial thing to be in love with a woman as a woman," Foster said. "I was just really happy to do it because it had LGBT representation, which is weirdly lacking in theater and so it's nice that we got to do that here at McCallum." Reporting by Josie Bradsby and Lydia Reedy. Photo by Dave Winter.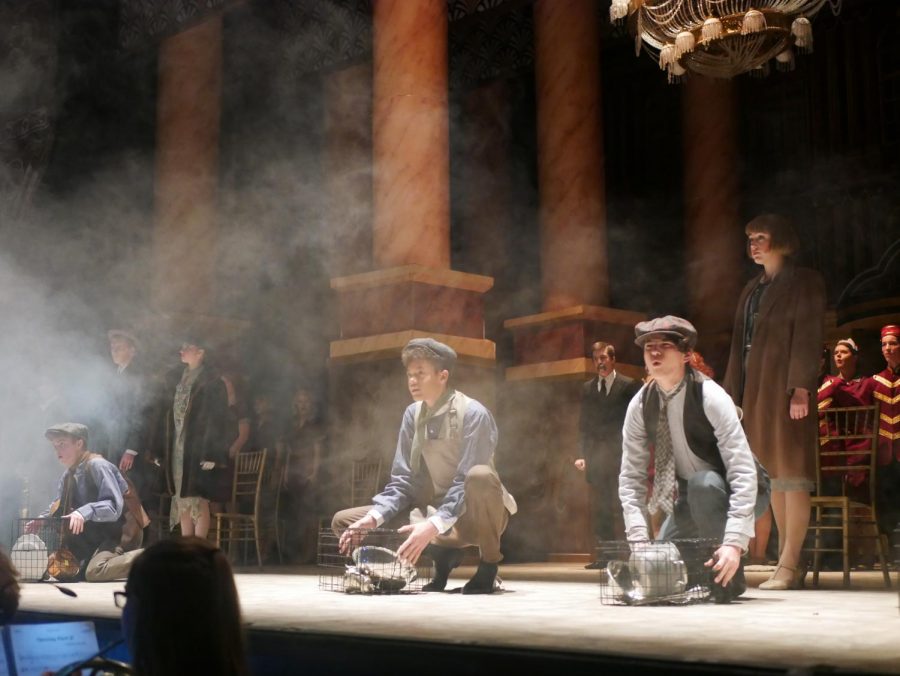 POTS AND PANS: Griffin Rans performs in the Saturday night performance Grand Hotel on Feb. 1, slamming down pots and pans during a musical scene. "It was fun being in Grand Hotel," Rans said. "I enjoyed the set and the dynamic of the play." Photo by Elly Schottman.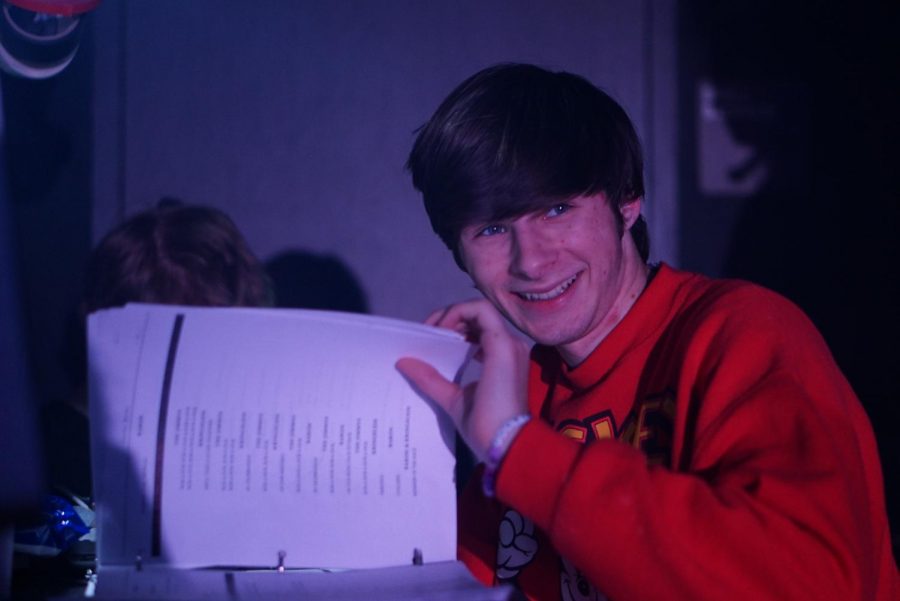 WHERE THERE'S A WILL, THERE'S A WAY: Junior Will Dooley follows along with the script from backstage. As one of two production coordinators, he stays backstage while the show is running in case sound and lighting issues arise. "To keep the ship running smoothly, it's important to coordinate who's working on what," Dooley said. Photo by Alysa Spiro.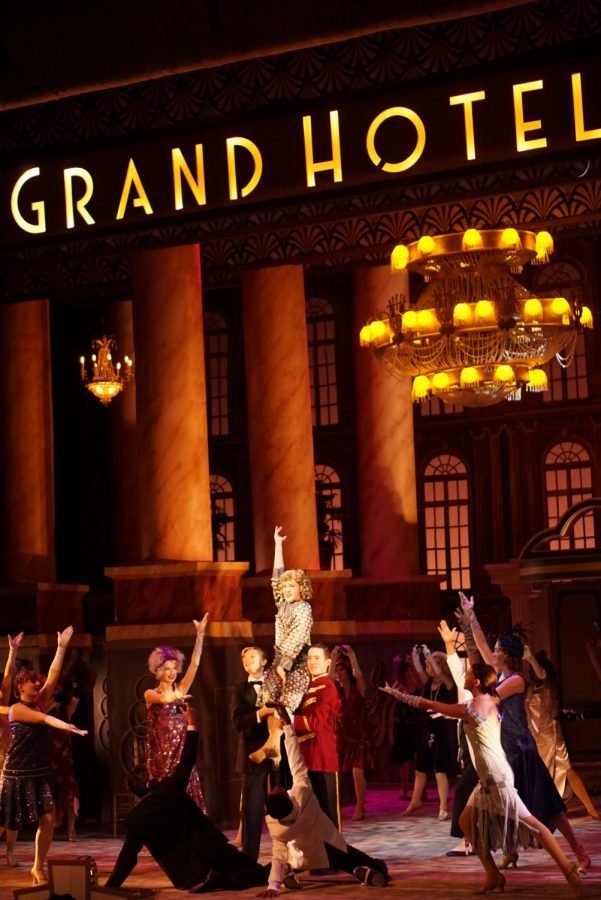 A STAR IS BORN: Emma Wallace and her cast mates strike the final pose at the end of the number, "I Want to go to Hollywood," during the Sunday matinee performance on Feb. 2. Wallace played the role Frieda Flamm, an aspiring actress whose stage name is Flaemmchen. The number is Flemmcian's big number where she's dreaming about what it would be like if she became a Hollywood star. "I had to feel a lot of confidence because like the character is very confident in herself and has like big ambitions and dreams for herself," Wallace said. "She's a nobody who has no money, and she fully believes that she is going to be moving like across the world to America to be able to be a big Hollywood star so I had to have a lot of confidence, but also I had to think about making sure I had the stamina to hold myself together to be able to sing a full song and then also do a dance break and get flipped in the air, and get lifted and then be able to sing like the final note. … I also had to be very driven because the character will stop at nothing to get what she wants, and I had to like feel that and use the people around me to be like, 'How do I get what I want?' I had to just be really good at communicating with those around me." Reporting by Josie Bradsby and Lydia Reedy. Photo by Dave Winter.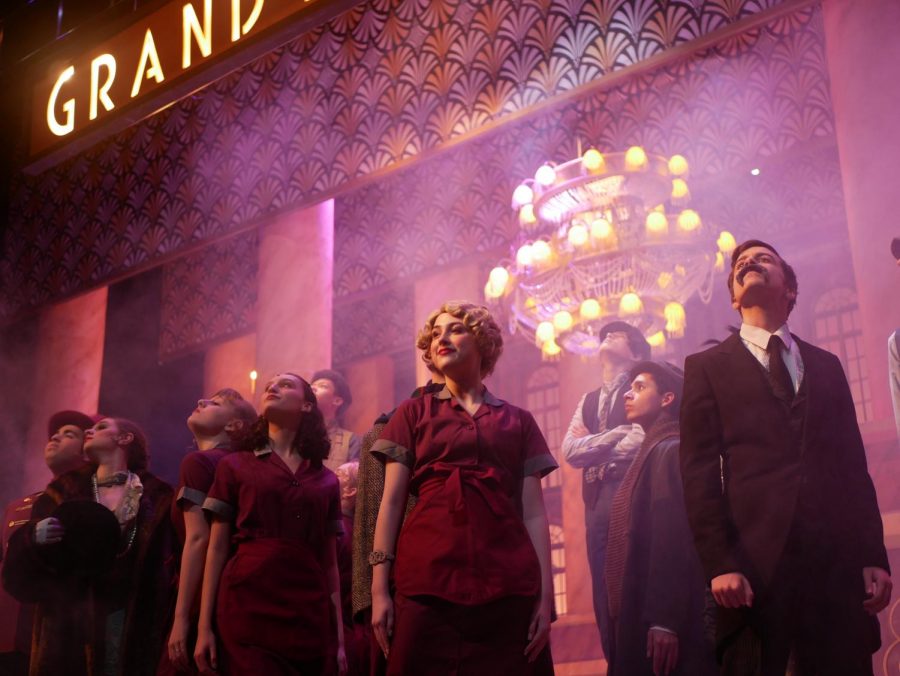 A GRAND GAZE: During the Saturday night performance of Grand Hotel on Feb. 1, Lila Plummer looks out into the audience in the beginning of the musical. "Working on the show was an experience of growth for me as a dancer and an actress," Plummer said. Photo by Elly Schottman.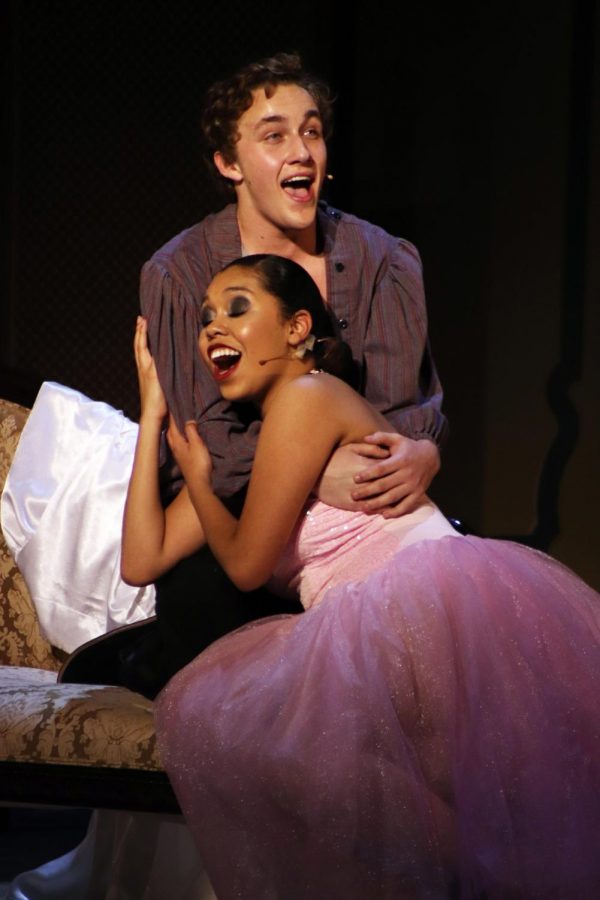 WHEN LOVE COMES: In the last number of the first act of the spring musical, Grand Hotel, senior Duval Bingham and junior Helena Laing sing "Love Can't Happen" as they embrace each other right before the curtains fall. Bingham, playing Baron von Geigern, sneaks into Elizaveta Grushinskaya's room to steal her necklace but is caught by Grushinskaya (Laing). He proceeds to pretend the reason he's in her room is because he's in love with her, and then they fall in love as they sing the final number of act 1. "It was really special to get to play this character as I'm most likely not going to get to do another main stage-musical ever as I'm going to college for math," Bingham said, "It was a very fun role to play, and I'm very happy that it was my last." Photo by Gabby Sherwood.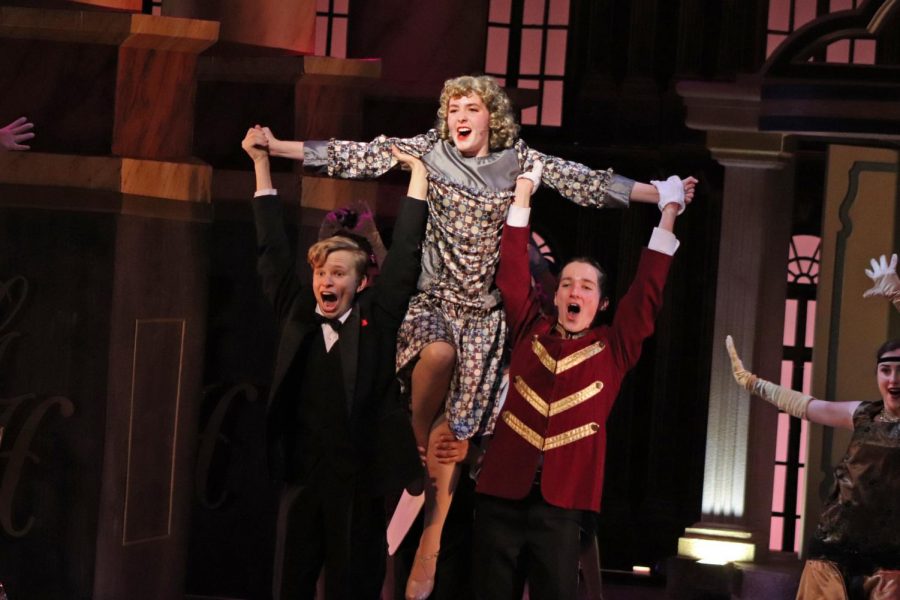 UP IN ARMS: During the final note of the number, "I Wanna Go to Hollywood," junior Emma Wallace sings as she is lifted into the air by freshman Anderson Zoll and junior Aydan Howison. Wallace played the role of Flaemmchen, and this was her show-stopping number where she is fantasizing what it would be like to be a Hollywood star. "I was very honored to play this role because it was a big undertaking" Wallace said, "It was both fun and challenging at the same time, because I got to sing and dance, but also had to do some difficult scene work because of the semi sexual assault scene." Throughout the show, Wallace's character goes through a big character arc which asks for a lot of emotional vulnerability from the actor. Photo by Gabby Sherwood.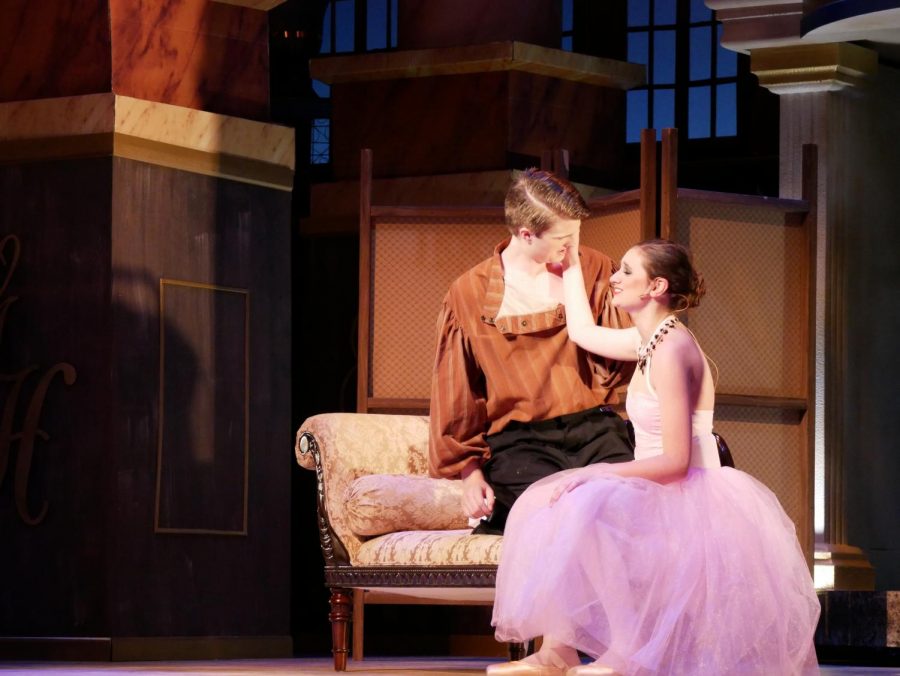 LOVE IN BERLIN: Charlotte Bearse (Elizaveta Grushinskaya) and Corin Vandenberg (Baron Felix Von Gaigern) act out a dramatic love scene in Grand Hotel. At the beginning of the scene, the baron breaks into Grushinskaya's room with the intent to steal her necklace. Upon discovery, the baron pretends to be the ballerina's biggest fan. In the process of convincing Grushinskaya that he has seen her perform all over Europe, the two jaded characters fall in love. "It was really exciting having a big role in Grand Hotel," Bearse said. "I enjoyed being able to work with some of the upperclassmen." Photo by Elly Schottman.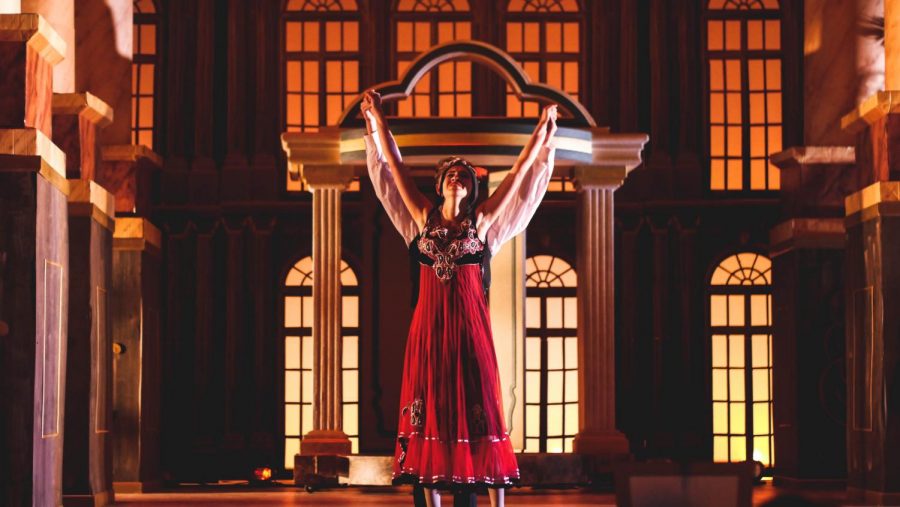 LOVE, DEATH AND BIT OF DANCING: Senior Mia Terminella and freshman Anderson Zoll perform "Valero," an intense and emotional ballroom dance. "We have done a ton of character work throughout the rehearsal process and that has been a huge game changer," Terminella said. "Everyone is very grounded in what they're doing." Photo by Angus Sewell McCann.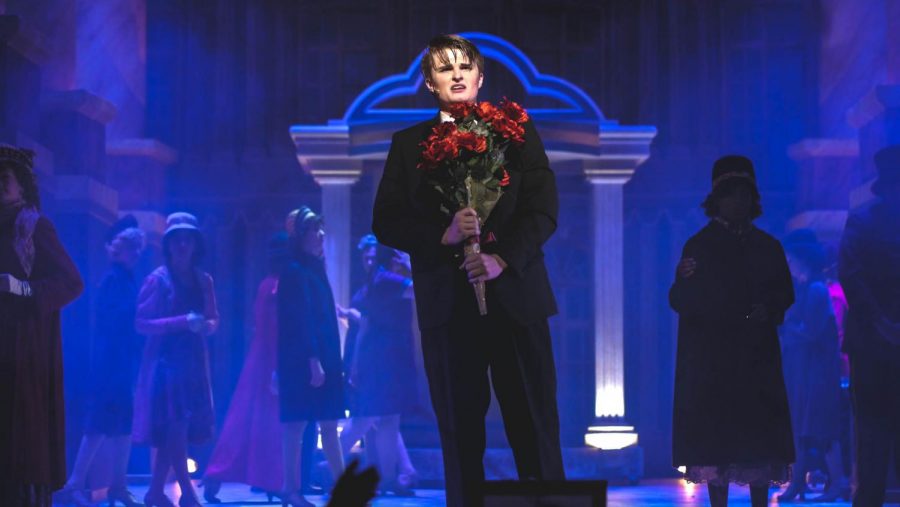 TRAIN TO NOWHERE: Junior Corin Vandenburg, as Baron Felix Von Gaigern, performs the heartbreaking love song Elizaveta at the Station. Behind him, the ensemble moves in slow motion to help paint the picture of a busy train station. "During this scene, the Baron is reliving his life and realizing how much he regrets not doing, " said Vandenburg. "It was a lot of fun to think about what it would be like in that situation." Photo by Angus Sewell McCann.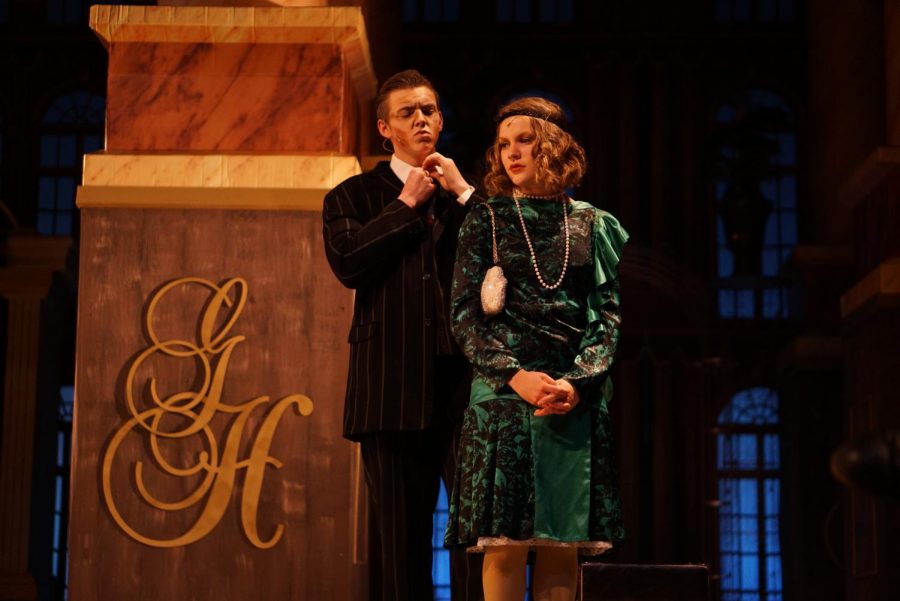 AN INAPPROPRIATE ENCOUNTER: Sophmore Jessie Lucas as Flaemmchen and junior Blake Houston as Preysing perform an intense scene where Preysing attempts to conduct unwanted sexual advances toward Fleammchen. "At first, doing the scene was incredibly uncomfortable," said Lucas. "But the more I did the scene, especially since I know Blake, the more comfortable I felt portraying the right sentiments." Photo by Alysa Spiro.
This story was originally published on The Shield Online on February 25, 2020.