Sophomore Mac Baker Reaches New Heights in Her International Circus Arts Career
By Olivia Galbraith, La Salle Catholic Preparatory High School
March 19, 2020
The summer before her eighth grade year, Mac Baker's mom encouraged her to become more active and leave her house more often. After taking a circus class, her attention was hooked. Now a sophomore at La Salle, Baker has been a part of a circus performing troupe for three years and traveled across borders performing with professional circuses.
When Baker was young, she took a week-long class at her school taught by a parent that focused on the aspect of a circus that involves fabrics, also known as silks. After a long hiatus, she participated in a performance intensive with The Circus Project that summer before her eighth grade year. This audition-based camp took place over a 10 week period, where members trained for 20 hours a week and participated in public performances.
Before getting involved with her team, Baker didn't have much experience with the circus arts besides a small amount of dance. "That is kind of odd amongst fellow circus artists," Baker said. "Most people have gymnastics backgrounds or some other background."
The first year that Baker was a part of her team, there were about seven members. Her teammates are typically anywhere from 12 to 18 years old, but Baker said that within circus arts, there is a very wide age range of participants, with people younger than ten as well as older than 60.
Throughout the summer, the number of people on her team often starts to dwindle, largely because of injuries. "You end up with two or three [people] trying to do … groups," Baker said. "It just kind of gradually falls apart throughout the summer and you end up with five [or] six people at the end."
"[Injuries are] fairly common, but usually it's not super awful," Baker said. "All I've done is fracture a toe and a rib."
Baker practices at a gym once a week during the school year, as well as additional practice at home. The gym contains rigging and specific apparatuses of the circus where people can condition and work on skills.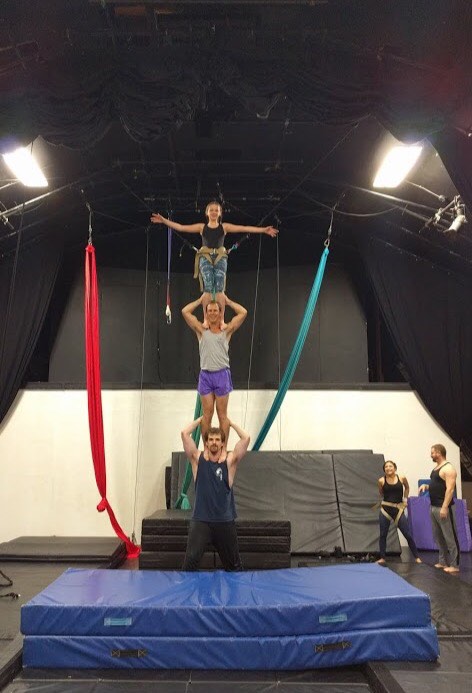 Many aspects of circus arts involve aerial performing, so "there's a lot of emphasis on safety," she said. "Teachers start people off pretty close to the ground, and they do things [so] that if you fall, you're [not] gonna fall… on the ground."
One thing that instructors may do when teaching skills on fabrics is tying a knot in the fabric so that the knot will catch a stumble before the person falls all the way to the ground.
Even with an emphasis on safety as skills are being taught, Baker said that there's "an attitude in the circus that if you do it enough, the nerves will just kind of go away… And [with] the bruises and the burns, circus people will be like 'ha, look at my scar,' and then other people will be like, 'oh, look at my scars.' It's almost like an accomplishment in a way."
The audition-based team that Baker has participated in for the past two summers has traveled to San Diego, Seattle, and the National Youth Circus Festival, as well as throughout Portland.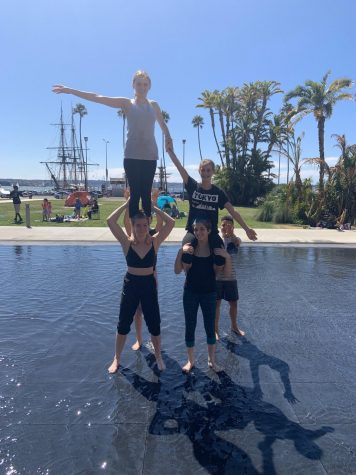 Many performances that Baker has done have been outside. People will rig their equipment in trees or stages, or potentially even basketball hoops, as Baker did at the La Salle talent show last year.
"I've performed quite a bit outside and it's one of my favorite things," Baker said. "Especially with the wind, it's just so unpredictable and hilarious, and fabric can just completely get away from you…Everyone loves it."
When Baker performs in shows, her solo acts are typically anywhere from three to five minutes long. With group acts, the performance tends to be longer, such as a seven-minute act that Baker was a part of. "An overall show could be anywhere from fifty minutes to two hours," she said, since shows generally contain many different acts with various performers.
Baker choreographs her own routines for performances. Where she trains, students are normally encouraged to incorporate their own artistry into their work. "It's very artistically based," she said. "Sometimes teachers will teach sequences, but it's more [that] you learn individual things, and then you kind of put them all together… and find transitions that really work."
The performances that Baker has been a part of in her three years of circus arts have varied in size and venue. She has performed at farmers markets with an audience ranging from thirty to forty people, whereas her performances at theaters that are in collaboration with other circuses can have a hundred spectators or more.
The biggest show that Baker has done was with a traveling circus called Flynn Creek Circus, as well as the American Youth Circus Organization (AYCO) Festival, which had an audience of around 700 people.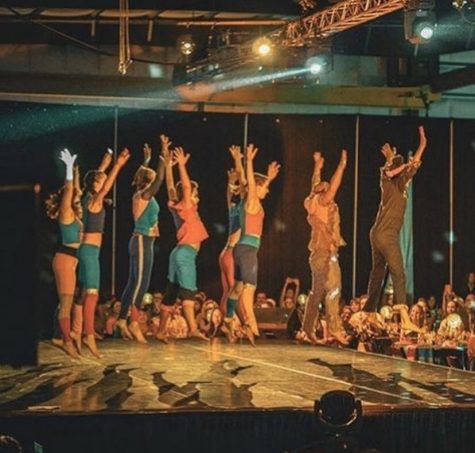 Baker said her very first performance was an "emotional roller coaster." She was thirteen at the time, and said that she was worried that she was going to be "that one kid that got her hand stuck in the rigging." But that didn't happen, she said — "I was so terrified of all these really irrational things, and it was really amazing to come out on the other end of that."
"It was just absolutely incredible."
While performance is a large aspect of circus arts, Baker said that competitions are "few and far between." She said that a circus competition would be more closely related to people performing and getting feedback from coaches.
Baker tries to perform whenever she can. In addition to her performances in the Pacific Northwest, she has also done shows in Germany. She went to Germany in eighth grade, and spent about a month there traveling, going to school, and living with a host family.
"I didn't go specifically to perform, but I ended up finding some really great shows there," she said.
Baker wants to continue to travel for circus, but her international performances have been limited. She said that she has been unable to travel outside of the Pacific Northwest recently.
If given the opportunity to travel for performances, Baker has a few potential venues that she would like to go to. "There's a circus in Vermont called Circus Smirkus, and San Diego Circus Center, they have really good performing groups," she said.
During the summers, when Baker was on a team, she practiced for three hours on weekdays and five hours on Sundays. Now, Baker only has the opportunity to go to the gym on Wednesdays for about three to five hours. The commute from her house to the gym takes 45 minutes to an hour and a half each way, which makes it difficult to manage going more than once per week.
When Baker was training twenty hours a week, a typical practice would include a warm-up, training on apparatuses, and working on skills for about an hour. Additional skills like acrobatics, contortion, or dance would take another hour, and the practice would conclude with conditioning, cardio, and a cooldown.
"After going from training twenty hours a week to being in the gym for at least three or five, it's like having withdrawals," she said.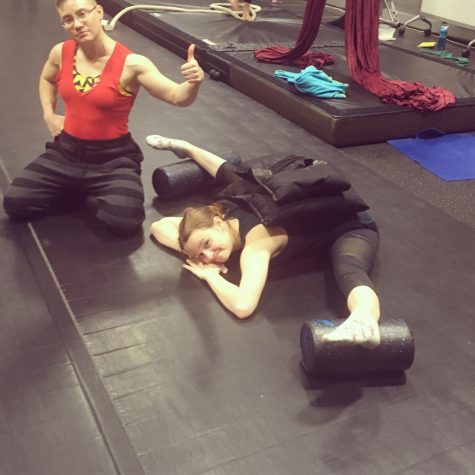 Baker got her own fabric this year that she has rigged outside. However, the weather in Oregon can often be unforgiving when she practices. "It's freezing cold," she said. "I wear gloves and scarves and stuff, and it all gets caught up in the fabric… I use it mostly for conditioning because it's rigged from this carport sort of thing."
Baker also has a trapeze at home and practices on her apparatuses daily. Her favorite portion of circus arts that she does is contortion and fabric, but her favorite activity that she has ever done is the flying trapeze.
Portland doesn't have a flying trapeze, so Baker traveled up to Seattle to do some performances and got the opportunity to train for a week, using the flying trapeze at the School of Acrobatics and New Circus Arts (SANCA). Baker used the trapeze with a harness and a net underneath, and she was experimenting with it all while having a broken foot.
Baker's favorite part about circus is the focus on artistry, and "choosing a movement style that you want to express." The community that it fosters is also something that Baker loves about the circus. "We're all just one big family," she said. "It is so amazing, and it's a really unique experience."
Within the circus skills that Baker has learned, her favorites are neck hangs on fabric, and heel hangs or front hip circles on the trapeze. She said that all the names of circus arts skills are "very odd." There is a skill called the drunken camel, or the Rebecca split. "Someone can say a name and no one has any idea what they're referring to because they're so interchangeable," Baker said.
One accomplishment that Baker is most proud of is "practicing [skills] for months, with no success, and then finally [getting them]." She is also very proud of her performance opening for Flynn Creek Circus.
For Baker, the most challenging part of her transition into the circus was going from a limited amount of physical activity to jumping into something new that takes a lot out of her body. "You just have to know so much and be so aware about everything that's happening in your body," she said. "You have to know when to back off and when to stop, and that takes so much awareness."
"It will push you as far as you are willing to be pushed," she said. "It's very taxing."
Outside of her circus training, Baker likes to read and do anything outdoors, such as hiking, mountain biking, and skiing. However, she said that circus "soaks up all of my time," which sometimes makes it hard to balance training with school or other activities.
"It's hard for me to prioritize school over circus," she said.
Baker plans to continue circus arts throughout high school, and even past it. "There's a lot of circus colleges where you can go and major in fabric or hand balancing," she said. She plans on taking her life in that direction to continue her circus journey. "It's been very gratifying to go through," Baker said. "And humbling in a lot of ways."
This story was originally published on The La Salle Falconer on March 18, 2020.