Shoe reselling kicks up a major profit
By Mia Folkers, James Bowie High School
March 24, 2020
Walking into the store, you imagine the perfect pair of shoes in your head. Searching through every pair, you finally find the perfect pair of kicks. You quickly ask for the pair in your size to find they are sold out, and you hopelessly put the shoes back on the shelf. Pulling out your phone, you find the only available pairs left are being sold from multiple resellers online.    
Two years ago, junior Blake Guerra started buying and selling well-known brands of shoes and clothes.
"Since I was a little kid, I always liked shoes, it was the main part of an outfit I was always drawn to," Guerra said. "In seventh grade, I entered a raffle for a pair of 2016 power Black Yeezys. I ended up winning and once I had the shoes, I ended up never really wearing them. So I decided to sell them and that brought the idea of doing this with all kinds of apparel and shoes."
Running his own business offers him lots of opportunities to sell a variety of brands and styles. Guerra decides on these purchases by keeping up to date with research.
"Well, the types of shoes I choose are dictated by the market, like what people are commonly buying and what people like in that particular year," Guerra said. "Like a year ago I would say the older chunky type of shoes were best to buy, but now I look for more deconstructed and bright colored shoes, similar to what Off White and Nike  have been producing."
Completing transactions from seller to customers can be a very complicated process, so Guerra uses a company to help sort the selling and buying business.
"The Middleman website is a company that gets me in contact with buyers," Guerra said. "Once I have a price, I'll ship the shoes to the company so they can verify it, then when the purchase has been made, the company will pay me."
For each shirt or pair of shoes, there is a specific process Guerra follows to sell the products he finds to customers.
"So first I identify the type of clothes or shoes I want to sell, and research the certain retailers, stores, and websites that this product is coming from," Guerra said. "Then I buy as many of that shoe or apparel as possible, and I look at the Middleman website to decide whether I should wait for the value to go up, or if the value is going to dip and I should sell."
The reselling business is quite a job to take on, but Guerra sees this individual challenge as an advantage for his sales.
"It is definitely fun working on your own, you get total control on what is going on in the business, along with what is bought or sold," Guerra said. "I can take my own risks which is a nice freedom to a business."
Guerra's success as an individual entrepreneur is proof that he has found a successful high school job according to his mother, Stephanie Guerra.
"Blake handles the business really well," Stephanie said. "I've been so impressed by his initiative, he took the role to take on all of the shipping and financial transactions on his own. As far as I know, he decided to get involved in  the resale market without any outside influence."
Reselling shoes, unlike buying from a store, is a more exclusive type of shopping, and junior Nick Van Lente believes that it is more popular than just buying from any clothing or shoe store.
"I find it harder to buy from stores now that I've shopped with sellers like Blake," Van Lente said. "The transactions are less personal in a store, but with Blake, he knows what I like and can keep an eye out for things I would want to purchase."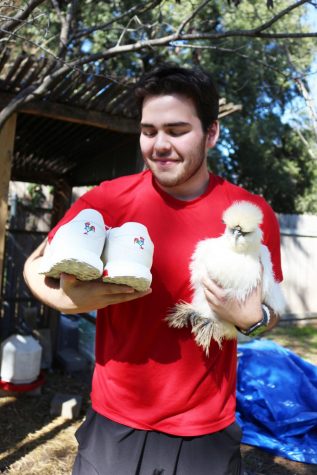 Taking care of all his customers is something Guerra takes seriously, according to his mother Stephanie.
"Blake is often able to get shoes or apparel before they are available to the general public," Stephanie said. "Sometimes, he sets an alarm in the middle of the night just to jump on a special release sale."
Although Blake finds success through his customers and satisfaction from his mother, there are still small challenges he faces in his business.
"At first the hardest part was buying the items and going through the process to get them at a good price," Guerra said. "Now, knowing the trends is the tricky part because selling clothes and shoes has become harder to make a successful amount of profit, so making sure you have well-known items can make things harder for the business."
Even with the challenges regarding the ongoing trends in the year, Blake has a good reputation that customers like Van Lente appreciate.
"Verification is really important when buying high-end shoes and clothes," Van Lente said. "So Blake always being able to do that is really good for customers who frequently are purchasing these expensive brands."
Guerra never expected the reselling business to be something he enjoyed so much, but his mother believes it has become the perfect job for her son.
"This has been a great business for Blake because it is something that he can do when he has the time and that he can just let sit when he is busy with other things," Stephanie said. "The business also allows him to indulge in some specialty brands in ways that could never occur otherwise."
The success of the business is not the most important part, for Guerra believes the opportunities he receives is what makes reselling so significant.
"I see shoes and clothes like a piece of art, so reselling them is sharing my passion with other people," Guerra said.
This story was originally published on The Dispatch on March 17, 2020.