Allen sets sights on college, Olympic success
By Gabby Norman, Kingwood Park High School
March 26, 2020
Senior Jacob Allen has crossed the sea in order to compete in races all over the world, and he credits his success to one thing – his pre-race meal of chocolate cake.
"I eat chocolate cake every time," Jacob laughed. "Before races, just eat chocolate cake. It works."
In reality, Allen credits his successes to much more than a simple dessert. The senior was adopted after first coming to the U.S. from Ukraine in 2015. It was upon his initiation to his new way of life that Allen was first introduced to the idea of wheelchair racing.
When Allen was born, his spine and spinal cord weren't formed properly, a condition commonly known as spina bifida. This does not constrict Allen to a wheelchair, but he uses one as it provides smoother transportation and is easier on his body. 
Wheelchair racing has proven to be a major benefit to Allen, who has committed to attend the University of Arizona on an athletic scholarship this coming fall. He had previously wanted to attend the University of Illinois, but after taking time to evaluate their programs and facilities, Allen chose Arizona. 
"I like hot weather," Allen said. "In Illinois, when it's winter it's very cold; and when I was looking at their program at the University of Arizona, it looked better than the University of Illinois."
Allen said this is a big opportunity for him and will provide him with  better facilities. His coaches reacted positively to the news of the scholarship as well.
"[I am] excited and proud of the way he is developing and handling all the interest and attention," boys track coach Chris Elliott said. "They have a very good support system in place for him to excel both academically and athletically."
"
He has worked extremely hard for this next step in his life. He is beginning to pay attention to the details. He has improved tremendously. He is more powerful and stronger."
— Chris Elliott, boys track coach
Elliott said Allen has been working much more this year, increasing his daily mileage during practice and focusing on the small things to help him shave off time.
"He has worked extremely hard for this next step in his life," Elliott said. "He is beginning to pay attention to the details. He has improved tremendously. He is more powerful and stronger."
During his time at Kingwood Park, Elliott has created Allen's workouts, reinforced his technique, and developed the special bond between a coach and his athlete.
"He is a great young man, and a big inspiration to all that know him," Elliott said. "[My favorite memories are] having the interaction with him at practice, getting him involved with his teammates during the off-season and the respect he has gained from his teammates."
This fall, Allen will start anew once again and he hopes for the experience of every other college student.
"Living away from my parents would be fun, they're not controlling you, not telling you what to do," Allen said. "I think it'll be a little bit harder, but I have friends there which will help me if I have issues."
Sheela Allen, Jacob's mother, has no concern for her son in college other than his health.
"I will miss him, but my biggest concern is if he is sick," Sheela Allen said. "Will he have the care as he does here at the Texas Medical Center?"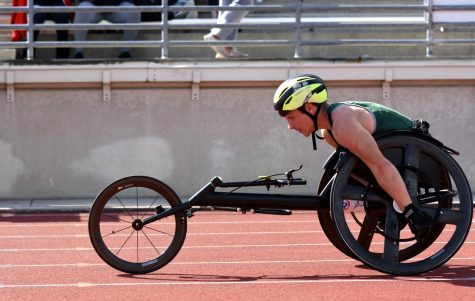 Sheela Allen has high hopes for her son, knowing that his Ukrainian background could provide the basis for a strong role in the government as a translator. 
"I think Jacob would do great in a government job where he could translate," Sheela Allen said. "He speaks three languages. I want Jacob to be happy in a career with him having his own family, many years down the road."
Allen has his sights set to compete for the U.S. Paralympic team in Paris 2024. This past summer,  he represented the U.S. in the World Para Athletics Junior Championships in Nottwil, Switzerland. While Allen did not place, he gained key experience to help push him forward.
For now, Allen competes in 10K races, half-marathons and marathons. As a varsity track athlete, Allen also competes in shot put, the 100-meter dash, and the 400-meter race.
"When he is at the University of Arizona, he will be doing more full marathons," Sheela Allen said. "They will give him the training he needs to accomplish this."
Allen isn't concerned about college, it's just another part of his journey. The facilities at the University of Arizona are especially accommodating.
"We have a lot of people in wheelchairs there, everything is fine," Allen said. "There are ramps everywhere so you can go wherever you want to go on campus."
To Allen, college is something to get through, believing that finishing school is the only way to secure a good job.
"Just finish it and graduate," Allen said. "In the U.S., it's a rule that if you don't finish college, you don't have a good job. I want to be a coach or a translator."
That journey started in Kingwood and will continue at the University of Arizona. Allen is determined to make his name known by representing his school and his family.
"I need to work harder on the track," Allen said. "They gave me the scholarship. I'll be wearing the uniform of the University of Arizona and making people want to come watch."
This story was originally published on Park Times on March 25, 2020.