Essential workers fear catching coronavirus
By Destiny Montgomery, Altoona Area High School
April 6, 2020
On March 19, Governor Tom Wolf announced all businesses that aren't "life-sustaining" were to close due to concerns of COVID-19, or the Coronavirus, spreading. Workers that are considered "essential" are facing the troubles and worries of catching the virus.
Adult "essential" workers
Adults work for most of the day, causing more worries of catching COVID-19. For Robert Montgomery, a FedEx Ground Delivery Driver, and Jessica Montgomery, a Sheetz Hospitality Manager, they are making sure to take proper precautions when coming in contact with the people in their community.
"I am worried about getting sick. We work with the public. Some of the public is still going about their lives as though nothing is happening and it puts many people at risk. Not only the workers, but their families and other customers," J. Montgomery said.
As for R. Montgomery, coming face to face with people during the day has made him carry Lysol wipes because people have to sign his scanner when he delivers.
"I carry Lysol wipes and wipe down my truck, my hands, and the scanner constantly. I try my best not to come into close contact with my customers," R. Montgomery said. "This pandemic is a very scary thing. I just wish it would pass, and people would get better and life would return to normal."
Luckily for J. Montgomery and other Sheetz employees, business has dropped a significant amount.
"Sheetz as a company has put in extra safety measures for the workers and the public. They have shut down all the self-serve areas and extra cleaning and sanitizing is done throughout the shifts. They are putting barriers up for the registers and food pickup areas, so that there is more protection for everyone. They are also monitoring the six-foot difference," J. Montgomery said.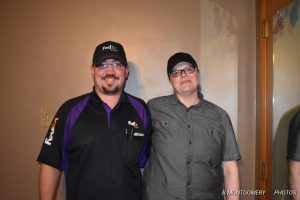 R. and J. Montgomery want everyone to be safe during this pandemic.
"Be safe. Take care of yourself. Wash your hands. If you are sick, stay home, keep a safe distance," J. Montgomery said. "Please, if you do not need to be out, stay home. You are not only putting your health at risk, but others as well. This is not something we should be taking lightly. We all want things to go back to normal, but if people keep treating this as it is no big deal, there will be more harm done. It won't end until we all do our part."
"Take your time to practice hygiene and always be aware of your surroundings," R Montgomery said. "God bless everyone and pray for a recovery of all."
Teen "essential" workers
For teens, they might not have to worry as much, with not being scheduled and many hours.
Junior Adriana Kessler works under J. Montgomery as a Sheetz employee.
"To be an essential worker means you are able to continue when times are tough," Kessler said. "Since I work at Sheetz, it is a well-populated area, so yes there are some concerns, but I am confident they are taking the necessary precautions."
Junior Marissa Hoover is a cashier at Thompson's Pharmacy.
"We keep a plastic barrier between us and our customers, we wash our hands every hour, we sanitize the counters and frequently touched places and sanitize our hands every time we touch money," Hoover said.
Most customers are taking the proper precautions by not going inside to get their medicine.
"Some days are busier than others. It all depends on the day. More of our customers have been receiving their medications through delivery or drive through," Hoover said.
As the virus continues to spread, fear seems to be increasing.
"At first I was not scared at all, but now seeing how fast it is spreading, I'm a little more concerned and would recommend people stay at home," Kessler said.
Hoover has advice for all other workers.
"Keep your hands clean and away from your face, don't stay in the same clothes you worked in when you get home and wash them as soon as possible, keep contact with others as low as possible since you're more susceptible to the virus," Hoover said. "Hopefully this pandemic decreases soon, so our lives feel a little more normal."
Everyone should appreciate the essential workers including, doctors, nurses, grocery store workers, gas station workers, truck drivers, delivery drivers and so much more.
This story was originally published on Mountain Echo on April 6, 2020.