Soph singers attack COVID-19 with humor
When coronavirus canceled their choir video project, two enterprising Knights decided to take matters into their own often-washed hands
Evelyn Griffin and Jewel New
By Samantha Powers, McCallum High School
April 7, 2020
Students are finding many ways to fill the extra time they have on their hands while in quarantine. Some students craft, some take online classes and some watch TV and movies. Two McCallum sophomores, however, have pushed their creative limits by making a coronavirus-themed music video.
Sophomores Evelyn Griffin and Jewel New created a parody music video to The Knack's 1979 hit "My Sharona" based on the coronavirus while they were staying at a family ranch. With original lyrics, themed costumes and the girls' own voices on the track, this music video has it all.
"There's this choir project that we look forward to every year where we have to make a music video," Griffin said. "When we realized that we might not have the chance this year, we were like, 'Oh, we should just make a music video here at my grandma's. And then we were like, 'Oh, it should be corona related…"My Corona,"' it just happened."
Griffin and New hoped to bring a little light into a situation that can be frightening to some. Griffin said that the video was a just fun way to deal with the current global situation. She emphasized that their creation isn't serious, that it's all about having fun.
"Well, I mean, we're not professional filmmakers," Griffin said. "You know, my eighth-grade media animation class skills can only do so much. So, I mean, we really weren't serious about it. We just wanted to have fun."
Griffin acknowledges the seriousness of the topic of their music video but explains that she is well aware of that and only hopes to make people smile during this hard time.
"I think as long as Jewel and I have some understanding of the gravity of the situation, it's OK to find humor in it. I think that sometimes in dark times, comedy and like a little humor can be good for people.
Griffin explains that since she was staying with her at-risk grandmother, the things the girls did in the video were actually closer to the truth than it may seem.
"We didn't really find it offensive and I mean, we are well aware of the situation," Griffin said. "Actually, we were at my grandma's at the time, and all of the over-exaggerating we were doing in the video was actually kind of our reality. My grandma just finished chemo and so we were having to be super, super careful about like cleaning everything we touch and that kind of thing. So it wasn't that far of a stretch, the stuff that we did in the music video."
New said that the most important thing is that the girls had fun creating the video. She hopes that viewers will come away feeling as good as the girls did while making the video.
"I hope that it makes [the viewers] laugh, and I hope they can see how much fun we had making it," New said. "We were documenting the current state of the world and providing humor during a time that's tough for a lot of people."
— with reporting by Elisha Scott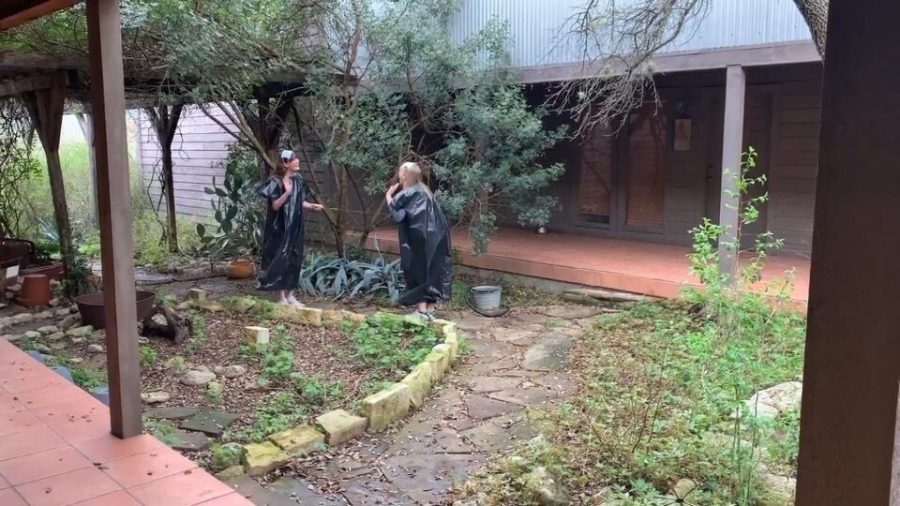 This story was originally published on The Shield Online on April 6, 2020.