The epitome of Panther pride
Sibling rivalry propelled Hudsons to pinnacle of Panther basketball
By Daniel Stackhouse, Starr's Mill High School
April 7, 2020
Panther alumni Drew and senior Alice Anne Hudson are two siblings that have set the bar for Starr's Mill basketball.
They have both accumulated incomparable stats and earned All-State status. All of this success, though, came from their competition against each other.
The Hudsons began competing against each other when they were toddlers. Their sibling rivalry quickly transferred to playing basketball in their driveway and one-upping each other in their youth leagues.
"Drew was probably seven or eight and Alice Anne was five or six and it would get very heated out [on the driveway] even back in those days," father Kenny Hudson said. "If [Alice Anne] played the first game of the day, [Drew] wanted to know how many points she had because he didn't want to get outdone and vice versa."
As the years went on, their rivalry continued. Once they were in high school, in an attempt to best one another, they pushed their abilities on the court to new heights.
Drew made history as the greatest male player in the history of Panther basketball. He holds the records for points in a game (31), points in one season (547), and rebounds in a single season (327). He is also the first male Panther to go over 1,000 points in a career.
Through his four years, he became the only male player in school history to earn Player of the Year honors for the county and the region. He was also the first male player ever to be selected to the All-State team. By the end of his high school career, he broke the all-time scoring record with 1,051 total points.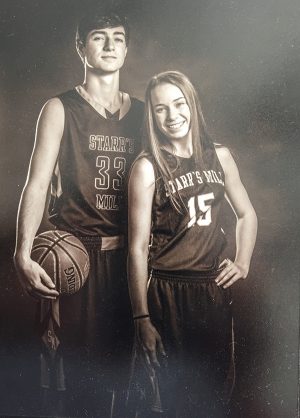 "I saw how well [Alice Anne] was doing and I was like, 'Dang, I can't let her beat me yet, so I got to keep pushing myself'," Drew said.
After his dominant career, Alice Anne had a lot to live up to, and she came out of the gates swinging for four straight years. She racked up 252 rebounds in a year, 444 points in one season, and broke Drew's record for points in a game with 33 points.
Like Drew, Alice Anne also earned Player of the Year honors for the county and region, and earned a spot on the All-State team her senior year. By the end of her junior year she dethroned her brother for the most points in school history. By the time her high school career was said and done, she earned the crown for career points with 1,616.
Now that both of them are through with their careers, they stand atop as two of the best. In some ways Drew has been the better, and in other ways Alice Anne has been the better, but their skill and drive are unmatched.
"When [Drew] came home [from college] we started hanging out a lot more," Alice Anne said. "I think that bond, [because we were] just playing basketball growing up, just continuing to grow, we're just closer than ever right now."
After years of competition against each other, they have found a way to rely on each other. Underneath all the stats and talent, there are two siblings that have grown and matured into the man and woman they are today.
"I learned about working together as a team," Drew said, "If you don't have good communication with your group or your team, you're not going to succeed."
Though they pushed to best one another, in doing so they elevated the state of Panther basketball to new heights. No player, male or female, has been able to reach the prowess of the Hudson siblings. They not only were phenomenal players, but they were also phenomenal leaders for their respective teams.
"I've always been proud of who [Drew and Alice Anne] are as people more so than basketball players," Kenny said. "It's a great feeling to see the people they're becoming and how much they're respected."
Even though their careers are over, their legacy of greatness has been forged. Their careers will be remembered fondly. Those who played with and against them will forever remember them as near-unstoppable and as the pride of Starr's Mill basketball.
This story was originally published on The Prowler on April 6, 2020.