Illustration by Dave Winter
Pandemic prompts proliferation of puppy parents
With time to train and play, at least four staff members adopt dogs to say paw-sitive during ruff times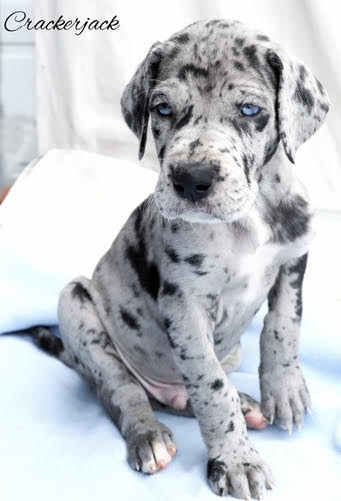 People like dogs.
Especially Americans. Americans really, really like dogs.
According to The Harris Poll, 62 percent of Americans own a pet (in comparison to about 25 percent of Europeans). Nine in 10 American pet owners consider their pet to be a part of their family.
Enter COVID-19 quarantine.
The result is predictable and hard to miss. In the past couple weeks, dog adoptions and purchases in the United States have increased a whole lot. Shelters and breeders are being emptied. Madeline Yeaman Arnold, the spokesperson for the SPCA (Society for the Prevention of Cruelty to Animals) of Texas, told The Daily Beast that there has been a 100 percent increase in pet fosters.
This mega-boost in dog adoptions can be seen among our very own Mac staff, who like many other Americans, have hopped onto the dog-adoption train. And warning, this so-called train may just melt your heart, so if your house and local grocers are low on paper products you might want to stop reading this story right now.
Still here? Don't say we didn't warn you.
It's no secret that having a puppy is time-consuming. With a new-found abundance of time, COVID-19 quarantine provided an ideal opportunity for Mac teachers to bite the bullet and welcome a puppy into their homes.
Piano teacher Kate Wiley is now the proud owner of an eight-week golden retriever named Zoe.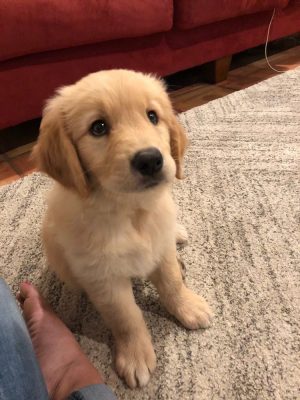 "We [my husband and I] were planning to get a golden retriever once school got out for the summer," Wiley said. "But since I'm home all day, we thought now would be great timing."
Coach Brandon Grant, who just adopted a six-week old Great Dane named Crackerjack (nickname: Jack), found himself in a similar situation.
"We have always loved Great Danes," Grant said. "Ours passed away just over a year ago, and we have been wanting another ever since. With my usual busy schedule as a coach, it has never been a good time to train a puppy. We saw the quarantine as an opportunity for me to be home for at least a couple months to train Jack the right way.  I think people see quarantine as a great opportunity to give a home to a dog and have the time to train the dog they adopt. It's one of the few silver linings to this pandemic."
For other teachers, the decision to adopt wasn't so obvious.
"My wife has been wanting a puppy for some time now," said English teacher Eric Wydeven, the new owner of a 11-week year old Shih Tzu named Clementine. "Until recently, I have been content with a two-dog household."
With his wife's birthday coming up, his daughters constantly begging for a new puppy and media reminders that quarantine is the perfect time to adopt, Wydeven caved.
"When are we ever going to get this opportunity again?" Wydeven said.  "We're–by law–restricted to our quarters. My defenses were weakened. I finally acquiesced."
During quarantine and self-isolation, widespread worries about maintaining social and emotional health have risen. For many, bringing in new puppies to the household has acted as a solution to these concerns. Counselor Daniela Galvan's "solution" is pretty darn cute: a two-and-a-half-year-old blue healer named Oreo.
"I don't have kids and only live with my fiancee, so I definitely felt like I needed something else that would be keep me productive and would help my mental health. I thought that a puppy would be a great way to get both benefits," Galvan said. "It feels very helpful to have a fur baby to cuddle with and love on during these times of uncertainty."
Wydeven and his family's morale has increased exponentially thanks to Clementine and her shenanigans.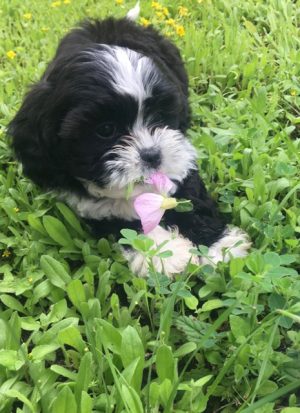 "In a time when so much seems dour and scary, it is a wonderful thing to just sit back and laugh at this goofy little creature who seems jolly and excited by the new world she is experiencing." Wydeven said. "Our life in quarantine has changed dramatically since Clementine moved in to our house.  There is more laughter, more walks outside, more ideas about things to do (my youngest even sewed a little skirt for her a couple of days ago), and in general, more good feelings."
For Wiley, meeting all of Zoe's needs has forced her to increase her productivity during quarantine.
"Zoe keeps me on a schedule," Wiley said. "I'm now going to bed at a certain time and waking up before eight every morning."
With all this time on their hands, these Mac staff and their dogs are having a grand ol' time. From playing with toys to learning basic commands, there's never a spare moment with these new pups.
"Because Oreo is still in the process of getting all of his vaccines, he can't go outside, so we've been doing a lot of playing with toys inside," Galvan said. "His favorite activity is definitely chasing a stuffed alligator that squeaks. There's been a lot of potty training (which he's doing great on!) and a lot of napping! Apparently puppies do sleep quite a bit."
Potty training is quite the popular past-time.
"With Jack, we've been having lots of potty breaks," Grant said. "The little dude loves to drink water, so we are going outside on a regular basis to prevent accidents in the house. We started taking him for walks this week, and he wasn't particularly thrilled about the leash; however, Jack has warmed up to it and even got to experience playing with a few dogs in our neighborhood, which he was overwhelmed with joy about."
So would these new puppy owners recommend adopting a quarantine puppy? Yes. Yes, they would. But with great privilege comes great responsibility. Galvan stressed the importance of conducting proper research before adopting.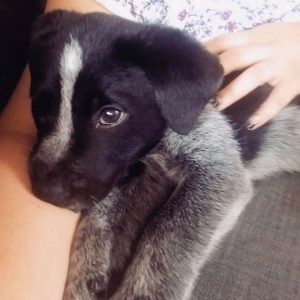 "Before adopting a puppy, DEFINITELY do a lot of researching on puppies in general, training them, and behaviors you may encounter," Galvan said. "Also do in-depth research on the specific breed of puppy you are getting, so that you have an idea of how good they do around other dogs, kids and their overall energy levels. Make sure that you can financially take care of one in the moment! Vet fees, food and materials (kennel, toys, etc.) can add up quickly.  It is definitely not a decision to take lightly since you want to make sure that you give that puppy a forever home and not just a temporary one. So definitely be prepared."
For the skeptics out there, Wydeven has some words of advice.
"If you have been considering getting a dog, now is a great time to do it.  Though I was initially reluctant to take on a third canine life, I now can't imagine our house without her," Wydeven said. "The laughter and joy she has brought to our sequestered existence far outweighs any pee puddles she could put on the floor."
Grant could not express agreement with this sentiment any more enthusiastically.
"DO IT! We [my family] are huge dog lovers and there couldn't be a better time to give a pup a good home," Grant said. "It's also a great way to take your mind off the negative things going on in the world."
This story was originally published on The Shield Online on April 16, 2020.