Irish dance like no one is watching
By Cedra Jazayerli & Ailish Lyman, Hinsdale Central High School
April 17, 2020
The local Irish dance school prepared to compete in the upcoming World Championships before their season was cut short.
It is 4:30 a.m. and sophomore Annie Morel fights off the feeling of jet lag as she prepares herself for another rigorous day of competition. She ties her dark hair into a slick bun and grabs her sparkly outfit with layers upon layers of rhinestones and tulle. It takes nearly an hour to secure the golden locks with bobby pins and several layers of hairspray, with help of many sets of hands to ensure proper placement. Morel also deep tans her legs and uses false eyelashes in her makeup routine. After just three hours and thirty minutes of preparation, Morel is ready to compete.
The Mulhern School of Irish Dance was first established by Coleen Mulhern Malloy in 2006. Malloy started off teaching her children, nieces, and nephews basic routines in her mother's basement. The school gradually grew as more friends attended and eventually she was able to purchase her first studio in Westmont. Malloy, along with her sister. Eileen Mulhern O'Kane, have grown their company into a global enterprise with locations in Chicago, Minneapolis, and recently Ireland. Many of their relatives attend or have attended Central and participate as dancers in the company.
In February of this year, the company merged with an Ireland-based studio to become the O'Neill Mulhern Garaghty (OMG) School of Irish Dance.
"[In just a few years], we have become one of the largest schools in the entire Irish dancing world," said Bridget O'Kane, junior, who dances at OMG and is the daughter of co-owner Eileen.
With the world competition approaching in April, the OMG Dance Company hopes to be successful in Dublin for their first time as a conjoined team. Their first appearance as a merged company will be at the World Championships competition in April. However, due to the Covid-19 pandemic, the championship for 2020 has been cancelled. Nonetheless, the dance company continued to prepare and is projected to have future success.
"It's kind of like the debut of our school so we're coming out and trying to hit it hard and do really well," O'Kane said.
The most skilled dancers of the OMG Company travel abroad for competitions multiple times each year. In fact, more than 60% of their dancers qualify for the Irish Dance World Championships. Members of the solo team have participated in national competitions in parts of Ireland, Canada, Scotland, and England.
"I've been lucky enough to be on the solo team (…) and travel around the world which is probably one of my favorite parts of (doing) Irish dance," Morel said.
The bigger competitions such as the World Irish Dance Championship and the North American Irish Dance Nationals require large amounts of training and focus. The dancers train on average four hours a day for six days a week.
"We always amp it up right before big competitions," O'Kane said.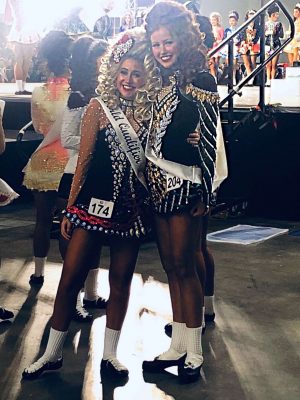 A typical Irish dance routine is unique from other forms of dance in that it is entirely formed by the lower body movements of the dancer. Their arms and upper body are strictly laid at their side. The music is meant to accompany the sounds created with foot movement.
"Our foot movements create very interesting sounds that are similar to tap dancing [and are created with] our special shoes," Morel said.
Not only is the choreography process crucial to the performance, but so are the hair, makeup, and costume components. Irish dance relies heavily on old traditions and customs. The dancers are known for their striking wigs, elaborate dresses, and intense stage makeup. The dresses are designed by O'Kane's mom, Eileen, and are customly ordered and handmade in Ireland. They can cost upwards of $4,000. The steep price is due to the fabric, intricate details, and heavy rhinestones bedazzled onto the dresses, said Caroline Malloy, junior, and daughter of co-owner Coleen.
The dresses are typically long-sleeved with a short trimmed skirt. Both ruffles and rhinestones are a common detail sewn onto their dresses. Additionally, the dancers are required to tan their legs in order for the judges to clearly see their lower body form underneath bright stage lights.
There are two types of wigs; one with a high bun with curls piled neatly overhead, and another with tightly wound curls and high definition to frame the face. Malloy favors the bun wig as opposed to the all-down look.
"My typical wig is the all-down blond curls because it matches my dresses more naturally but still gives the typical Irish dance look," Malloy said.
Though not all the dancers at OMG Company are Irish, many have chosen to pursue this passion as a way to connect to their heritage. For example, Morel started Irish dance after observing family members engage in the art.
"The first memory I have of Irish dance was watching my older cousins do an Irish dance at a wedding," Morel said. "I always wanted to be like them so I joined."
O'Kane said that all of her older cousins and her brother danced as well. She also said she feels proud to represent her Irish culture in the U.S.
Morel noted that because Irish and American's speak the same language, dancing is their way to feel culturally connected.
"Sometimes for different cultures, you can feel more connected with the language… One of the best ways for me to feel connected to my Irish heritage is through Irish dancing," Morel said.
In addition to feeling connected through Irish dance, many girls say that they feel a familial connection through their physical Irish features.
"I have red hair and freckles and I look very Irish," O'Kane said. "[And] the fact that I do Irish dance and am always in Ireland, [it seems that] people find it really cool."
Malloy's and O'Kane's grandparents immigrated from Ireland to the U.S. so they feel as though Irish dance is a way to continue and contribute to their family's culture.
"It's crazy that I'm doing something that [my grandma] used to do when she was younger and living [in Ireland]," Malloy said.
Because the studio is family-oriented, O'Kane, Malloy, and freshman Katherine Malloy, sister to Caroline, have gained opportunities to lead others in the company.
"Going to Worlds and placing there and getting on the podium at huge competitions is really fun, but my proudest accomplishment is definitely being a teacher. Being someone for the little kids to look up to not only for what I've done…, but also as a person," O'Kane said.
Many of the dance students said that they hope to continue instructing classes as they get older, regardless of their career choice.
"I would love to pursue more of the teaching aspect to be able to pass the tradition on to younger kids who live in the community," Morel said.
Malloy said it will be difficult to quit for college because she's never had her life without it.
However, with the recent outbreak of the Covid-19 virus, the company has been forced to take an unprecedented break and the dance students are unable to see one another for the time being. With that being said, the dancers said they remain hopeful and optimistic for the future.
This story was originally published on Devils' Advocate on April 10, 2020.