COVID-19 hits close to home
After her husband fought COVID-19 for over a month, gifted paraprofessional Elizabeth Goodman shares the severity of the virus it has on people
By Hannah Chern, Mill Valley High School
April 20, 2020
After returning from a typical Friday at work on March 13, Eric Goodman noticed that something felt wrong with him. Two days prior, he had returned from a business trip in Atlanta that had hosted over 750 people. Two days later, he'd be an official COVID-19 patient in the Advent Health emergency room. 
Assuming everything would be all right, Eric went to bed to get some rest on Friday night. He got out of bed Saturday morning with a slight fever, headache and a cough, but still figured it was nothing major. The next day, he woke up struggling to breathe with a high fever. 
Eric and his wife, gifted paraprofessional Elizabeth Goodman, got in contact with a health professional through TeleMed—a live medical answering service—and were directed to go to the emergency room.
Once they reached the Advent Health ER, doctors tested Eric for strep throat, but both tests came back negative. He and Elizabeth were sent to an isolation room while hospital staff hurried to figure out what was wrong.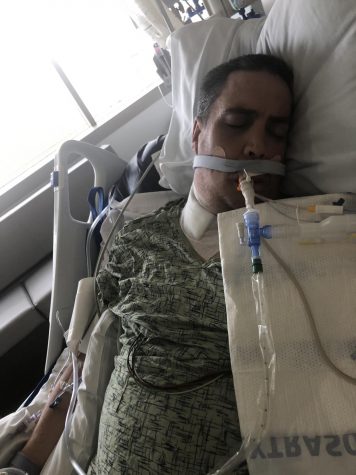 Eric was then tested for COVID-19.
As they were waiting for test results, Eric's breathing was getting worse, so doctors ran an EKG scan, showing that his heart was experiencing some strain. By 5 p.m. that Sunday, Eric was transported to Advent Health's main hospital in Merriam and doctors told Elizabeth to self-quarantine herself at home until test results came back.
The test results didn't come quickly. According to Elizabeth, "it took four days to hear anything concerning" her husband's condition. 
She tried phoning Gov. Laura Kelly's office to find out what was taking so long. It didn't work. 
Four days later, on Wednesday, March 18, Elizabeth was informed that the test sample "was not viable" and doctors were going to proceed as if Eric had tested positive for COVID-19.
The next day, Eric was released from intensive care. He went home with Elizabeth, but she didn't have much knowledge on how to take care of the COVID-19 patient. 
"He was released back into my care with very little instructions on how to care for him except give him Tylenol every four hours
for the fever," Elizabeth said. "I was told that if he gets worse, [I should] bring him back in."
While at home, Elizabeth cared for Eric alone; she didn't want to risk other family members contracting the disease. She noticed that he "ate very little food and could barely move on his own." 
"I had set up our guest room for him with all his things he may need," Elizabeth said. "Every four hours I would take his temperature and give him Tylenol. I would stay in the room to see for myself how he was doing breathing-wise."
Then, on the morning of Sunday, March 22, when Elizabeth was going to check on Eric's temperature again, her husband told her that he needed oxygen. Elizabeth called the ER prior to rushing her husband to the ER that day.
"I took him straight to the ER where the ambulance takes patients and was met by a nurse," Elizabeth said. "I had to say goodbye to him not knowing when I would see him again."
"
I had to say goodbye to him not knowing when I would see him again."
— gifted paraprofessional Elizabeth Goodman
Shortly after arriving back home, the ER doctor called Elizabeth and informed her that Eric had been sedated and put on a ventilator. Eric could not breathe properly on his own. Despite the stressful time, Elizbeth recalled that the doctor "was fantastic and walked me through everything she did and why."
After being admitted into the hospital again, Eric remained in the ICU for 13 days on a ventilator under heavy sedation and paralytics. Elizbeth mentioned how her husband had high fevers for 10 straight days. Doctors at the hospital gave Eric a combination of hydroxychloroquine and the antibiotic azithromycin in hopes of improving his condition, but it showed "no change in his status."
Eric had developed COVID-19 pneumonia which, according to Elizabeth, is far worse than normal pneumonia. 
"The fluid is really thick and sticky in the lungs [and] very hard to get out," Goodman said.
While hospitalized, Eric would have to lie on his stomach for a long period of time in order to help his lungs get oxygen more easily.
The infection disease doctors also gave Eric Actemra, a drug that has been approved to treat rheumatoid arthritis but also had promising results treating COVID-19. Within 24 hours of being given the drug, her husband's fever finally subsided.
Although he remained heavily sedated and on a ventilator, Elizabeth noted that Eric's condition started turning for the better when the fluid in his lungs started to clear.
"Soon his lungs began to be able to rid itself of the fluid easier and he was able to be turned to laying on his back without needing more oxygen," Elizabeth said.
From that point on, doctors were able to quickly lower Eric's sedation. On Saturday, April 4, over three weeks after Eric first noticed his symptoms, they were able to take him off of the ventilator completely. 
Elizabeth believes that the turning point for her husband's conditions came after he was given Actemra.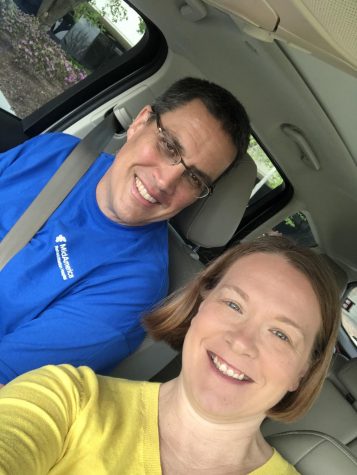 "I truly believe that without this drug, he would not have gotten off the ventilator," Elizabeth said. "It was the x-factor that his body needed to turn the corner."
After a month of battling COVID-19, Eric lost 46 pounds and a majority of his muscle strength.
After experiencing a month of uncertainty concerning her husband's condition, Elizabeth wants the community to know that everyone is at risk of catching COVID-19 and its effects should not be undermined.
"​It is very real and should not be taken lightly. It affects more than just older people or those who are immunocompromised. My husband was a fairly active 43-year-old guy who had no underlying health conditions. It hit him so fast we hardly knew what was happening," Elizabeth said. "Viruses don't discriminate. There was a healthy 21-year-old in the ICU on a ventilator towards the end of my husband's stay in the ICU. It's only a matter of time before younger and younger people are being affected."
In order to actively prevent the spread of COVID-19 and help the healthcare workers, Elizabeth believes that people should follow the guidelines and orders set by the federal and state government.
"I think the best thing we can do is to limit our contact with people by doing the social distancing and the stay at home orders that have been enacted," Elizabeth said. "It is the only way to give our medical staff the time that they need in order to figure this virus out and not overburden the staff and supplies."
This story was originally published on The JagWire/Jag Yearbook/MVTV on April 19, 2020.