Nobody 'screams McCallum' quite like Jane Farmer
For 13 years at Mac and 32 years overall, she's made her library feel less bookish and more like home
By Ella Irwin, McCallum High School
April 22, 2020
Since today is National Library Workers Day, we thought it was a good time to share one of our favorite stories that appears in the pages of the 2020 Knight, McCallum's yearbook.
She was in 10th grade, but on the first day of school, Anna Nagle felt more like a freshman.
"
She is exactly the kind of librarian I want to be, the way she sees the world, and the way she puts that into library practice is just perfect."
— First-year librarian Jain Thompson on retiring librarian Jane Farmer
That's because Anna's first day as a 10th-grader was also her first day at McCallum.
"Coming in as a new sophomore is really tricky," Anna said. "Everyone else has already found their groups of friends."
Luckily for Anna, when she entered the building on Day 1 she ran into Mac librarian Jane Farmer.
"The first person I intereacted with on the first day of school was Ms. Farmer," Anna recalled. "She greeted me with a chipper hello and a smile when I shuffled into the library before school."
Anna chatted with Farmer and with first-year library Jain Thompson and almost immediately, McCallum seemed like a much less intimidating place.
"They were more than just librarians. There were super fun to talk to and exchange book recommendations with," Anna said. "In fact, the McCallum library and staff has left such an impact on me that the first thing I thought about when school got canceled was, 'But I have to give my library books back!'"
Anna wasn't alone in offering high praise for Farmer and Thompson on National Library Workers Day today. Expressions of appreciation came from every corner of the virtual campus today.
Principal Brandi Hosack sang the praises of Jane Farmer and Jain Thompson at this morning's Zoom faculty meeting. "From the bottom of my heart, you make the library a space where kids want to be every day, and it's not like that everywhere. Jane and Jain, you are exceptional. Thanks for the work that you do."
Assistant principal Andy Baxa offered a similar sentiment in an email message to the Maculty this morning. "Both of these women are amazing to work with and are willing to go above and beyond. Whether you need a quick book recommendation, help on a research project, Chromebook repairs or just a friendly face to break up the monotony, you can always turn to Jane and Jain. Thank you for being an integral part of the MAC family."
"
The McCallum library and staff has left such an impact on me that the first thing I thought about when school got canceled was, 'But I have to give my library books back!'"
— sophomore Anna Nagle
Celebrating Farmer's contribution to McCallum is especially important on this National Library Workers Day because it will be Farmer's last as a working librarian.  After 13 years at Mac, librarian Jane Farmer is retiring.
"Over my past 32 years [as a librarian] I have learned a lot throughout that time," Farmer said. "However, my husband and I have decided that we want to leave Austin after 42 years. It has only treated us well throughout those times I have enjoyed it so much, but time has come for us to move on."
Former principal Mike Garrison, who was Farmer's principal for a dozen of those 13 years, echoed the sentiments of this year's admin staff.
"Mrs. Farmer can peddle those books and take care of Mac students better than any librarian out there," Garrison wrote in reply to a MacJournalism Instagram post celebrating National Library Workers Day. "She's the best."
Replying to the same post, English department chairperson Diana Adamson agreed.
The Mac librarians are "absolutely the best in the world," said Adamson, who went on to thank Farmer and Thompson "for always making the library welcoming and fun for the kids and the adults."
One way that she and Thompson achieved that welcoming vibe was the incessant decorating that occurred in the library. Anna Nagle remembered Halloween-themed decorations and decorations to commemorate Banned Books Week back in September.
"The Halloween decorations were super duper cool," Anna Nagle remembered. "There was a Frankenstein's monster cutout, lots of ghosts and pumpkins everywhere and a spooky Kermit the Frog. It wasn't exactly scary per se, but definitely made everyone feel a little bit more festive."
Anna also vividly remembered the Banned Books display.
"The Banned Books decorations were really fun, too, since I hadn't known how many of those books were actually banned," she said. "Some of my favorites, like Things Fall Apart and Ready Player One, were on the [Banned Books Week] shelf, and I remember asking Mr. Farmer about them."
"'These are banned? Why?'"
"'No clue,'" Farmer said. "'They're pretty good.'"
The same could be say for Farmer's career as a librarian but only if you are fan of understatement.
She began work as a librarian at two different elementary schools across, but after 18 years, she wanted a change. When she arrived at McCallum, Farmer did not know what to expect from high school students but was greeted with warmth.
"Our students are so good," Farmer said. "One of my most memorable moments was in the library. I needed help with moving boxes, and I asked for help to just see if like one or two kids would help and out of nowhere, so many students got up and gave a helping hand and that just really showed how amazing this high school is."
Anna Nagle will tell you that just as often Farmer often was the one providing the helping hand.
Anna was so apprehensive about competing in the the Battle of the Books reading quiz bowl that McCallum hosted that she considered quitting the team, but Farmer wasn't having it.

"She knew I was really scared of actually competing, but she also knew I still wanted to be involved, so she convinced me to join the hospitality team, and at first I was nervous," Anna said. "I didn't know anybody else on the team, and I was really dreading the day of the competition and hoping everything would go smoothly. The day came and Ms. Farmer handled every little hiccup so professionally."
In trademark fashion, the library was fully decked out for the occasion with a welcoming blue and silver color palette that greeted competitors warmly while in a non-threatening way reminding them whose library it was.
"We decorated the library and competition space and literally made it scream, 'McCallum!'" Anna remembered. "She even bought us all bandannas to unite the team. In a way we ourselves were also McCallum decorations, since we were all wearing blue and silver. When all the teams walked in, we formed a 'line of welcome,' where we all greeted our competitors and welcomed them to the McCallum library. Even though we didn't win, it was so much fun to watch all of the work that we did pay off. Mr. Farmer led the charge wonderfully, and she gave me one of my favorite memories of sophomore year."
Anna isn't the only new face in the library that Farmer has welcomed with open arms. English teacher Jennifer Wood still remembers how Farmer made her feel welcome when she joined the Maculty.
"I still feel new here to MAC in many ways, but Jane made me feel like I was at home the moment I walked into the library," Wood said. "She has been one of my most important lifelines here at MAC as I've adjusted to a new school."
First-year librarian Jain Thompson can also relate to being the newest person in the library, but with Farmer's encouragement, she and Thompson have become the literary version of Batman and Robin this year.
"[Working with Ms. Farmer] is a dream come true," Ms. Thompson said. "She is exactly the kind of librarian I want to be, the way she sees the world, and the way she puts that into library practice is just perfect. I hit the jackpot. I can't say that enough, I am so lucky."

Ms. Thompson will be applying to fill Ms. Farmers position this fall.
"You can't predict the future so I hope Ms. Thompson will be here," Farmer said. "I believe that change and consistency is really good for an institution and her being here will help that out for Mac."
Ms. Farmer will be moving north of Dallas and will enjoy her time off peacefully.
"I have no plans for right now," Farmer said. "Getting the school year done, getting a house, selling a house, and spending some time quilting. Then I will think of working."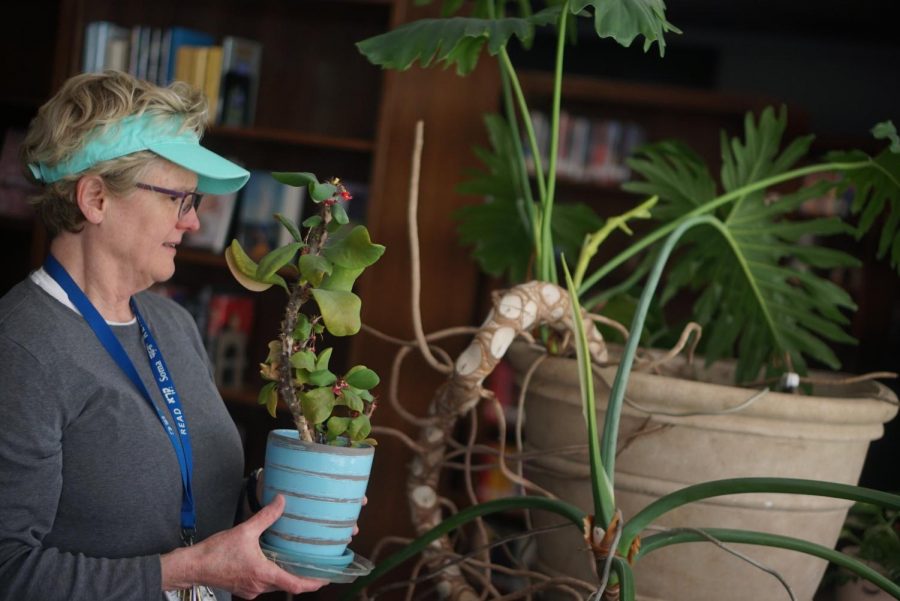 Although Ms. Farmer is excited to have some more time off. She will miss being surrounded by students.
"[I will miss] interacting with students, because I hope to be working, but I don't know I will be working with students," Farmer said. "I really love watching the growth of students. Especially seeing those come in as freshman and then seeing them as graduates they are just amazing young people. That's probably my favorite event graduation. Just getting to know them and watching them grow."
Since the in-person graduation has been postponed to Aug. 13 thanks to the ongoing pandemic, Farmer, like the rest of us, will focus instead on the virtual graduation ceremony being planned for June 15.
"I wish nothing for Mac students but the best of luck!" Farmer said.
As McCallum's resident queen of Chromebooks and a librarian with a reputation for effectively bringing online resources into her library, Farmer is more than capable of making a virtual graduation ceremony work.
It will be an adjustment next year for Mac to function without Farmer.
"I am so sad she is leaving," Wood said. "It makes me tear up, but I know how excited she is for the future. She's earned this incredible freedom that lies ahead for her."

–reporting by Jack Hester and Gabby Sherwood
This story was originally published on The Shield Online on April 21, 2020.