Teacher gets inspired, helps students with 'food insecurity'
By Matt Palmer, Londonderry High School
May 14, 2020
After reading the book No Place by Todd Strasser, LMS reading teacher Rachel Yakey was inspired to help students in Londonderry who suffer from food insecurity. 
"When I first joined the middle school, they were doing a summer book read and I chose the book 'No Place', and in that book the young man loses his home and he has to live in a tent city," Yakey explained. "That got us talking about providing the needs for our students who are in a tough spot."
Yakey said she can somewhat relate to the children because she was in a similar spot when she was young. She was the oldest of the seven in her family and lived in a lower income family.
"My stepdad was the only one who worked," Yakey said. "We had everything, but not a lot of everything."
Both Yakey's new perspectives on hunger and her past experience from her childhood has led her to become the coordinator of Londonderry's "Ending 68 Hours of Hunger" program. The program is a non-profit organization that feeds students over the weekend when food services can't be provided.
"This is the second year of running the program and the first year of having multiple schools in the town involved," Yakey explained."This spring we were approved by the School Board and now we are at the Middle School, South School, North School, and Moose Hill. Last year, we had a pilot year where we just did book bag drop offs at South School." 
Getting to this point of being approved was a big relief for Yakey. This meant that the program made it and they will be able to help others without restraints. And now that they are approved they can really focus on the problem at hand; hunger. 
Ending 68 Hours of Hunger works by having volunteers fill bags of food for children and their families. These bags will be filled with simple food like cereal, mac & cheese, peanut butter and jelly, and other kid-friendly snacks and meals. Once the bags are filled, they are given to the children on Friday afternoon at school to feed them for the entire weekend.    
"Right now we are packing 60 bags a week, but if we did the program to its full capacity we would probably serve about 125 bags a week," Yakey said. 
Although this program serves food to a lot of children and families in need, not all people take advantage of this program. If all of the people who are eligible [financially] for this program, Yakey and other volunteers would have to pack over 400 bags.
"Twelve percent of the students/families in the district are living in food insecure homes," Yakey said. "But, within that 12% of people, 43% of them don't qualify for government help. Their families just make a little 'too much' money." 
That's when Ending 68 Hours of Hunger steps in and helps out where the government can't. Although it may seem odd to some people in Londonderry, there are actually hundreds of hungry students and families across Londonderry that need help.
"Londonderry feels like a very affluent town and everyone is very proud to be from here," Yakey said. "But, when I talk to people they ask, 'Why is this program even here?'"
Yakey's answer to that question is very simple: "Hunger is everywhere," she said. 
Although Londonderry does not have an extreme portion of its community living in poverty, any small donations could change the lives of fellow students and peers. One way to get involved is to check out the Londonderry 'Ending 68 Hours of Hunger' Facebook page and find out what foods are in need.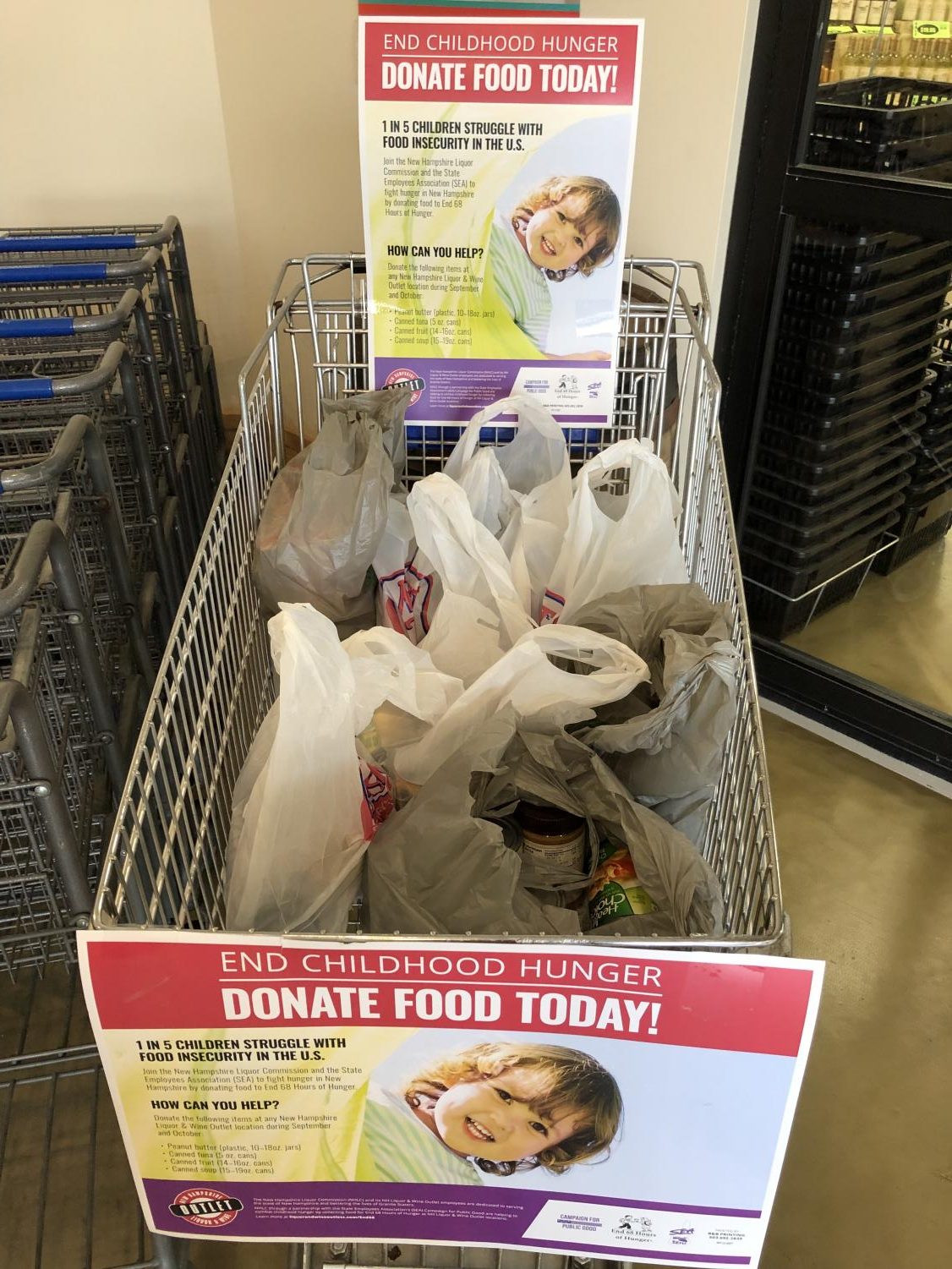 "We have specific food that we are always running low on like Jelly, mayonnaise, crackers, and Poptarts," Yakey said. "The easiest way to get involved is when you are going to the grocery store, you buy an item you saw on the Facebook page and just drop it off at the police station or South School." 
This simple gesture of just buying a two dollar jar of jelly or a four dollar box of crackers could change the life of a young student in Londonderry suffering from hunger insecurity. 
A few stories that especially impacted Yakey were told to her by a South School teacher working with these kids. One day, a little girl came to her teacher and was in tears because she didn't have a permission slip for a bag. Or another day when a boy stopped his whole bus at the end of the day to get his bag, which would feed his family for the weekend. 
"It shows how much this [program] really means to these kids," Yakey said. 
Not only does the food help these children with their hunger insecurity, but attending school with a full stomach can really impact a student's grades as well.
"Being hungry and not knowing if you are going to eat will cause anxiety," Yakey explained. "And if nothing else, being in school and being hungry will mean you're not going to learn. This might lead to poor grades and possibly add to more anxiety."
In addition to trying to end hunger within our youth in the community, Yakey and the program is trying to help students with their education. The goal is to give Londonderry's children "a brighter future." 
"Every little bit helps," Yakey said. "If you are doing any type of kindness, like smiling to someone in the hallway, sitting with someone at lunch, or picking up an extra mac & cheese when you are at the grocery store to help feed a kid over the weekend, all of those things help. Don't shy away from doing the right thing because you are worried about what it is going to look like."
This story was originally published on The Lancer Spirit on April 15, 2020.