The First Debate: Truth, Lies and the State of Democracy
The chaos and vitriol of the first 2020 presidential debate shocked the American public
By Ivy Reed, Clayton High School
October 1, 2020
The first presidential debate, hosted on Sept. 29, 2020, started out calmly enough. Moderator Chris Wallace introduced the first topic, the Supreme Court. Trump spoke for two minutes. Biden spoke for two minutes. And then it devolved into chaos.
"There's a hundred million people who have pre-existing conditions," said Biden in his first two-minute speech.
Then Trump countered with the exact opposite: "There aren't a hundred million people with pre-existing conditions." He went on to say, "The hundred million people is totally wrong, I don't know where you got that number." A New York Times fact check of the debate cited a 2017 report from the Department of Health and Human Services, which found that between 61 million and 133 million people have pre-existing conditions. However, no consensus was reached on this statistic during the debate. Biden didn't clap back at Trump's outright denial of fact. Neither did the moderator, who has described his role as "to be invisible as possible." The New York Times explains that when Wallace moderated the 2016 debates, he similarly asserted that his role was not that of a fact-checker, and that he would leave it to the opposing candidates to call out false claims.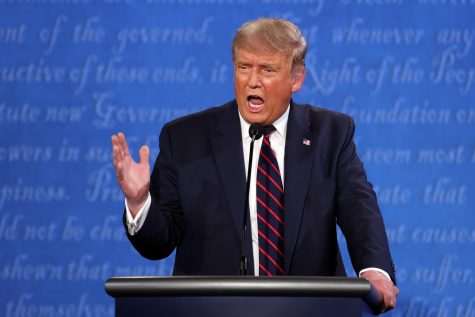 The debate involved several shockers: President Trump refusing to denounce white supremacy, the name-calling, the candidates shouting over each other as Wallace practically begged for decorum and much more. However, what stood out most was the blatant factual contradictions that went unaddressed and the deep-seated issues with this country that were revealed by the disregard for truth at last night's debate.
"Not what you said, and it's not what your party is saying," interrupted Trump later in the debate, when Biden explained that private insurance would not be eliminated under his healthcare plan.
"That is simply a lie," said Biden.
During the segment on the economy, Trump went after Biden's son's business dealings in Russia and Ukraine.
"None of that is true," said Biden, calling the claims "totally discredited."
Wallace reminded President Trump of the discussion's open nature, while Trump shrugged: "It's a fact."
"He doesn't want to let me answer, because he knows I have the truth," said Biden when Wallace asked Trump to let the former vice president answer.
This tense exchange during the economy segment culminated in both candidates speaking at the same time, with Biden's "that is absolutely not true" overlapping with Wallace's desperate attempt to move onto the next segment and Trump's accusations about Ukraine. That was followed by an argument between Wallace and Trump over which candidate interrupted who more.
"
Factual evidence like statistics and impacts are the foundation for every valid argument in every type of debate. "
— Danika Li
The purpose of debate and public discourse is to get to the truth of an issue. I've learned through high school speech and debate that if you use real, objective facts and solid reasoning, then your argument will be valid.
"Factual evidence like statistics and impacts are the foundation for every valid argument in every type of debate. I would advise the candidates and any debaters to rely on numbers and studies as much as possible when making claims to bring merit to their words and to simplify comparison between different policy actions they support" CHS Junior and Debate Coordinator for the Speech and Debate team Danika Li said.
But I've also learned in speech and debate that the line between facts and unreliable information is often blurred, and that reading sources with a critical eye to get to the truth of an issue is essential to making a convincing argument.
But on the debate stage Tuesday night, no truth emerged. Neither candidate nor the moderator managed to successfully prove a fact that everyone watching agreed upon. In debate, we call the refutation of arguments "clash" – without clash, there is no debate. Each side should address and break down the other's opposing ideas in order to uphold their side of the debate and prove why their position is right. The first presidential debate lacked the most fundamental element of debating: clash. Trump and Biden offered starkly contradictory evidence, points of view and opinions on the current state of the country. They then proceeded to shout over each other, exaggerate the impacts and bring up unwarranted and poorly explained evidence – but they failed to effectively target the weak points of each others' claims or call out contradictions. Trump went so far as to denounce expert opinion coming from within his own administration. I and many other viewers were left wondering what to believe, after a debate between the two people positioned to transform American society most over the next four years.
Less than 15 minutes into the debate, Biden said, "The fact is that everything he's saying so far is simply a lie. I'm out here to call out his lies. Everybody knows he's a liar."
"Joe, you're the liar," interrupted Trump, accusing Biden of graduating last in his class. It is deeply concerning to me that lies have become so prevalent in politics that the presidential debate was focused more on which candidate was lying than the concrete policy solutions that this country badly needs right now. Accusations of untruth have overshadowed the value of truth itself.
Tuesday's debate was a microcosm of American democracy. Not only was it chaotic and left many people with a general sense of depression and despair, but there was no mechanism in place to protect the truth. The American political playing field has no moderator, no universally-agreed upon fact check, no completely impartial headlines. It has come to the point where Americans believe in two different realities based on their political party. Every American believes fervently that their version of truth is the right version and that undermines the very idea of truth. The New York Times can publish a perfectly sourced fact check of the debate, but a substantial portion of Americans will denounce it as fake news, echoing President Trump during the debate. Truth has become subjective, easily malleable and manipulated by the two-party system. There are two tangent realities for every issue and every breaking news story – whether it's the COVID-19 pandemic, the prospect of a vaccine, the Black Lives Matter protests, the reliability of absentee voting, the California wildfires, or even the basic values of American democracy, Americans live their lives according to starkly different sets of facts. Even the idea of a fact has become almost meaningless in the world of fake news, extreme polarization and social media.
The only truth that was revealed by the first presidential debate was that truth no longer holds value in America.
This story was originally published on The Globe on September 30, 2020.