Alec Willard-Herr
40,000 people evacuated.
Over one million acres of land burned.
The worst air quality of all major cities in the world in Portland.
Oregon was ablaze.
Wildfires tore through multiple counties in Oregon and all over the west coast in early September, charring land, destroying towns, and forcing people out of their homes — including many members of the La Salle community.
Evacuation zones divided the state between levels one, two, and three — where level one residents were warned to be on alert for evacuation, and those in level two were ordered to be prepared to evacuate. Level three residents were advised to get out as soon as possible.
Evacuees fled to a multitude of evacuation sites, including Clackamas Town Center, which is nearby La Salle. Others found safety in the homes of their friends and family members.
The Falconer spoke to six individuals at La Salle who were affected by the Oregon wildfires and shared their experiences.
MaryGrace Mott
On Sept. 8, Mott put her life into suitcases and backpacks and prepared to stay at a family friend's extra house in Milwaukie.
"It's not something that you ever think that you have to do," senior MaryGrace Mott said. "In our society, we're not taught, or, I guess, warned, about having to pack up and evacuate your entire house."
"I won't lie," she said. "It's hard."
Mott has only lived in one house her entire life. "Just the fear and anxiety of packing up all of your things and not knowing you'll have something to come back to is utterly terrifying," Mott said.
Two hours after the evacuation order, her family's house was vacant. "When it comes to wildfires, it's just pack up and go," she said.
The first thing that Mott grabbed was her four working cameras. "I was like, this is never going to happen again, so I feel like I need to document this for just keepsake, as well as to have in the future to look back on."
Mott also packed sentimental photos of her family and friends. "We took the stuff that really mattered," Mott said. "The things that you take and hold with you are the things that matter."
When Mott was told about the evacuation order, she had just finished her third class period. "I [came] out of my office area, and my mom was like, 'go pack a bag, we're leaving in like an hour,'" Mott said. "And it was like, 'oh, okay.'"
Mott said that when she learned she had to evacuate, she thought, "oh my god, I have school still… I still have to do schoolwork and have all of my school stuff."
Mott's grandmother was also evacuated to her house previously, so she left with the family as they evacuated. Her aunt and uncle also had to relocate from their home, so there were eight people in total at the house they were temporarily staying at. "It was a lot," Mott said.
Mott also has two cats, which her family locked in a bathroom while they were packing everything. Then, they took the cats with them in carriers. "It was mostly just [packing] up as much as we can take, just on the off-chance that we don't have something to come back to," Mott said.
Two streets over from Mott's house was a level three evacuation zone. "It was so bad," she said. "It just got so smoky… I could not see the sky, [and] I could not see five feet in front of my house."
During the car ride away, "I was bawling my eyes out," Mott said. There is only one way in and out of the city Mott lives in, on the outskirts of Sandy into Estacada. "Almost my entire neighborhood left at the same time."
Some of the roads were blocked off with signs and barricades because of the rising evacuation levels that created a maze of traffic for evacuees to get through. During the car ride, Mott said "it was pitch black" from the ash and smoke, and the car ride was completely silent.
"Everyone was processing in their own way," Mott said. Her family was split up into four vehicles: Mott with her mother in one car, her father following, and her grandmother in front. Mott's aunt and uncle were driving to the same location from their home.
Once they arrived where they were temporarily staying, "it was bright blue skies," Mott said. "[The smoke] hadn't hit that area yet."
Then, Mott switched her focus to her schoolwork. "I was more focused on just getting the work done as a way of a distraction," Mott said. She messaged her teachers to notify them that her WiFi wasn't optimal.
After five days of evacuation, Mott returned to her home on Sept. 13. Her house is no longer under any evacuation levels, and was completely untouched by the fires.
"[Now,] it's kind of just resuming life," Mott said.
Despite her house being unscathed, Mott encourages everyone to "look out for each other" and support those whose homes were damaged due to the fires.
"You can't go through this world by yourself," Mott said. "Right now, doing what you can to support people is huge."
Ms. Kessler
Two hours.
That's all the time that Spanish teacher Ms. Karen Kessler had to pack up her belongings and evacuate her home. 
"We didn't get the slow, 'be prepared, get ready,'" she said. "It just went 'boom.' You need to go.'"
On the night of Sept. 15, Ms. Kessler and her husband received a message from firefighters and police that they needed to evacuate immediately around 8 p.m.
Ms. Kessler lives 10.5 miles from downtown Estacada and 9.5 miles from downtown Oregon City. There are many cedar trees in her area, which are notorious for burning, she said. With low humidity and winds, Ms. Kessler said, there was a threat of the Riverside fire and the Beachie fire merging and spreading towards her house. 
The fire jumped across the Clackamas River, "burned across Springwater… but then it jumped down the ridge, which is behind our home in our neighborhood," Ms. Kessler said. At Viewpoint Restaurant, she said you can look out over the river and see where the fire traveled. 
When firefighters arrived to fight the flames, they were unable to because the fire was traveling too fast. 
"The thing with fire that's scary is that it can be upon you so quick," she said. "Especially with the wind — you just get enveloped really, really fast." 
Ms. Kessler had to prioritize what she was going to bring with her, especially with such limited time. "[It's] preparing that you'll have nothing when you go back, so what do you really want to take?" she said. "It was a lot of chaotic packing, just throwing stuff in, zipping it up, and saying 'I hope that's good enough.'"
She said that she took lots of videos of the things in her home so that if she needed to replace any of her belongings, she would be able to do so easily. In addition to packing documents, photos, paperwork, and shoes, Ms. Kessler also had to manage her pets and their needs.
Using her husband's boat as a trailer, they gathered up their two dogs and three cats. They had to leave behind their parakeets and 16 chickens. However, after returning home, they quickly realized that none of the animals had been injured. 
Before leaving her property, it was dark outside and the smoke had become thick. By the time she left, the smoke had traveled and become so dense that "I couldn't see my neighbors house across the street," Ms. Kessler said. Abnormally large pieces of ash were falling around her property and onto her car as well. 
Ms. Kessler and her husband evacuated to her brother-in-law's home in Canby, where the air quality was not much better. "It was just horrific," she said. 
Canby itself was in a level two evacuation zone only a few days after Ms. Kessler had left her own home. Since the town was on the verge of becoming level three, Ms. Kessler had to be thinking about where to go next if her evacuation site were no longer safe. However, the situation did not reach that point. 
Back at home, Ms. Kessler's neighbors were also evacuating the area and had created a network of communication with each other to stay in touch and be updated.  
The day following Ms. Kessler's evacuation, her husband drove back to their property around 4 a.m. to better inspect the situation. The fire had made a lightning bolt shape, as Ms. Kessler described it. "The parameter of the fire zigzagged down, so then it shot diagonal and hit the backyard of our neighbor across the street by their propane tank," she said. 
Where she lives, there is no natural gas, so "people have the 1000 gallon propane tanks," she said. The fire had burned down the fence of their neighbor and up multiple 75-foot trees, which were burning from the inside. Ms. Kessler's husband sent her a text, warning her that the fire might reach the tank. 
"He sent me a text, he goes 'we need to be prepared to say goodbye,'" she said. "I didn't know how else to respond because you're teary, but yet you know that you're safe."
That same night, the fire department told the neighborhood "that they received word that they were told to let the neighborhood burn to the river and that they weren't going to save it," Ms. Kessler said. "There was a lot of emotion."
"When my husband came back and we checked on stuff, he said we need to pray," she said. "We need to pray not only for our neighborhood, we need to pray over our house, we just need to pray — God's telling me to pray. So we literally put our hands on the house and we prayed."
"Within one hour," she said, "the wind stopped."
At 8 p.m., when the wind had stopped, the firefighters came back, and although they were unsure why the wind had calmed, they were able to reengage with the fires. 
When Ms. Kessler and her husband were able to return to their house, the fire had jumped yet again. There were 22 trees ablaze within 12 feet of her garage, which then would have set the house on fire. They were able to put those fires out. 
On her property, there were many smoldering areas, which Ms. Kessler referred to as hotspots. She said that these hotspots were as close as six feet to her deck and surrounding trees, which they put out themselves. 
During this time, Ms. Kessler had no power or water. Former La Salle teacher Mr. Josh Barstow brought a 1000 gallon tank that assisted the neighborhood in putting out small fires and smoldering areas. It sat on the back of a trailer, using a generator to draw out water from the river and create water pressure in a hose. 
A friend of hers brought a skid steer machine to help clear away the underbrush around them, that way it wouldn't constantly reignite. While the fire department was still occupied by a fire on a nearby hill, Ms. Kessler said that a small "community of about 15 people" helped to put out fires.
"There were four-foot flames all along down by the river, but it drops down and the fire department couldn't see it," Ms. Kessler said. "So those men made a line and they pulled buckets, and they spent two hours, and they put out all the fires down there."
Ms. Kessler continued to take care of hotspots throughout the day, using shovels and buckets of water. Her son, Jackson, came home to help as well, and they continued to check for hotspots for about five days. 
On Sept. 18, Ms. Kessler's power came back on, and on Sept. 21 so did her water. 
The fire destroyed Ms. Kessler's water pump, but aside from that as well as smoke and ash inside her home, her house suffered no further damage.
"Slowly but surely we're getting back to normal," she said. "We were very lucky, very blessed."
Ian Simmons
Labor Day weekend led into a week like no other for senior Ian Simmons. 
Simmons and his family went out of town for the holiday weekend, returning to their home in Eagle Creek on Monday, only to be greeted by a massive wind storm that shook up much of Oregon. That night, his family repacked their cars and left for his grandma's house to take shelter from falling trees that could have potentially damaged the 30 acres of land he lives on. 
The next morning, the new school year began. "It was kind of stressful," he said. "The first day, kind of figuring things out… I didn't know what to expect." 
Simmons had to start digital learning not only away from school, but away from home too. However, eventually, he and his family were able to return to their house on Tuesday evening, after the dangers created by the windstorm had dwindled. 
They weren't at home for long. 
"We weren't really even hearing about the fire," Simmons said. "Then we were heading home and were like 'man, that's pretty smoky in that direction,' which is kind of by our house. And then all of a sudden we were put on watch and told to leave."
Following the windstorm, Simmons and his family already had bags of clothing packed from their previous evacuation. That night, they received a message that said that their home was in a level two evacuation zone because the wildfires were growing closer. Shortly after, they evacuated their home for the second time. 
"It kind of came quick," he said. "We got home and already had the bags and kind of just threw them right back in our cars." 
Around 10 p.m., Simmons said, he and his family talked to his older brother, who is a firefighter in central Oregon. While many firefighters from that area were actively fighting the wildfires, his brother was not. 
"He said that it's probably a better idea for us to evacuate right now, at level two, and just get out of there, rather than getting the alert in the middle of the night to have to evacuate," Simmons said.  
Even though Simmons already had bags packed from the wind storm, he and his family then began the process of packing other important belongings — documents, memorabilia, and photos. 
"We're glad we were able to get the information ahead of time and be able to pack stuff, and all my family was safe," Simmons said. "People in southern Oregon and stuff were getting knocks on the door in the middle of the night like, 'you need to leave, your neighbor's house is on fire.'"
Simmons said that on Tuesday evening, he went through his garage and bedroom and asked himself, "could I get a new one of that, or is it irreplaceable?"
"I grabbed kind of like memory stuff, and then I grabbed some jerseys from sports I've played, and other [items]," he said. "That was tough."
At that point, Simmons said the smoke had become thicker, but was not as bad as other nearby places. He ended up driving down his road to see if any fires were visible to him, but he could only see the smoke. 
For his family, the overall packing process took a couple of hours. In addition to packing, he sent out an email to most of his teachers, who he said were all understanding of his situation. 
Simmons said that while he was packing, everyone remained calm. "Later that night, around 10:30 or whatever, when we decided that we had to leave… I was pretty emotional," he said. "I was like, 'man, this is kind of crazy,' and everyone was just quietly kind of [moving] around packing the cars some more, and just [thinking] 'is this really happening?'"
"I think it was just more shock," he said. "It didn't really hit until my parents were like, 'alright, we're leaving,'… [I was] like, 'is this going to be the last time we see this place?'"
Once packed and ready to leave, Simmons went to senior Jake Owens' house, who is a family friend of his. 
As they were leaving, Simmons said not many people on his road were evacuating because the location of his home was only in a level two evacuation zone. Once they reached the Sandy area, he observed many animal trailers and cars packed full from other people who were evacuating. 
Simmons' uncle, aunt, and cousins all live on the same 30 acres as him. They also have horses, which they took to Owens' house, which is located between Gresham and Damascus. 
"My family kind of dispersed to different places, and that following morning we had been put on level three," Simmons said. 
According to Simmons, Owens' grandpa "has a ton of acreage and was taking in animals, and I think his family actually took in like 19 additional horses and a donkey." They kept their dogs with them, and took their cats to a different house. 
Simmons' parents spent the first couple of nights in Gresham at his mom's daycare center, which is based out of a house. They eventually joined him at Owens' house, where they stayed for the rest of their time evacuated. 
Simmons was evacuated for about four days while their house remained in the level three evacuation zone. "I think it'd been a week since our actual evacuation that we were told that we had been reduced back down from a level three to a level two," he said.  
Since Simmons and his family had left for vacation on Thursday, no one had slept at home in over a week. "The night that we drove back from our trip was when the windstorm was, and so we ended up just repacking our cars and leaving," he said. "Then we came back to our houses, and then the fires [came], and [we] left that night." 
When Simmons was finally able to return home, thick smoke still filled the air for almost two more days. Rain came that weekend, which helped to clear out the smoke, and "we haven't really been worried and everything's kind of returned back to normal," he said. 
His home did not suffer any damage from the fire, as it stayed around three miles away, he said. "The thing we were kind of worried about is… the wind direction with the fires and [the dryness]. The three miles seems kind of far, but with how fast the fires were moving and stuff, it can get going."
For Simmons, the whole experience was new to him. "Oregon has always been a pretty mellow state when it comes to natural disasters," he said. "I'd say this is the first disaster that has actually impacted me."
Anna Dethlefs
Leaving her home because of a wildfire while managing nine horses, 12 cows, 13 chickens, three goats, and two alpacas is not something junior Anna Dethlefs had ever imagined doing after school. Originally, she had planned on watching a movie with a friend.
But wildfires do not wait, and suddenly, Dethlefs was on her way to stay at her family's second home in Happy Valley.
"My mom comes in, and she was like, 'pack up, we're leaving,'" Dethlefs said. "It was kind of just grab everything and leave now."
Dethlefs didn't even know what to pack. She remembered thinking, "I'll just pretend that this is a sleepover," she said. "[But] my mom was like, 'grab everything like we're not going to get the house again.'"
Dethlefs said that it took about an hour and a half for her family to pack everything and leave, but over the next few days, they returned to the house a few times for birth certificates, social security papers, photo albums, their other car, and other valuable items.
What was especially difficult to manage, Dethlefs said, was the animals. The Dethlefs family has two trailers, which could hold five of their horses. Then, some friends brought another trailer to get the rest of the horses. The alpacas also came with the family.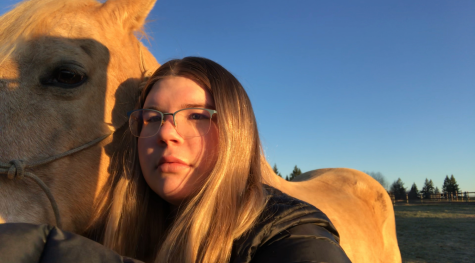 "We couldn't take [the cows] with us," Dethlefs said. The cows were let free because it was "too hard to tame them, [and there were] too many of them to move." Because of this, her family opened the gates up, so if there was a fire on the property, the cows would have space to move.
Dethlefs said that she couldn't see any fires from her house, but seeing the ash and smoke was enough. With half of their 140-acre property on level two evacuation notice and the other half on level three, they decided to leave.
"All of the ash looked like snow on the ground," Dethlefs said. "The firefighters were going around and checking off all the places to make sure all of the people were out."
Dethlefs said that a number of their friends brought bulldozers to create a firewall of dirt to keep the fires contained. She also said that there was one house down the street that caught on fire, but it happened so quickly that they didn't get a warning.
"They just grabbed their animals, and then sat in the river in their backyard until the firefighters came to rescue them," Dethlefs said. She said that it took two hours for the firefighters to rescue them safely.
Dethlefs got her driver's license two weeks before evacuating, so she drove her mother's Range Rover by herself. Her clothes were piled in the back, along with her cat. "I was not processing everything, and I was kind of just confused," she said.
She hit traffic when she got to Harbour Bridge, which is an area that many families were evacuating through. As she drove, her sister Alicia was on the car's Bluetooth phone, and Dethlefs was talking her through how to help their mom with the stress of everything that was going on.
In the meantime, Dethlefs' father was in Pendleton for work, and since the reception was spotty there, he didn't know about the evacuation until he had come back home.
When she got to the evacuation site, Dethlefs realized that she didn't pack the things she needed to take a shower, because she originally thought she was going to return home the next day. "[But] then I went to the store that night and I was like, 'well, I guess we're not going to go home anytime soon.'"
Dethlefs was also sleeping on a pool floatie in a bedroom while she was evacuated, because there wasn't a bed to sleep on.
Dethlefs said that because of the chaos between packing, evacuating, and eventually arriving at her family's second home, nothing really hit her emotionally until two days into the evacuation.
"[At first,] I thought it was a joke," Dethlefs said. "I was like, 'man, everybody is just playing with me, we're literally going to go back the next day, why is everyone freaking out?'"
But after that, Dethlefs said, her mom told her that "'we're not going to go back… I don't know if we're going to get the house again.'"
"I was kind of just sad because I love this place so much," she said.
Despite all of this, Dethlefs also had classwork to complete during the two weeks that she was evacuated, and that was at the forefront of her mind at the time instead of her emotions. "I didn't have much time to process my emotions because I was doing school," Dethlefs said. "It was kind of one thing after the next, so I never had time to process it."
Dethlefs and her family returned home two weeks ago on Thursday, after school ended. After counting all of the animals, and taking multiple trips back and forth, everyone made it home safely.
"We have to give [the horses] a few days, like maybe a week or two, so that their lungs can repair, so they don't get hurt [from the smoke,]" Dethlefs said. "They were all kind of really sad."
When she finally returned home, Dethlefs laid down in her bed for "the biggest nap in the whole world."
"I am just really happy to be home," she said. "It was a breath of relief."
Ms. Banta
While the first week of school certainly wasn't perfect for many, it was especially hectic for Director of Community Ms. Liz Banta.
"The first day of school I was Zooming from my car [while] charging my phone for my hotspot," Ms. Banta said. "Family [was] coming and going, so it was a stressful week — and all the smoke on top of it."
Ms. Banta's in-laws live on her street, so her sister-in-law, brother-in-law, and nieces were split between the two houses to maximize space for everyone. Still, Ms. Banta said that the houses were full. "It was crazy," she said.
Ms. Banta said that since all of her family lives so close together, "if we all had to evacuate, we didn't know what we [were] going to do," she said.
However, it did not come to that. Ms. Banta did not need to evacuate, despite preparing to do so when hearing about the fires.
"I know that if our friends evacuated that we would be probably a day or two behind," she said. So she and her husband constructed a list of everything that they would need in case they were advised to leave their home, despite never physically packing anything up.
"It's really weird," Ms. Banta said. "Just trying to think of things like Christmas ornaments that my kids have made, or, you know, like my grandparents' wedding photo… things like that, where it would be irreplaceable. It was just a really unsettling feeling."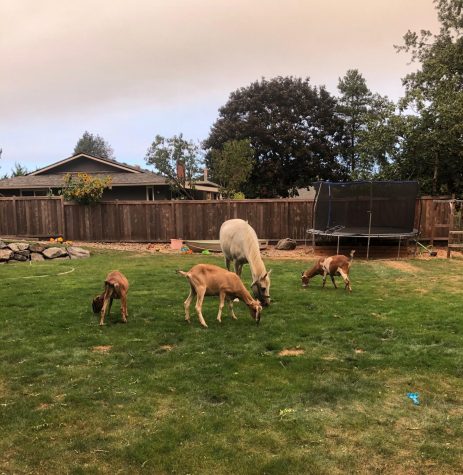 Meanwhile, inside the house was completely dark. The power had been out for over a week.
Ms. Banta's daughter was starting online school, and since the family didn't have power, they went to sleep earlier than usual. "We ended up just laying in bed with flashlights, reading to our kids," Ms. Banta said. "In the middle of the night, I would check my phone and then I would have more and more friends and family that had evacuated, so it just was kind of stressful."
Ms. Bantas' teaching schedule this semester is focused on one class period, while the rest of her work is surrounding building community at La Salle. This gave her a more flexible schedule, but she said that not having power and taking Zoom calls from her car was "stressful."
Eventually, Ms. Banta and her family got a generator to charge their devices, but they were still using the cellular hotspot on their phones for the internet for four days.
"It definitely would have been tight quarters if we would have had to take in more people," Ms. Banta said. "[But] I can't imagine people that actually lost their homes or had to pack up and take things."
Although she didn't have to evacuate her home, Ms. Banta experienced feelings of sadness during and after the chaos of the fires.
"I was really excited for the school year," she said. "[But] this week it's sinking in… [that] there's only so much we can do digitally to build that community, and so it's just been hard."
Despite the challenges, Ms. Banta said that she still feels that she is "really lucky" to be in the La Salle community. "I feel like my students have been very positive and optimistic, but it's just [that] I don't know," Ms. Banta said. "Maybe they're not, maybe they're portraying a different feeling than what they're actually feeling."
Mr. Donnelly
For band and yearbook teacher Mr. John Donnelly, the Oregon wildfires weren't the biggest threat that caused him to evacuate with his family in early September. 
Mr. Donnelly evacuated with his family after a large fire, separate from the wildfires, ignited inside a warehouse near his house, adding to the already smoky air.
He has two kids, who are ages two and eight. "I didn't want to expose my kiddos to nasty smoke," he said. Though their home was in a level two evacuation zone, they decided to leave when the warehouse, which was housing wood pallets, caught fire. 
When Mr. Donnelly received the message that they were in a level two zone, he initially felt comfortable staying put. Later, when the warehouse fire was sparked, he said, "'that's too close to home.'"
Mr. Donnelly had already prepared and made plans while they were in a level one evacuation zone, so the decision to evacuate "was pretty easy," he said. "[At] 5:30, 6 o'clock, my wife just got home, and we said 'let's pack up and just grab what we need, and we'll head over.'" 
He and his family stayed at his parents' house in southeast Portland. They were there for four nights, arriving Thursday and leaving Monday. 
He said that although they were treating it as a "little mini family vacation," it was odd to go back home to live with his parents, comparing it to coming home to your parents after being at college. "Now imagine that same thing, but you're married, and you have two kids," he joked. 
Before leaving on Thursday, Mr. Donnelly said that it seemed like a normal day in terms of routine. However, with all of the smoke, he was only able to see around 100 to 200 feet in front of him while driving.
"It was pretty smoggy [and] very difficult to see in front of you," he said. "I think that wasn't as bad as just the thickness… and it reminds me of exactly when I volunteered for firefighting a couple of years ago and last year."
Mr. Donnelly is a part of the National Guard, and for the past few years, he has been volunteering his time to help with firefight relief. However, he was unable to volunteer this year because of a partial knee replacement surgery.  
Last year, he spent two weeks volunteering as a road guard in a Umatilla fire. Two years ago, he helped with two fires in southern Oregon, and three years ago, he traveled to California, where he helped out as needed for another two weeks.
"One of my most rewarding parts of my service is the fact that I can go and help out during firefighting season," Mr. Donnelly said.
He said that if a soldier accepts a request for volunteers, they have a couple of days to gather what they need before heading to the location.
"When we're there for firefighting, depending on where you are, you go in the middle of the field, and it's like camping… there's nothing there and you sleep on a cot. You live in your uniform all day long," he said. 
When working on a fireline, soldiers wear firefighting gear, and oftentimes don't have access to showers or bathrooms. "It's like roughing it in camping," Mr. Donnelly said. "Sometimes there's clothing services where they can clean your clothes, and your service can go for as long as you want it to. It's all volunteer [work]." 
In the past, his unit has helped with the water crisis in Salem, and this year, around five soldiers helped out with firefighting in some way. There are about 30 soldiers in his unit, and five have firefighting cards, including Mr. Donnelly, who got his card three years ago. 
Mr. Donnelly said that packing to evacuate was easy because he was able to concisely decide what household items were most important. He has what he calls a "love box," which includes "army career stuff and family career stuff, birth certificates, [and] marriage certificates." Another one of his document boxes is waterproof and fireproof, with a lock for extra protection. 
For Mr. Donnelly, taking his musical instruments with him was a big priority. "I have probably $40,000 in instruments that I had to lug out [to] the car and take with me, because I didn't want those to get burnt up," he said. 
Despite preparing for the worst, "we were pretty confident that nothing was actually going to happen since we were in stage two," Mr. Donnelly said. "Most of the stuff we grabbed was just stuff that we called camping [gear]."
Each person in his family also has a bag with an emergency kit that they have in case of a larger emergency. The bags include MREs, or meals-ready-to-eat, as well as five bottles of water, a full medical kit with a tourniquet, and other combat materials. 
During the process of getting ready to leave, Mr. Donnelly said that his two year old "was just having fun," whereas his eight year old had a better grasp on the situation. "He definitely understood what was happening, especially since we could visually see the fire from our house — the black smoke going everywhere," he said. "When you're eight you joke about everything… so I think he was a little more lighthearted, but at the same time, he will remember it."
Mr. Donnelly said he only had to cancel one day of classes over Zoom, and instead assigned asynchronous work for his students. After the weekend, he was able to hold classes normally.
After returning home on Monday night, "the smoke was still kind of an issue," he said, "but we had been reduced down to the level one, and that warehouse fire was long gone." Mr. Donnelly and his family were also in contact with their neighbors who had not evacuated, and were able to get updates during the time that they were away from home. 
On Saturday, after evacuating, Mr. Donnelly went back to his neighborhood to check in on his neighbors, who don't have a vehicle, and weren't able to go anywhere. He said that he brought them some food and water and made sure they were staying safe inside. 
When he went back to his neighborhood, the air quality had worsened since Thursday, when he had left. "It was awful," he said. 
Much of Mr. Donnelly's concern about the fires and smoke alleviated after safely returning home. "[It was a] huge relief that things were subsiding," he said. 
This story was originally published on The La Salle Falconer on September 29, 2020.