A Review of Enola Holmes
Netflix's new mystery movie introduces a new type of protagonist to root for.
By Emma Kim, North Allegheny Senior High School
October 5, 2020
Enola Holmes is not your typical mystery movie.  Instead of the genre's usual male protagonist, Enola leads the narrative as a strong, independent girl with a nontraditional upbringing.  When her mother goes missing on the morning of her sixteenth birthday, she goes on a quest to find her while facing many challenges along the way.
As the title suggests, Enola is the younger sister of Sherlock Holmes and the lesser-known Mycroft. Despite being siblings, she has not seen her brothers in many years because of their age gap. When they come together after their mother's disappearance, they all have different goals.  Sherlock's goal, naturally, is to find their eccentric mother.  Mycroft's goal is to make Enola into a presentable young lady who will not embarrass their family name. Enola has other ideas, though.
"
The film presents a young role model for children to look up to and emulate, and it shows that unfair gender norms can be overcome when we have faith in ourselves."
After finding clues to her mother's whereabouts, she escapes from her brother's grasp to London.  Along the way, she meets a young marquess who is also running from home.  After their encounter, it is revealed that his life is in danger, and she has to make a choice between finding her mother or trying to save his life.
Throughout the movie, Enola narrates as if she were talking to the audience, which gives it a more personalized feeling.  Her quick wit and attitude also keep the movie light and refreshing as it explores more serious themes.  
At pivotal moments, flashbacks of Enola's childhood are also incorporated to help the audience better understand her character and why she is so different from the average girl in the late 1800s.  It is soon very evident that she was raised this way because of her mother's own feminist ideals. 
Her unique childhood makes her character even more likable, as she does not conform to the archaic society around her. One of the ways that Enola evades capture throughout the film is by dressing as a boy, which subtly comments on gender standards in the Victorian era.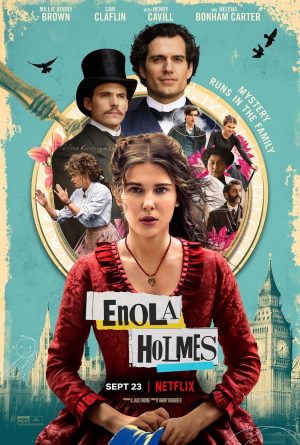 Sherlock's character is also different from what we are used to.  While he is usually portrayed as a stoic, cerebral detective, in this film, he is also seen as a caring, older brother who is one step behind his sister, which is a nice change of pace.  Mycroft, who works in the government, almost acts as an unofficial villain of the story, representing old-fashioned ways, but he still does have some redeemable moments.
Overall, the film is a refreshing and uplifting story with powerful performances.  Instead of being cast as the damsel in distress, Enola takes control of her fate in this narrative and ends up saving someone else's life.  The film presents a young role model for children to look up to and emulate, and it shows that unfair gender norms can be overcome when we have faith in ourselves.
I heartily recommend watching all 123 minutes of this action-packed mystery, which is now streaming on Netflix.  Not only does Enola Holmes leave you trying to solve the puzzle, but it offers up a heartwarming conclusion that is satisfying for audiences of all ages while leaving room for a sequel.
This story was originally published on The Uproar on October 5, 2020.