The End of School as We Know It
The pandemic is putting many colleges nationwide at risk of permanent closure.
By Lucie Flagg, North Allegheny Senior High School
October 7, 2020
As the cost of college has increased dramatically in the past few decades, students often worry about their ability to pay. While 85% of students in the U.S. receive some sort of financial aid, 2020 has left both students and colleges alike fearing bankruptcy.
Amid school closures in America due to the current pandemic, many colleges are at risk of shutting down for good. 
To quantify the problem, Professor Scott Galloway from New York University created a list of over 440 colleges and universities nationwide. He first looked at each school's value and vulnerability, comparing credentials, experience, and education with tuition. From there, he labeled each as "Thrive," "Survive," "Struggle," or "Challenged."
"The economic circumstances for many of these schools are dire, and administrators will need imagination—and taxpayer dollars—to avoid burning the village to save it," Galloway wrote in his blog. "Per current plans, hundreds of colleges will perish."
According to Galloway's list, several of the schools in our area, including Robert Morris University and Chatham University, are at risk of permanent closure.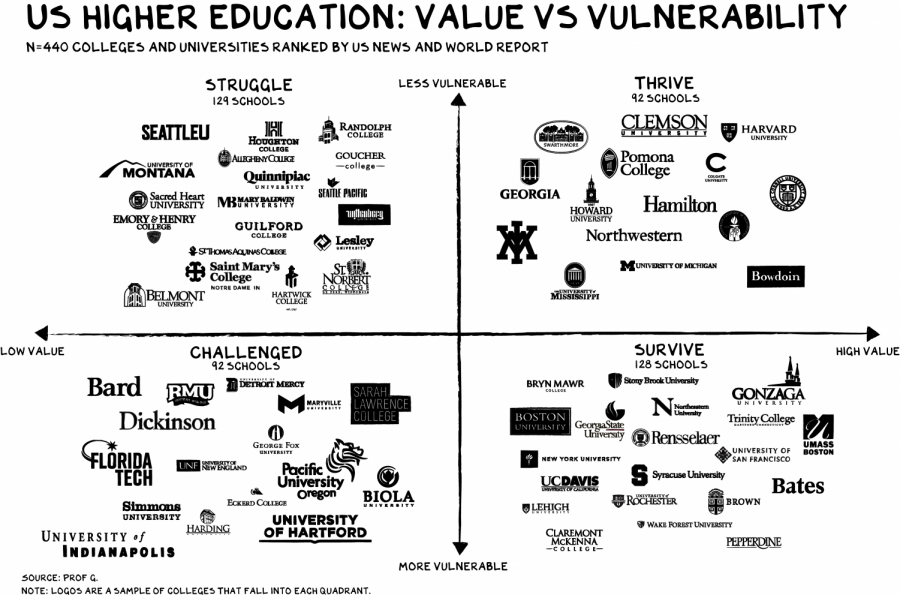 Robert Morris University, which is labeled as "Challenged," is one of NASH senior Caroline Stepko's top school choices.
"When I visited the campus, I felt an immediate sense of belonging," Stepko said. "Everyone there was very welcoming and wanted to answer my questions."
With the school high up on her list, concerns are growing for Stepko in regard to Robert Morris' financial well-being in upcoming years.
"The pandemic financially disrupted so many different aspects of the world, so I'm not surprised that colleges and universities are among them," she added. "I'm sad to know that they are struggling, but I am hopeful that they will be able to recover."
Senior Paige Branagan applied to Chatham University, a local college in Squirrel Hill, that is also labeled as "Challenged."
"I applied to Chatham as a safety school," Branagan said. "They don't have my actual major, so I applied with the closest I could get."
Despite the fact that Chatham is not her top school, Branagan is still concerned about the toll the virus may take on any of the colleges on her list.
"
I'm worried that schools could raise tuition prices or even shut down."
— Paige Branagan, Senior
"I'm worried that schools could raise tuition prices or even shut down," she added. "Even though I applied for safety, I think Chatham is a great school and has really good people, programs, and student life. I really do hope they get to stay open."
But while many colleges and universities like Chatham and Robert Morris are struggling, others are financially flourishing with the transition to remote education. Without the costs of building maintenance while still receiving the same tuition, many larger schools landed at the top of Professor Galloway's list.
NASH senior Daniel Schaub's college list includes the University of Pittsburgh, Purdue University, and the University of Michigan, all of which Galloway labeled as "Thrive."
"At first thought, I felt relieved knowing that my schools are thriving and are likely to survive the pandemic," Schaub said. "However, the more I think about it, the more I feel terrible for students who are interested in smaller colleges."
Amidst the difficulties brought on by the pandemic, Schaub is feeling especially appreciative that his own list of worries is not as long as it could be.
"I am grateful for the opportunities I have and will not take them for granted," he said.
It's often the case that price, location, and student-life are the defining features of college life that help a prospective student make their decision. The possibility that a school may prove insolvent only adds to the pressure, making it hard to doubt that the Class of 2021 has a difficult couple of months ahead.
This story was originally published on The Uproar on October 6, 2020.