The Stipanovich Legacy
By Yiyun Xu and Junyi Su
October 27, 2020
"Sports, in general, teaches you how to deal with everyday life situations, and I think in that regard, sports has always been a benefit to me," Stephen "Steve" Stipanovich said. "Sports very much mimics the real-life situations as you grow."
Born November 17, 1960, Steve is a retired NBA player and a father of six children. He started his basketball career at De Smet high school in Creve Coeur, St. Louis, and later played college basketball at the University of Missouri in Columbia. The Indiana Pacers, an NBA team, drafted him in 1983.
His two youngest children, Emma and Luke, are current CHS students.
"I personally don't take basketball seriously as some of my siblings and my dad do, but I do really enjoy it," junior Emma Stipanovich said. "It's a fun sport, and it's a fun hobby to have."
With their father once being one of the finest basketball players in the country, the Stipanovich family grew up playing basketball both recreationally and professionally.
"I have five daughters and a son, Luke, but I've never really pushed them in sports," Steve said. "[The passion for basketball] had to come from them. Even though I was a professional basketball player, by no means did I try to project them to be even interested in sports."
Despite this laissez-faire approach, many of them ended up playing for NCAA teams regardless due to the influence in sports they have grown up with. His second oldest daughter, Kelli Donat, played volleyball at the University of Arkansas; Sadie Montgomery, his third oldest daughter, played basketball at Saint Louis University; and Hannah Stipanovich, the fourth daughter in line, played basketball at Western Washington University.
The family passion for athletics also strengthens their familial bonds. While average households may occasionally play board games for fun, the Stipanovich family enjoys going outdoors and playing sports.
"I have a huge family, and every time my when they're in town, we always play family basketball at the Center and in the neighborhood. Sometimes we get too intense, but that makes it really fun," Emma said. "It's so fun because it's something we all enjoy. Even though I have siblings and in-laws who don't play it seriously, we have so much fun and get so competitive in a good way. It's one of the things I look forward to the most on holidays."
Even though Steve does not deliberately push his children in basketball, his feedback towards their playing and sportsmanship is always appreciated.
"When I'm done with the game and I'm coming home, my dad will comment on what I need to work on and what he saw that I did well," Emma said. "It's really helpful, and it's a really good resource that my dad can give me any advice that I need."
Meanwhile, Emma never felt the pressure to perform just because her father used to be an NBA player.
"I feel kind of pressured [when my dad comes to watch my games], but not in a negative way," Emma admitted. "It's like with most parents, I think. I do want to impress him and play well, not because he's going to be mad at me, but because I want him to be proud of me. I know he is, but still, any child would want their parents to see them do well rather than to see them do bad."
Emma also appreciates her teammates' support and understanding as she participates in Clayton Girls' Varsity Basketball team.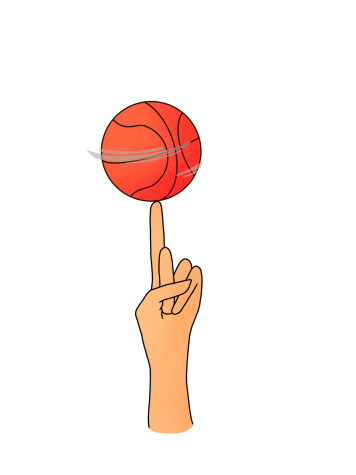 "When people first find out [that my dad was an NBA player], everyone freaks out, and it's really funny," Emma said. "But my teammates never pressured me [to do better] just because my dad was in the NBA. I love my teammates; they're the most supportive people ever."
For freshman Luke Stipanovich, Steve acts as a father as well as a role model in life.
"I think of [my dad] as a very big role model because I also play basketball, and I think he's a very good teacher," Luke said. "I look up to him because he was very talented. I want to be just like him someday."
Now 59 years old, Steve considers himself to be just like any other dad in Clayton.
"[Basketball] was just something I did, like a carpenter or electrician," Steve remarked. "My kids gravitated towards sports, and that's great; that's what they wanted to do. Sports are very popular in this country, and a lot of kids play them, just like my kids. Sports are a big part of our family, and we all enjoy them, but they don't make up our entire identity. Right now, I'm just their dad."
This story was originally published on The Globe on October 20, 2020.