Boys' varsity volleyball coach to be on Food Network's Holiday Baking Championship
By Matt Vogel, Londonderry High School
November 3, 2020
Whip out your old recipe book and find some early holiday spirit while watching boys' varsity volleyball coach Jon Buatti on the Food Network as a contestant of the Holiday Baking Championship.
The show is focused on bakers from across the country, creating the tastiest, festive holiday treats in an attempt to win $25,000 and be crowned the Holiday Baking Champion.
Buatti was approached by the show to be a contestant after the Food Network came across his bakery's website. After a series of Skype interviews and meetings with producers, he was casted and flown out to Los Angeles to begin shooting.
"I was really excited. I've always wanted to be able to compete on a national stage," Buatti said. "To do it within my respected trade was a really cool experience and opportunity."
Buatti discovered his passion for baking as a freshman in high school. His work at a family friend's restaurant bussing tables led him to pursue this interest.
"One day, [the restaurant] needed someone to fill in for the person plating desserts," Buatti said. "Ever since then, I've had a knack for decorating pastries."
Buatti currently owns Bearded Baking Co. in Manchester, a business he has operated since December 2019. Along with the COVID-19 pandemic, Buatti has had to adjust to the responsibilities that come along with the position.
"Ordering, waiting on customers, cleaning the shop and all that stuff has led to a lot less baking since I've become a business owner," Buatti said.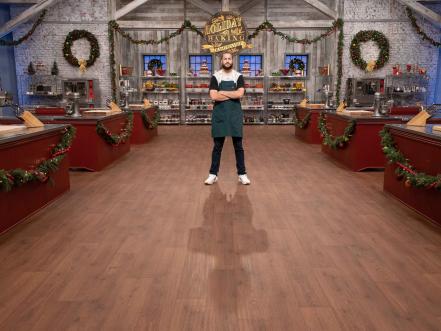 Since being cast on the show, Buatti has seen wide support come to the bakery as people band together to support the local business. He has received endless congratulations, spanning from Manchester residents to the parents of LHS athletes.
"It's really cool to see the power of social media travel far and wide and reach out to a bunch of people that I don't think would've heard of me," Buatti said.
Buatti urges locals to tune into the show and have the chance to see someone they recognize on the television screen.
"I've come to know quite a few families in Londonderry now," Buatti said. "It would be cool for them to see me through a different lens."
Senior Sarah Joe has known Buatti since middle school volleyball. She looks forward to seeing her old coach get time in the spotlight.
"Getting his own business and place is a huge accomplishment," Joe said. "He's made my team some cakes before and they are super good, I would definitely recommend."
This story was originally published on The Lancer Spirit on November 1, 2020.