Thrown in the deep end
Rather than pursuing her athletic aspirations, Greta Kraske '23 has had to navigate her way through two knee injuries, putting her softball and swimming careers on pause for nearly two years.
By Alaina Greenlee, West High School
November 10, 2020
You step onto the West High softball field for the very first time, ready to represent the Trojans with pride. The thought of a life-altering injury, let alone two, is unimaginable. Greta Kraske '23 never had the chance to start her Trojan softball career due to an osteochondral defect in her right knee. OCD is a joint condition in which bone lacks blood from repetitive use, causing the bone and surrounding cartilage to break loose, most commonly in the knee.
"We were running sprints and I landed on my right knee and heard a noise and after that could barely bend it. It immediately bruised and swelled to twice the size. Every time I bent my knee past a certain angle … it was unbelievably painful," said Kraske.
A bone about a centimeter and a half long and surrounding cartilage shook loose in her knee joint. Even through the pain, she was able to look back and laugh about the irony of that day.
"It's kind of a funny story because the first lesion happened on the first day of softball practice for West. I knew something happened immediately and I come home and my knee's already swollen. And I'm like, 'Hey Dad, there's something wrong, and like, I need this fixed.' And he goes, 'It's fine. Just walk it off, take some ibuprofen, and ice it.'" Kraske said.
Eventually Kraske arrived at Mercy Hospital, where her father works, and was able to get an expedited MRI. This MRI discovered the missing puzzle piece hanging in a joint of her right knee. Later on May 16, 2019, Kraske had surgery that put the bone and cartilage back in place using two absorbable screws and three pins. The recovery included six weeks of non-weight bearing and one week on crutches, eventually working her way back up to walking.
"The recovery was painful because of my lack of mobility before surgery. It took months before I was able to fully recover, around December. While I was testing out of physical therapy, [my strength] in each leg was really weird and I was having pain in my left knee. My left knee was significantly weaker than my right and that's when I knew something was wrong," Kraske said.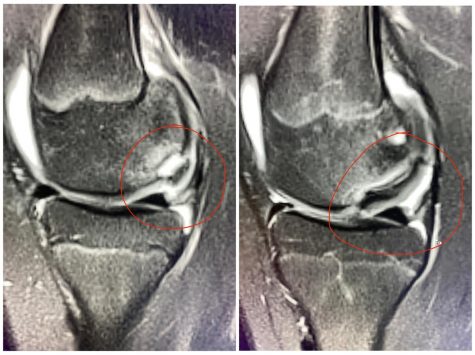 Another MRI weeks later exposed a different lesion nearly five times larger than the first. Despite the size of this defect, the second time around was much easier than the first. This lesion wasn't as painful and didn't need urgent surgery. The second surgery was postponed to April 20, 2020, due to the coronavirus.
"I had no idea that this could happen again in my other knee, but when I felt pain and weakness in it, I didn't think it was gonna be this again. My physical therapist thought it was like tendinitis or something minor. So I just kind of assumed it was gonna be minor, until it just kept getting worse," said Kraske. "This piece of bone was around five and a half centimeters but was not falling out too far which is absolutely amazing. If this piece came out my leg would have completely locked out. I had full mobility which made recovery a hundred times easier."
Although the recovery was ultimately easier than the first, the mental weight that came along with it wasn't as pleasant.
"Just the fact that I had to fully recover just to be knocked back down again. Now, it's kind of hard," she said. "That's probably the worst part. It wasn't the second surgery. It was just back to going through that all over again."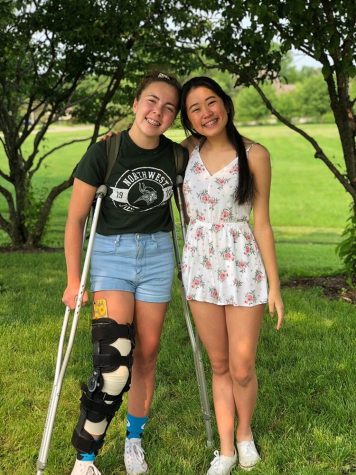 This challenge didn't go unnoticed. Friends and family of Kraske's were eager to help her, whether that was carrying items or lifting her spirits. One of these close friends, Jaida Rost '23, shines a light on just how much Kraske has dealt with.
"The thing that made me realize [the intensity of her situation] was just the fact itself that she has to go through three surgeries to get this done is like a lot and considering it's like years back to back to back, that's a lot within a small period of time," said Rost. "It really affected her mental health. It limits the things that she can do and especially considering this is her teenage years where she should be out doing things. Because this is such a big thing, I want to make sure that she's okay, but it's hard to ask her about it because it's just like a touchy subject."
The pause in Kraske's athletic career was especially difficult because the injury could only heal with time. Her physical therapist, Barbara Van Gorp, has also been with Kraske every step of the way. Van Gorp explains that this lack of control will undoubtedly be challenging.
"When we make you non-weight bearing when you're used to walking around and being active and working out is tough because we just took away your game. And so from a mental perspective, the psychology of getting stronger and the psychology of having to be on rest is very difficult." Van Gorp said.
"
When we make you non-weight bearing when you're used to walking around and being active and working out is tough because we just took away your game. "
— Barbara Van Gorp
Physical therapy emphasizes allowing the tissue and cartilage to heal along with focusing on regaining strength and remaining active while not interfering with the healing process. In order to keep athletes motivated, physical therapists help athletes understand the process and stay active.
"We talk through the healing process. We try to look at the big picture of where you're going to end up with this. We try to give you as many different things that you can do without causing damage to your injured or your healing site and as possible," said Van Gorp.
After a lengthier recovery consisting of eight weeks of non-weight bearing, Kraske was more than eager to get off her crutches. However, relearning to use legs that haven't been used for two months and regaining strength was not easy.
"It's so hard to go back from crutches to walking. It's like you forget how to walk, it's so bad. It's so awkward like I had to spend two weeks on one [crutch] because I didn't remember how to move my feet," she said. "I lost like half of the muscle mass when I was non-weight bearing. Strength is definitely not where it has been, but it's not like I'm looking like a twig anymore."
Kraske hasn't been able to play softball since the first surgery, but swimming was still an option. After jumping in the deep end, she built up most of the muscle she lost during the 2019-20 season. The following season was not as steady as she would have liked. Throughout the disappointment of sitting out, she has found a positive outlook on her situation.
"It affected swimming a lot so I couldn't perform at my best. Swimming is a very individual sport, you're trying to beat your own time and so it kind of shifted my mentality," she says. "I was more team focused and tried to be as supportive as I could because I wasn't really able to make goals for state."
During late September, Kraske started experiencing pain and stopped seeing progress. A doctor's appointment later on Nov. 4, 2020 revealed a broken screw to be the source of this setback. She will undergo minor surgery on Nov. 19 to fix that screw and clean out the joint. The recovery will be quick and only last a week. Everything else looks to be healing well.
"Nothing compares to this," says Kraske. This two-year-long process is shadowed only by her broken pinky from the third grade.
This story was originally published on West Side Story on November 7, 2020.