An End to a Turbulent Election: NCS Students React to Biden-Harris Victory
Biden and Harris win in an unprecedented election.
By Julia Poggi, National Cathedral School
November 24, 2020
After a long, turbulent, and in many ways, unprecedented election, Joe Biden emerged victorious as the 46th President-elect of the United States, with Kamala Harris as his Vice President-elect. The election was unique in many regards; voters had to navigate the dangers of a pandemic while making critical decisions on who to support in an incredibly polarized political climate. Tensions over mail-in ballots, post-election day counts, and voter fraud arose between the two parties, permeating the pre- and post-election seasons alike. After a historically long four-day period between election day and a declared winner, Joe Biden and Kamala Harris triumphed over incumbent Donald Trump and Mike Pence. As the NCS, D.C, and the nation anticipate a new administration, many are experiencing intense emotions, fears, and hopes.
Located in D.C, NCS has many unique political connections. From families working in administrations to Senate internships, NCS boasts an above-average engagement in the political sphere. Beyond the few that choose to pursue politics in an official or paid capacity, many students attend protests, phone bank, or meet with their representatives.
Though not unexpected, many students watched the election with memories of 2016, in which Hillary Clinton was projected to win by large margins, but lost the electoral vote. Nia Brown '21 stated, "I was actually very shocked that Biden won, but obviously happy."
The four-day waiting period between election day and a clear victory built suspense among the American people as key swing states like Nevada, Pennsylvania, Wisconsin, Michigan, Georgia and Arizona slowly counted mail-in-ballots. Government Club Conservative President Katrina Merva '20 reflected on the unusual election process and the resulting fraud claims from the Trump administration. "This year was really complicated because of mail-in ballots…but I think Trump's claims of fraud were ridiculous," she said.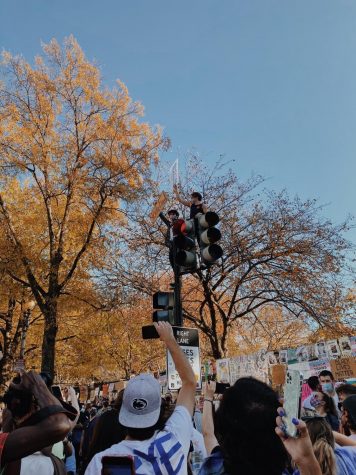 Winning 92.6% of votes in the District while Trump carried 5.2%, Biden had no greater margin than in D.C. Though fears of violence prompted many buildings to implement plywood barricades, close down for election day, and take other precautionary measures, there have been no riots or large-scale arrests in D.C. In fact, the District has erupted with celebration as residents flooded the streets on Saturday, popping champagne bottles, dancing to live music, and singing "Na Na Hey Hey Goodbye," lyrics from a Steam song popular in the 70s. Led by a truck serving as a concert platform for GoGo musicians, a genre unique to D.C's black population, masked dancers of all ages, races and genders celebrated in McPherson square, just steps from the White House. Dozens of NCS students attended such celebrations, as for many, the events were just blocks away.
Bilena Dabalen '21 shared her opinion on Biden's victory. "I think it's nice to finally have a President who's empathetic and preaches about unity and hope and progress for all Americans…all races, all orientations, everything," she said.
Biden's speech on Saturday night emphasized unity across demographics, but also across the political spectrum. In his speech, Biden said, "I pledge to be a President who seeks not to divide, but to unify…Who doesn't see red and blue states, but a United States."
During this time of intense political polarization, Biden's campaign focused on attracting supporters regardless of political ideology, with subgroups like Republicans for Biden and Settle for Biden — the latter focused on mobilizing the progressive vote. Prompted by a lack of progressive voter turnout in 2016, Settle for Biden emphasized that, at the end of the day, Biden is a better candidate than Trump, even if he is not a voter's first choice. According to Dabalen, "While he wasn't my first choice in the primaries, I think that he has the ability to help a lot of people…this is a really hard time."
Merva '20, agreed with this sentiment, saying, "I think under Biden's presidency…the parties will come together…because he promised to be a candidate for all of America, not just one party."
Biden was notably backed by The Lincoln Project, a Republican organization aiming to restore democracy and the Republican party. The Lincoln Project has promoted an intensely anti-Trump platform; the organization represents a population of Republicans who are not leaving the party but voting outside of it for what they believe is the greater good. Merva '20, said, "I was actually thrilled with the result [of the election] …with the majority conservative Senate and Biden winning the presidency… With Biden working together with the Senate, there's finally going to be moderation and I feel that's the best for our current political climate. The parties need to work together."
While the current Senate results are tied 48-48 with four uncalled races, Republican control is not unlikely. Alaska will likely elect Republican incumbent Dan Sullivan, and Republicans currently lead in two of the three remaining seats, including one of two Georgia Senate races that will go into a run-off election in January.
Editor's note: at the time of publication, this information was accurate, however as of 11/23/2020, Alaska and North Carolina's seats have been called with Republican victors, giving the current senate a 48-50 balance with Republican lead.Georgia will host two run-off elections for their Senate seats in January.
Students are not, however, without fears regarding the Biden-Harris administration. Dabalen spoke to the discrepancy between promises made on the campaign trail and actual policy. "I just hope that he is able to do all the things he's said," she said. Brown had doubts as well, as she said, "I'm trying to stay optimistic for the future, but we still have a long way to go."
Drivers honk and wave flags in downtown DC
Credit: Allison Pierce '21
This story was originally published on The Discus on November 9, 2020.