Junior keepers diving for Bold
By Naya Tillisch, James Bowie High School
December 3, 2020
Fans fill the stands, erupting into celebration as a player breaks through the opposition's defense and shoots the ball into the back of the net. This is exactly what junior goalkeepers Zach Kos and Edward Alonzo witness every game now that they have signed with Austin Bold FC, Austin's only professional soccer team.
Kos and Alonzo are both goalkeepers who began playing soccer from a young age and are currently on the varsity team.
"I started out as a defender and worked my way into splitting each game with one half as a goalkeeper and one half on the field," Alonzo said. "By the time I joined the Lonestar Developmental Academy team when I turned 12, I decided to play goalkeeper full time, and I have been ever since."
Club soccer provides a place for professional and collegiate teams to scout younger players, which is how Austin Bold recruited Kos and Alonzo.
"Right now the recruiting process is through the Austin Bold staff looking at the top local teams play and from there making a decision based on so," experienced Bold midfielder Sonny Guadarrama said. "Players can be invited to training to see if they make the cut, but it's up to the coach to decide at the end."
The recruiting process was similar for Alonzo, as he was asked to attend summer training with the team before he was added to the roster.
"Last summer he brought me in for a few practices with Bold to introduce me to the level, so I'd been hoping to get another invite this summer," Alonzo said. "After working to improve my game all year, I impressed him and the head coach enough to earn a spot on the roster, and I've been with the team ever since."
Kos credits his success and spot on the team to Austin Bold goalkeeper coach Ryan Thompson.
"I loved training with [Thompson]," Kos said. "He made everything so much fun, which caused me to work a lot with him and keep getting better and better. I think that being able to hold onto the ball and being good with your feet are probably the most important skills to have."
With early practices, late game nights, and ever-changing schedules, finding a balance between school and playing professional soccer has been tough for both athletes.
"For practice days we get there around 8:15 a.m., and training starts at 9," Kos said. "It either ends at 11:30 or 12," Kos said. "It is pretty hard being able to work on school work while training with Bold because by the time I get home, I have missed half my classes. I have to email my teachers and make sure I don't miss anything, which is pretty hard to keep up with."
Playing professionally has also been very educational for Alonzo.
"The biggest thing I've learned from playing with Bold has been [that the guys on this team] make playing soccer a lifestyle," Alonzo said. "I've also learned that preparing my body to succeed is vital. If you show up one day sore or tired because you didn't stretch the day before or eat the right foods or get enough sleep, no one cares. That's your responsibility, and no one is going to take it easy on you."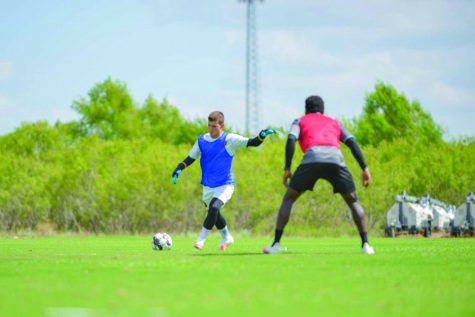 Although it has been challenging, they are thankful for their opportunities with Bold and have loved the experience so far.
"I think this will help me get into a better college for soccer and open more doors for me after college," Kos said. "I have loved every single second of it. It is such a different atmosphere compared to club and school soccer."
The gratitude goes both ways, and Guadarrama is excited about them being some of the newest additions to the team.
"I knew Alonzo prior to him coming into the Bold," Guadarrama said. "I thought he was a good goalkeeper with great qualities for his age.  Kos and I had never met until he came to the Bold. After playing with them for a couple of months, both keepers have a great opportunity in front of them to keep improving their skill and have a chance at playing one day."
Though they are no strangers to hard work, signing with Bold has exposed both Kos and Alonzo to the dedication and sacrifices professional players put in to be successful.
"My advice to young players trying to play for the Bold one day would be to train everyday and never lose sight of the end goal," Guadarrama said. "Try and play with the best kids on a daily basis, and try to challenge playing against older top players.
Kos and Alonzo recognize this idea, and they both are eager to continue to improve and further their soccer careers.
"Now that I've signed with Bold, I'm really looking forward to my development in the environment," Alonzo said. "The level is awesome to be around every day. I've already noticed improvement throughout my game. The team has really treated me like family, and I've learned so much in the professional environment."
This story was originally published on The Dispatch on November 27, 2020.