Her gig is her jig: Ranked No. 1 in California, freshman Irish step dancer aims to tap her way to the top at the next world championship in July
By Minjeong Kim, Sunny Hills High School
December 14, 2020
The jig is not up for freshman Jane Craig.
In fact, this jig — also known as Irish step dancing — is still happening for Craig even during the coronavirus pandemic.
"I love dancing because it's a fun way to stay fit, and I really enjoy making new friends from around the globe," she said. "My friends from dance are like family, and I love traveling and competing alongside them."
The five-foot, two-inch tall ninth-grader is a top state dancer and ranked No. 7 in the U.S. Western Region and No. 12 in North America, according to An Coimisiún Le Rincí Gaelacha (Irish for "The Commission for Irish Dancing"), which provides the sport's official rankings.
Before the COVID-19 pandemic struck in March, she has been competing in dance contests year-round with Craig heading to such California cities as San Diego, San Francisco and Sacramento and to such national locales like New Orleans, Orlando, Phoenix, Portland, Salt Lake City and Seattle.
"I love going to new cities, and it is so exciting to see how different each place is around the world," said the 14-year-old, who mainly travels with her mother. "My favorite city I've been to is Glasgow [in Ireland] just because I really like the architecture; the food was really good, and all the people were super nice, too."
To compete in the Oireachtas Rince na Cruinne (Irish for "The World Dancing Council") world championships usually held around Easter at cities all over the world, Craig said she's traveled to Dublin, Ireland, in 2017 (placing in the 80-100 range), Glasgow, Scotland, in 2018 (placing 79th for girls ages 11-12), and most recently Greensboro, North Carolina, in 2019 (placing 65th for girls ages 12-13).
The 2020 world championship scheduled for Dublin, Ireland, was canceled because of the coronavirus pandemic, but she said she's training for the 2021 event, which got postponed until the end of July because of COVID-19 health and safety concerns, and will be held at Dublin.
Though Craig has not earned any money from competing, she said she has received plenty of hardware and awards from the myriad of events she's performed at; she has collected 20-25 trophies, hundreds of medals and 10-15 Irish crystal bowls.
"I keep all of my awards up in my room," she said. "I keep competing because it's a great experience, and I would love to be on one of the professional shows such as the 'Lord of the Dance.'"
And though she has no sponsors to pay for her traveling, lodging, food and contest entry fees, the funding either comes directly from her parents or from fundraisers that her dance school organizes. Craig declined to state how much it has cost since she first started entering these competitions.
Because positive coronavirus numbers were much lower in Wyoming, she was willing to travel by airplane with her mother Sept. 17-19 for the first time to Casper, where The Cowboy State Feis (Irish for "Festival") was held at the Sheraton Hotel. 
"I was really happy with how I danced," said Craig, who placed third and wore an embroidered dress decorated with green, gold and black crystals. "So although I didn't place as high as I usually do at Oireachtas, I wasn't disappointed or discouraged at all because I was really happy with my performance."
Before flying back to Orange County, she and her mother were able to squeeze in some sightseeing, visiting a few museums as well as Independence Rock, a landmark from the Oregon Trail. 
"I really enjoyed visiting the state," Craig said. "I thought that the scenery was really beautiful and that the people were really nice.".
LORD OF THE DANCE
Set dance is a popular form of solo folk dancing in the Irish culture and contains 40 different types of dances that each have a story behind them, the freshman jig dancer said.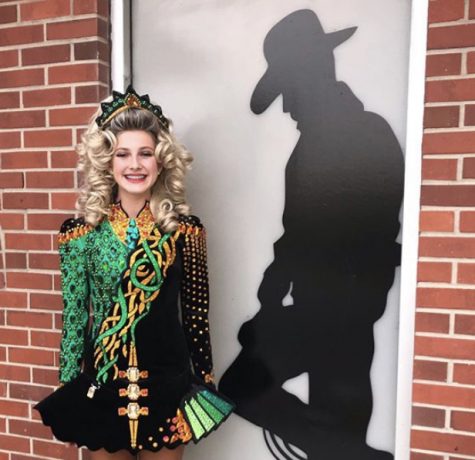 Among the selection of traditional music, "The Kings of the Fairies" is a summoning tune where the King appears three times in a row during a gathering or a festival. Some step dances further commemorate battles or warriors of their people and others tell stories of love or tragedy, Craig said.
"[The music of Irish dance] is generally the traditional Irish music that has no words to it, [and] it is completely instrumental using the accordion, piano and violin," she said. "Tempo-wise, it depends on which dance you're doing and depends on the musician's preference on how dark or light-hearted their dances are." 
Irish dance is differentiated from other dance types because of its unique style, characterized by a stiff upper body that remains still despite the active movements of the lower body. 
"It is really important that we keep our upper body completely still during crazy movements and while having stage presence," Craig said. "Maintaining our smiles and taking care of things such as not dropping our shoulders are very difficult to do while having our attention on our upper body."
The two types of shoes a dancer of jigs would wear are hard and soft ones. The former is similar to a clog that has fiberglass tips on the bottom, while the latter is similar to ballet flats with the addition of laces.
Irish step dance competitions began in the U.S. for Irish-Americans when the Irish started to immigrate here in the 1820s and 1830s. The first time that the Oireachtas Rince na Cruinne World Championship, which doesn't award any prize money, was held in North America was in 2008, Craig said.
When contestants perform, the judges usually scores them based on the following guidelines:
Contestants need to have good stage presence, moving across the stage instead of making minor movements while staying at one spot.
A good posture is required, such as having a turnout in the feet, crossing the legs over, being on toes and raising one's heels and pointing the feet.
The dancer needs to have his/her knees straight instead of having them bent.
The way the contestant's costume looks is important as well — the wig and the dress need to have a trending style.
Lastly, he or she would need to have a good stamina and not look tired while dancing. 
At smaller competitions, the judges will write comments for each contestant that mentions what needs to improve. At bigger competitions, dancers don't get any comments from the judges but just a score, Craig said.
The one competition that offered $1,000 in prize money for being the top dancer was held in January in Sacramento, she said. She lost to a boy — a current world champion — in the 12-15 age group.
"I would love to win some money at some point," Craig said.
THE LUCK OF THE IRISH
Because Craig's parents are Irish, they decided to introduce this aspect of their culture to not only Craig, but her two older sisters as well.
"My mom put them in it, and I kind of just grew up around it, which is how I was exposed to this dance genre," she said. 
Though her siblings — now 17 and 23 — quit the dance competition circuit eight years ago, Craig said she remains dedicated to the sport. Her parents consider their youngest child a natural born dancer.
"So from what my mom has told me, when I was a baby she held me up in a standing position so I could 'walk,' she said. "She says that as I moved my feet to walk they crossed over one another" like a ballet dancer.
The freshman's first competition was in 2011 when she was 5 years old. At "Feis at the Fair," an outdoor event open to everyone held in Pasadena, Craig recalled dancing to traditional Irish dance music.
"That time, I didn't even know that it was my first competition and how it was an actual competition," she said. "Everyone received a trophy from participating in the competition, and I remember myself running around with it."
She wasn't ranked high in the state and nationally until 2016. By then, Craig said she had switched dance schools so she can be trained under more professional and hardcore teachers.
"I remember the first time I placed nationally I was really surprised because I only placed regionally before," Craig said. "I was so shocked that I was placed because I didn't expect [myself] to place at all."
She found out about her placement at the awards ceremony that was held several hours after the competition after the judges had finished scoring the performances and decided the winners. 
Everyone who received the "re-call" was invited to the awards ceremony that took place on July 4 at Orlando. She said that she was just so astonished and excited when her name was called for 20th place (out of about 200 participants). 
Craig's mother had nothing but praise for her youngest child. 
"I'm proud to see how her hard work has paid off," Maggie Craig said. "Irish dancers have a lot of ups and downs, and the hardest part is to pick themselves up when fighting through hardships such as dance injuries and stage frights, which I'm really proud of as Jane has overcome them and has grown."
THE FIGHTING IRISH
The University of Notre Dame's storied football program has been known for fostering student athletes who will give more than 100% of their efforts on the gridiron. That fighting spirit is something that Jane Craig said she has also learned from her dad.
"My dad is [the type of person that] if you do want it, you have to do it — if you want to have it you have to take it," she said. "This helped me to be motivated."
Though she has no personal motto to keep her motivated, Jane Craig does use a saying that she and her dance teachers would often say: "Check yourself before you wreck yourself."
"It means to always be careful and make sure that you have everything you need to succeed," she said.
Prior to the coronavirus outbreak, Jane Craig said she practiced four times a week at the Tamora School of Irish Dance academy in San Dimas. Now, because of the start of quarantine and social distancing in March, she practices one to two hours, six days a week through Zoom classes.
Jane Craig's jig instructor, Julia Straszewski, envisions a promising future for her student.
"Jane certainly has the potential to re-call at the World Championships [since] she has competed there many times," Straszewski said. "She is one of the most consistent hard working dancers, which are keys to her success." 
(Re-call at the championships is when 50 dancers are chosen to perform in the third round, which means that they are officially placed in the Top 50.)
However, the freshman's devotion to this sport also required her to balance it with her school work.
"It's really hard, and I still struggle with it sometimes," especially now that she has started her first year of high school, Jane Craig said. "I try to do as much of my homework as soon as school ends and do it in the car or after I get back from my dance academy if I still have assignments left to do."
WHEN IRISH EYES ARE SMILING
For Jane Craig, she's moved on from her results in Wyoming to what lies ahead next January at The Hidden Valley Feis in San Ramon, Calif.
"I'm looking forward to dancing on stage since it's been a while," she said. "I also can't wait to see some of my friends."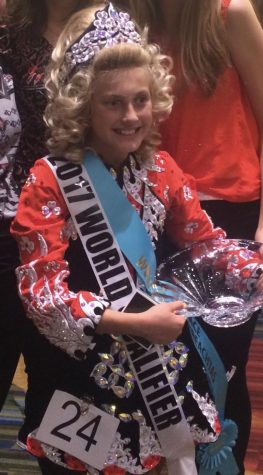 The jig dancer's long-term goal is to place her name in the Top 20 national rankings and win more regional competitions. 
Despite the spotlight the dancer receives, Jane Craig does not see herself pursuing a career in the Irish dance field and instead considers it as a hobby that she is very passionate about.  But that doesn't mean she wouldn't want to join a touring dance company if given the opportunity.
"I would love to perform my dance at professional shows such as "Riverdance," "Lord of the Dance "and "Feet of Thames" in the future although it is really hard to be given the opportunity," she said. "Performing at these shows will allow me to dance all around the world."
Although Jane Craig experienced the excitement of winning awards while learning how to overcome her nerves and the pressure to succeed, her friends from her dance class motivated her to persevere.
"I wouldn't trade them for the world," she said.
Another friend is Catherine Sefcik, a freshman who attends Sunny Hills who learned of her friend's involvement with Irish dance four years ago when Sefcik was in fifth grade.
"She told me that she was going to Ireland for her world championship," Sefcik said. "I was surprised and thought that it was really cool; I asked her questions about what she does, and she explained how her competitions work."
While Jane Craig cannot do any other forms of dancing, she has been able to enjoy her time on the dance floor in previous middle school socials, and as actor Will Smith once rapped, "get jiggy with it."
"Honestly it's not super hard to separate step dancing from social dancing just because with Irish dance, we don't use our arms, and our technique is so defined that it's easy for me to separate it," she said. 
This story was originally published on The Accolade on December 10, 2020.