Class of 2013 grad makes Netflix film debut in 'The Prom'
By Elizabeth Elliott, Lafayette High School
January 7, 2021
From the high school stage to the lights of Broadway and the sets of Paramount Pictures, Jack Sippel, Class of 2013, has done it all.
As a student, Sippel was very engaged and involved in theatre but was also on the volleyball team. 
Social studies teacher Doug Ell said, "Jack was one of the most engaging, wonderful young men I've ever met. As a student, he was always conscientious of his schoolwork, and he also played [volleyball] for us for a couple years. He never missed anything. As a teammate, you couldn't have asked for more. Whether it was starting or coming off the bench, Jack was always in things for the team. He led by example and watching him you just wanted to live up to the expectations that he set for you."
As a kid, Sippel was always very involved in the world of theatre. Starting in community theatre, Sippel then took to the Muny stage as a Muny Kid and Teen. His Muny performances include Bye Bye Birdie, Hello, Dolly! and Tarzan. Sippel even performed in the ensemble of Lafayette's production of Cinderella when he was in elementary school.
Theatre teacher Natasha Fischer said, "Since the first time I directed him at Wildwood Middle School his passion for theatre arts was pouring out of him. His passion was always contagious and just so rare to see someone so young put everything into theatre. I mean he was flying out to New York as a junior to audition for Broadway all on his own and no matter how many times he heard no, he kept going."
Throughout his high school career, Sippel was in three musicals, Footloose during his freshman year, Little Shop of Horrors during his sophomore year and The 25th Annual Putnam County Spelling Bee during his junior year.
"As a student, Jack was so talented, but always wanted to learn more. He believed that he could only be better by constantly learning. Not just in acting, dancing or singing, but in tech theatre too. He wanted to learn about lights and sound and wanted to help build sets. He was such a huge help in every aspect of theatre and in the classroom," Fischer said.
The summer before his senior year, Sippel attended a summer intensive in New York called Open Jar Institute which ran through a full audition and set the stage for what a real audition would look like. On one of the days, Sippel gave a mock singing audition.
"This week isn't about being scouted. It's not about auditioning for anything. This was simply a mock audition to the Institute. And I sang for someone who, I guess I made a very big impression on and she kept my headshot resume," Sippel said.
After multiple auditions, midway through the first semester of his senior year, Sippel got the call that the casting office had finished callbacks, but they needed to see him in person, so he flew up to New York.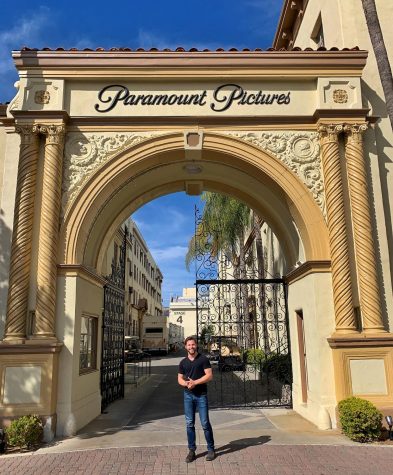 "We went up [to New York] on Tuesday and had the audition Wednesday. At the end of that audition, I got it in the room, sang my song and then did the dance. Right then and there, they said Welcome to Memphis and you're just kind of like 'I don't know what that means' because you're new to it. But also, you never get offered in the room like that. So you're kind of like, 'Was that an offer?' And, you know, a lot of things just kind of swirl. You're like 'My life's changing' kind of moment," he said.
Due to being on a national tour, Sippel wasn't able to attend school. However, as it was his senior year, he only needed a couple more credits to graduate.
"The administrative staff there was so wonderful and had really known our family for a long time, and they worked with us on still completing my high school year while being on the road. I wasn't there [for finals], so I came in when school restarted and I took my finals in person. That was kind of like my 'I did it!' moment," Sippel said.
The tour picked back up and closed in May of 2013. Sippel flew back to St. Louis from Orlando on May 20, just in time for graduation.
"I got off the plane [and] I went to Chaifetz Arena, the graduation was that night. So I met Dr. (Tim) Jones there because everyone needs that rehearsal for graduation and I was the only one that hadn't done it. That's when I can finally get my cap and gown because you don't get them until you do the rehearsal. So then we went home for like 15 minutes just to steam that thing because I was not going to look bad on that stage after being gone for a year. I got my picture, sat back down and everything just kind of changed overnight," Sippel said.
While Memphis was Sippel's first major show, his career has led him to other big accomplishments, such as his time as a cast member in Newsies. The first time he went to New York was his audition for Newsies. After three and a half years of waiting, he finally got it. Sippel was officially an original cast member of the tour and part of the movie available on Disney+, Disney's Newsies: The Broadway Musical.
"Newsies is one that's more of a self triumph because of how long I've auditioned for it and just putting in the work. Then seeing it happen, and with that show, you get so much reward every night, because the audiences are just out of this world. When those trumpets go off and the prologue begins, people are screaming their faces out, they're so excited. That was the entire show in every city. It was truly something so special to be a part of. We knew we were taking this mammoth of a show that was just on Broadway around the country and just seeing how obsessed people were with it was amazing," Sippel said.
On Nov. 15, 2018, Sippel made his Broadway debut in an original show called The Prom. Sippel was not only in the cast but was also the dance captain for the production.
"It was such a privilege to do an original piece of work. Something that all of us actors hope for is an original show people have never heard of before. To have my Broadway debut be an original piece, especially a story that's so important, is just incredible," Sippel said.
Alongside Broadway stars Brooks Ashmanskas, Beth Leavel and Angie Schworer along with director/choreographer Casey Nicholaw, Sippel told the story of a high school student in the Midwest who was told she could not bring her date to the prom.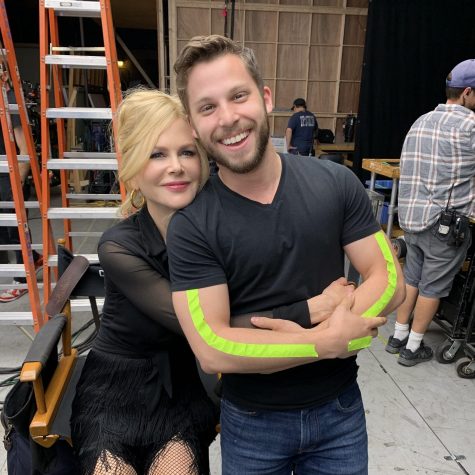 "When we first previewed the show, so many people thought it was a period piece. To bring to light that this is just as current as it was ten years ago was amazing and it was incredible to be able to tell it honestly and truthfully, without adding in any fluff to make people feel good," Sippel said.
After being nominated for seven Tony Awards and performing at the Macy's Thanksgiving Day Parade, The Prom was picked up by Netflix as an original movie directed by Ryan Murphy who is known for TV shows such as Glee, American Horror Story and Hollywood. Some members of the star-studded cast of the Netflix film include James Corden, Nicole Kidman and Meryl Streep.
"I got asked by our director of the Broadway shows to be a part of and to help set and choreograph this version for the movie and in a heartbeat, I said, 'Absolutely'. This was before I even knew who was involved with the project and I always like to say that just because it's one thing to have the stars be the reason you join, but for me, [it was] that the show is so important. I knew I had an opportunity to continue the truth of the story, to keep pushing it out there," Sippel said.
The Prom was released on Netflix on Dec. 4 and Sippel makes an appearance in the film as a dancer.
"He makes me believe I am in the right field of work. He constantly reminds me of why I do the work I do and he also has always pushed me to continue my acting career. He is always giving back to St. Louis and representing our city in such a positive way," Fischer said.
This story was originally published on The Lancer Feed on January 6, 2021.