Courtesy of Mackenzie Kelley
Playing sports can be a big part of many students' high school experience and even impact their lives. For some student athletes; however, they have the chance to enjoy their sporting experiences with their own sibling.
Kelley twins
Juniors Mackenzie and Aidan Kelley have been on varsity for cross country for four years. They also run on the track team.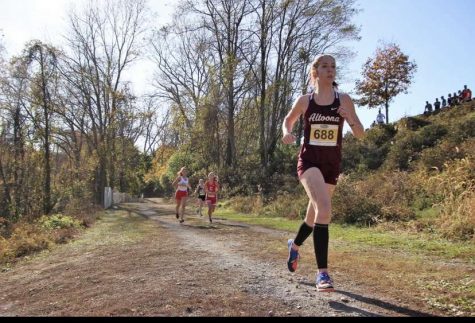 "I've accomplished a lot such as: I'm a three time state qualifier for cross country, three time Blair County All Star first team for cross country and this was my third year receiving the Angie Gioiosa outstanding runner award," M. Kelley said.
A. Kelley also has big accomplishments from his years running.
"In this sport, I learned leadership skills, and I was on the Altoona Mirror second team for two years and got honorable mention in ninth grade," A. Kelley said.
Something a lot of people may not know is that A. and M. Kelley are twins.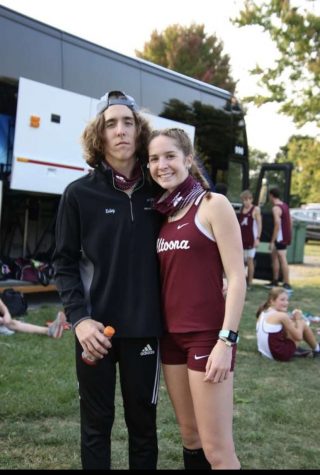 "I love that we can bond together, and we get to spend time together. I also love that we are super competitive but supportive at the same time. He pushes me to be a better runner. I also love how close both of us are with all of the teammates," M. Kelley said.
A. and M. Kelley find it easy to relate to each other.
"We don't really play the sport together because we practice and race separately, but having someone that knows what you are doing and how it feels is fun to relate to," A. Kelley said.
Kiser sisters
Sophomore Maura Kiser and junior Lauren Kiser play on the varsity soccer team. M. Kiser is a left, outside defender and L. Kiser plays in the midfield as an attacking mid.
L. and M. Kiser have been playing soccer for around 11 years.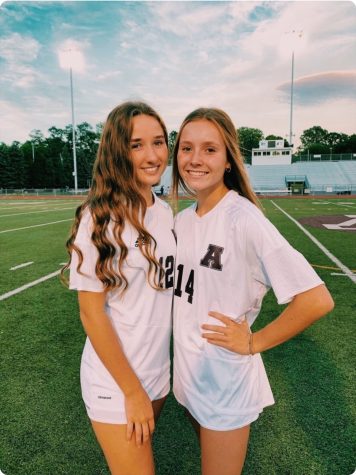 "I started varsity during my freshman and sophomore years as well as winning districts and going to states both my freshman and sophomore years. Those are some of my many accomplishments," M. Kiser said.
L. Kiser started playing varsity every year of high school.
"I have been playing soccer since I was about four years old. I still love the sport and I want to play it in college. I've already got exposure to college coaches," L. Kiser said.
Up until a couple years ago, they used to play soccer with a boys team to get more physical practice. They have also gone to other places to play.
"For the past five years we've been going to Wildwood New Jersey and playing a soccer tournament on the beach. It is by far the best tournament we go to, but sadly we couldn't go this year," M. Kiser said.
L. and M. Kiser were born 13 months apart which makes it more special for them.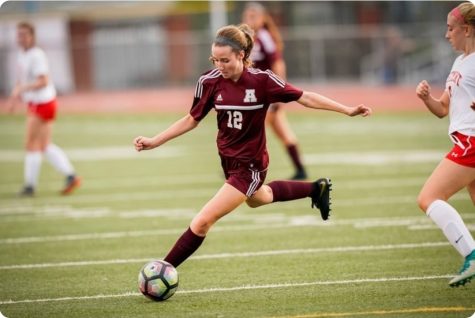 "Honestly, I love playing with my sister because we do really well complementing each other's style of play. Also, this year we got to play on the same side of the field which made it even better for us," L. Kiser said.
Palilla brothers
Sophomore Ian Palilla and senior Aidan Palilla play football for the varsity team. I. Palilla is a kicker and A. Palilla plays as a defensive tackle.
A. Palilla has been playing football for 11 years, while I. Palilla just started playing two years ago.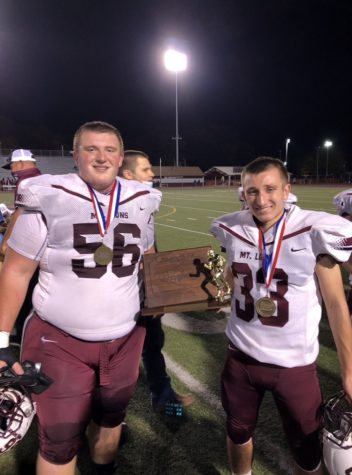 "This year, I was the starting kicker on the varsity team. I started playing soccer when I was five years old. Two years ago, I decided to give kicking [for football] a try. I really enjoyed it and have worked hard to learn the position. I plan on continuing to kick throughout my high school career and play soccer as well," I. Palilla said.
As a senior, A. Palilla is proud of all the team has accomplished.
"My accomplishments would be earning a varsity letter as a sophomore, playing varsity all three years of high school and winning a District Six class 6A and District 4-6 Class 6A Regional Championship this season," A. Palilla said. "I am so appreciative of the opportunity that we had this season to play on the same team. I will be heading to college to play football this fall, and I am grateful that I will always have the memories of this season to share with him."
Besides just playing football together, they also played baseball together as kids.
"Playing football with my brother has been an awesome experience. Growing up as kids, we played other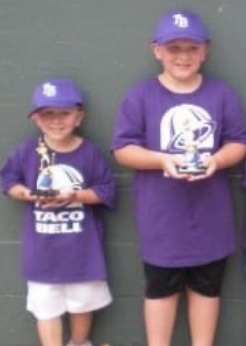 sports together, such as baseball, but once we moved into the secondary level, we kind of went our separate ways in regards to athletics. I never thought I would get the opportunity to play on a team with him again, and I am so glad that it worked out the way it did," I. Palilla said.
Although playing with a sport with a sibling can be a different experience, they made the best of it. They were recognized as the 2020 Altoona Mirror Football All-Stars this year.
"It's a different experience to play with your sibling because you get to see how their hard work has paid off first hand. As brothers, we know how to push each other to be better. Although our positions on the football field couldn't be any more different, the drive and dedication that it takes to be your best on the field is a common goal that we both shared. I was proud of how well he did this year," A. Palilla said.
Black brothers
Sophomore Kade Black and senior Graham Black play on the varsity soccer team. G. Black is a midfielder and K. Black plays in center midfield.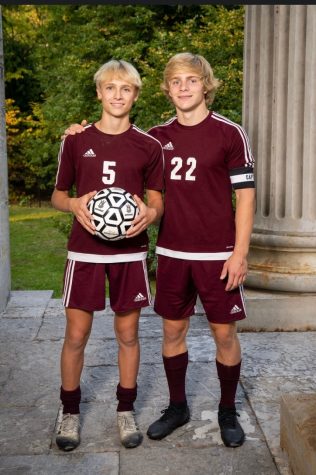 K. Black has made a big accomplishment during his time playing varsity.
"I started for the varsity team as a freshman and I made the biggest run Altoona soccer has ever had and made it into states," K. Black said.
They both have been playing soccer for 12 years.
"I am one of the captains this year for the team. What is cool about playing with Kade is that we both play on the same club team outside of school as well as the same school team," G. Black said.
G. Black is a great leader according to K. Black.
"We tend to have telepathic powers–at least it looks like it–when we are on the field. We just flow together and play smoothly. I will definitely miss having him on the team next year. He's a great role model and leader," K. Black said.
Murphy twins
Seniors Makayla and Makenna Murphy participate in multiple things as siblings, two of those being majorettes and swim team.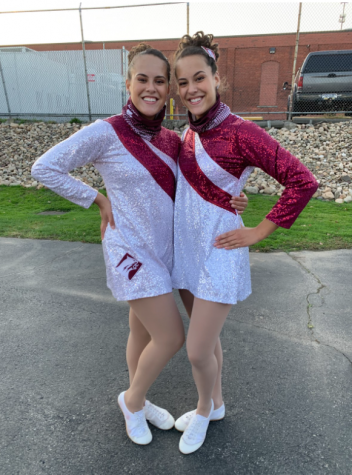 They have been swimming since ninth grade and have been twirling since they were about five years old.
"I've learned how to be a team player and we learned how to work together towards a common goal. Makenna and I have twirled together since we were little and have won various awards and talent shows while competing our duet," Makayla said.
Makenna qualified and competed at Districts for her swim team.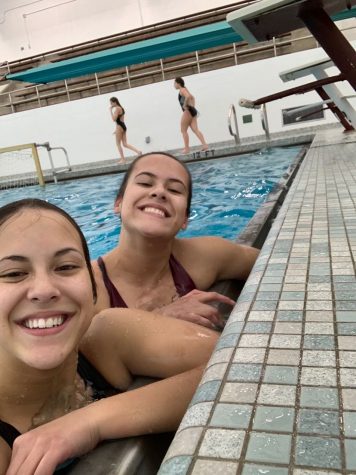 "I love having my sister on the team with me. She is my number one supporter. I can always count on her to be at the end of the lane screaming my name and encouraging me to swim faster during my events," Makenna said. "I always have someone to be my bus buddy as we travel to away meets, and she always reminds me that I am capable of succeeding and doing well."
Being identical twins, they do a lot of things together.
"We both balance AP and honors classes, part-time jobs, and athletics. I love swimming with Makenna, we train together, encourage each other, push each other and we have even swam in the same relay for various events. Makenna and I have also led the kids at our baton studio," Makayla said.
This story was originally published on Mountain Echo on January 8, 2021.