The Red Deal proposal prioritizes climate justice and liberation for Indigenous people
Proposed by Native liberation coalition the Red Nation, the Red Deal prioritizes Indigenous liberation, calling for "action beyond the scope of the US colonial state."
Amid growing attention and demand for climate action, the Green New Deal proposes a plan to address climate change and economic inequality. Among the many proclaimed shortcomings of the Deal, including that the resolution is nonbinding, is that it doesn't encompass Indigenous environmental justice needs and knowledge. Enter the Red Deal.
The Green New Deal, first introduced in February of 2019 by Representative Alexandria Ocasio-Cortez (D-NY) and Senator Ed Markey (D-Mass.), aims to wean the United States off of fossil fuels and reduce greenhouse gas emissions, as well as boost the clean energy economy. Proposed by Native liberation coalition the Red Nation, the Red Deal prioritizes Indigenous liberation, calling for "action beyond the scope of the US colonial state."
"In a way it's complementary, but it's driven through the perspective of Indigenous peoples," said Jean-Luc Pierite, president of the North American Indian Center of Boston (NAICOB)'s board of directors. "We need the Green New Deal, we need the Paris Agreement, but we also need these documents to be held towards our perspective and to be more inclusive of Black and Indigenous peoples."
Indigenous communities have been at the forefront of the fight for environmental justice. They have protested the construction of oil pipelines that threaten reservation resources across the United States, most notably the #NoDAPL movement against the Dakota Access Pipeline in 2016. Infrastructures such as pipelines and mines are disproportionately located in their communities, polluting land, water, and wildlife. This pollution is linked to Native peoples facing the worst health outcomes compared to other demographic groups in the country.
At the same time, Indigenous peoples make up only 4 percent of the global population but protect about 80 percent of the global biodiversity. After generations, tribes possess a deep understanding of their natural surroundings in what is known as Traditional Ecological Knowledge, each approaching environmental action and policy decisions in unique ways.
"We have hundreds and hundreds of governments that each have their own stances and ways in which they steward their own local ecosystems," Pierite said.
The first part of the Red Deal platform, titled "End the Occupation," drives forward its message with four key principles: What creates a crisis cannot solve it, change must come from below and to the left, politicians can't do what only mass movements do, and from theory to action.
"What creates crisis cannot solve it" is a demand for the federal government to divest financial resources from the fossil fuel industries, which create negative effects on both people and the planet. Influenced by Black abolitionist traditions, the document also calls for divergence from the harming of human beings through institutions like prisons, the military, and detention centers. The next step is to identify and reinvest in social justice priorities, like healthcare and education.
To "create change from below and to the left," the Red Deal proposes a mass movement.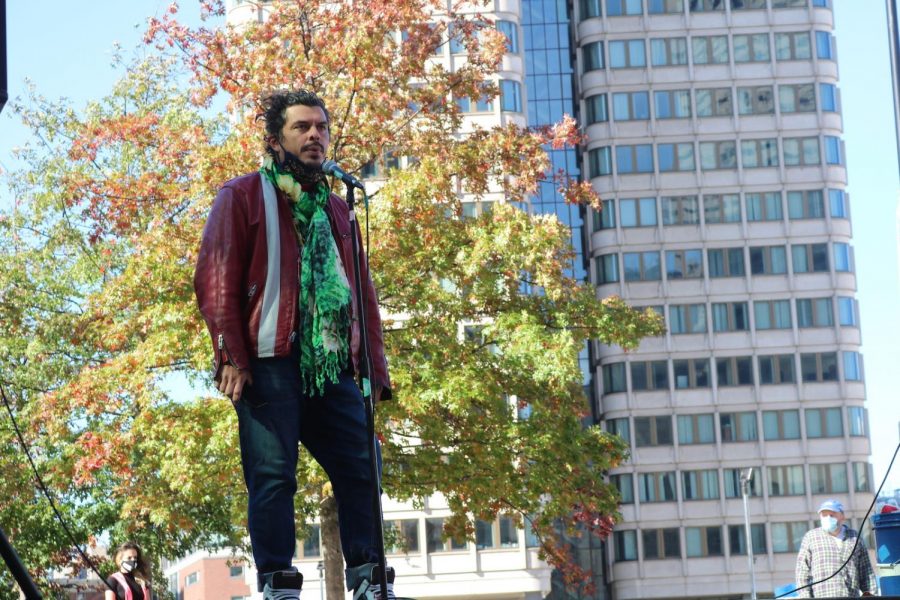 "People power is the organized force of the masses; a movement to reclaim our humanity and rightful relations with our earth," the Red Nation writes. "With this, not only will we topple power, but we will build a new world from the ashes of empire."
The plan also finds that "politicians can't do what only mass movements do." It aims to harness the power of mass movements to create reform outside of the capitalist framework, described as non-reformist reform, that will redistribute wealth back to the likes of workers, the poor, and caretakers of the land.
"When we're talking about racial injustice, when we're talking about the ways in which our social systems are set up to perpetuate, these ideologies are not bugs within the system," Pierite said. "We have to take everything and deconstruct everything, and then just kind of build it from the ground up in a way in which our peoples have something that is of service to them."
Finally, these principles must be applied "from theory to action," fueled by collective power. For allies who hope to get involved in the environmental justice movement, Pierite recommends approaching local Indigenous advocacy groups ready to listen and learn.
"Everybody needs to understand whose land they live on," Pierite said, "Form those personal relationships with representatives of local tribes and understand what their priorities are, and then find a way to assist them with their own goals."
This story was originally published on Catherine Mc Gloin on February 11, 2021.