A Review of "One Night in Miami"
Four Black icons. One motel room. One night. The rest is history.
By Jess Daninhirsch, North Allegheny Senior High School
February 23, 2021
Disclaimer: This movie is rated R for language. Viewer discretion is advised.
If you took four of the most prominent Black men in 1964 and put them all in one motel room, could you imagine the conversations that would ensue? The movie One Night in Miami, directed by Regina King and written by Kemp Powers, explores what might have been discussed in the Hampton House Motel room one night between activist and spokesman of the Nation of Islam Malcolm X, singer Sam Cooke, NFL football player Jim Brown, and heavyweight champion Muhammad Ali (born Cassius Clay). 
The movie begins with snapshots of each character at the point they are in their lives the night the story takes place. On February 25th, 1964, Muhammad Ali (Eli Goree), then known as Cassius Clay, had just won the first world title in boxing against Sonny Liston. Instead of celebrating with a crowd of fans, he spent the night of his big win in a motel room with three friends: Malcolm X (Kingsley Ben-Adir), Jim Brown (Aldis Hodge), and Sam Cooke (Leslie Odom Jr.)
Though this quartet may seem unlikely–the four men had vastly different careers–they all had one thing in common: they were Black men trying to navigate living in a white man's world. 
Jim Brown's snapshot, however, mostly sets the tone of the time period for the rest of the movie. He was visiting a white family friend, Mr. Carlton (Beau Bridges), and he and his family were gushing about how much they loved and respected the superstar running back. They considered him to be a son of theirs. When Carlton has to go back inside his house to move some furniture, Brown offers to help, but Carlton tells him they don't allow Black people in the house, despite how much he just said he loved and respected him.
A fictional account of the possible conversations these four men had on the real night of February 25th, 1964, One Night in Miami was originally written as a stage play by Kemp Powers and first performed in 2013. Powers also adapted the play for the big screen.
In her directorial debut, Regina King adapts Powers' story to keep the feel of a stage play. However, the creative camera angles certainly enhance this character-driven story. For example, oftentimes when two characters are having a conversation, the camera is on a third character to study his reaction. When Clay tells the group that Malcolm inspired him to join the Nation of Islam (he became known as Muhammad Ali after he converted), Cooke is skeptical because he thinks he is just doing it to "rile up the white man." When Clay and Malcolm talk about the Nation of Islam, the camera focuses on Cooke to watch his reactions.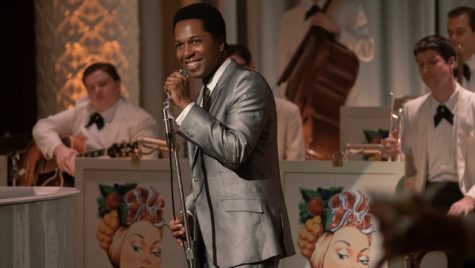 Cooke has no reason to be skeptical, however, because the world loves him. Earlier in the film, after Clay had just won the match against Sonny Liston, there is an overhead shot of Clay running back and forth across the ring shouting to the crowd as more and more people come onto the ring and follow him like a herd of sheep. There are many subconsciously thought-provoking camera angles throughout the movie that illuminate the character study. The orangey colors, set locations, and wardrobe also contribute to the mood of the movie and capture the 1960's feel.
This night takes place in 1964, which was the year that the Civil Rights Act was enacted, though not until  later that year. Consistent with the era, the discussions of the four men revolve around civil rights injustices, the advancement of the Black community, and even colorism within the Black community. Malcolm X is an outspoken advocate for civil rights and desegregation, as are Clay and Brown. However, Malcolm is disappointed in Cooke for not using his voice the same way that he did. He believes that out of the four of them, Coke has the loudest voice (figuratively and literally) and has the potential to make the strongest impact because he has white listeners as well as Black ones. 
It does not matter if you are too young to remember the 1960s or if you are unfamiliar with the cast of characters, because every single issue discussed in One Night in Miami is still relevant today. This movie will not only leave you humming some Sam Cooke tunes, but it will also leave you wondering what really happened that one night in Miami and whether the conversations these men had influenced anything they did in the future and even the advancement of the Black community as a whole.
The film has already been nominated for a slew of awards by various organizations, including a Golden Globe Best Supporting Actor nomination for Leslie Odom, Jr. and a Best Director nomination for Regina King, while Kingsley Ben-Adir has already won the Breakthrough Actor award granted by the Gotham Independent Film Awards. 
Overall, One Night In Miami is a testament to the civil unrest that defined the 1960s and an important reminder of everything the Black community has had to fight to get to where they are today. It shines a light on the progress made by the Civil Rights Movement and how much work still must be done today. As Cassius Clay says in the film, "Power just means a world where we're safe to be ourselves. To look like we want. To think like we want. Without having to answer anybody for it."
This story was originally published on The Uproar on February 22, 2021.