Bullet journaling: a new way to stay organized
By Zaid Ali, Bellaire High School
February 25, 2021
English teacher Gretchen Bonnes draws a line to indicate the start of a new day. Each week, she decides to use one color pen for her bullet journal. This week, she chose purple.
Using the blank pages of her bullet journal, Bonnes plans out her day. After classes end at 11:30 a.m., she plans to upload lesson recordings and grade some of her students' late work.
Bonnes not only uses her bujo (short for bullet journal) for scheduling purposes but also for personal reflections.
"The most recent entry I put in my bullet journal were some thoughts in my 'today I'm grateful for' section," Bonnes said. "Every day, I try to come up with as many different things I am grateful for. Today, I'm grateful for the free lunch that was given to the teachers and that it is Friday."
Bonnes is a part of the 85 percent of educators who use their bullet journal daily. Although Bonnes considers her bullet journal 'a notebook,' journalists have used their bujos to create calendars, drawings and track goals. Bullet journals have no lines, but rather, a grid-dot layout that allows for a variety of ways for journalists to customize their bujos. This outlet of creativity has led to their exponential rise in popularity – $210 million were spent on purchasing bullet journals in 2018. 
"Something that used to be very helpful to me was tracking habits," Bonnes said. "I found that to be very satisfying and helpful for the things you want to improve upon, like exercising or studying Spanish."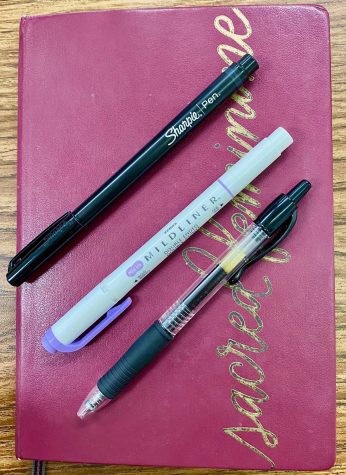 Bullet journalists even have their own syntax unique to bujos: dots represent tasks, open circles represent events and dashes represent notes. This system helps users stay organized and connects them with other journalists looking for inspiration online on how to use their bujos.
And now, with access to social media, the bullet journaling community has spread internationally.  For example, Bujo U is an "international social network" where bullet journalists can take courses, share resources, and practice exercises to improve their skills.
Senior Lindsey Hou is one bullet journalist who has used social media to customize her bullet journal.
"I usually go on Pinterest to find inspiration and then create my own version or spin-off," Hou said. "Mildliner highlighters and Papermate felt-tip pens are usually my go-to supplies. I made a grid spacing guide at the beginning of my journal, so I usually use that as a reference to divide a page up evenly. The last entry I made was a quote that says 'Breathe, darling. This is just a chapter. It's not your whole story.'"
Hou uses Bujos for her personal life, rather than assignments and tests.
"Bullet journaling is one of my ways to relieve stress, so I would never include any school-related things in my journal," Hou said. "My bullet journal is reserved for happy things like a travel bucket list for Taiwan, movies to watch or just a collage of moments that have made me smile."
Senior Kate Hester looks forward to ending her day with bullet journaling.
"I struggle with anxiety and I'm constantly pretty stressed, but bullet journalling lets me just relax and end my day on a good note, as I tend to journal late at night before I go to bed," Hester said. "Every time I journal, I feel calmer and happier."
Although bullet journalists often create aesthetic and detailed designs, there are no requirements on how a journal should look.
"I'd just say that everyone's style of bullet journaling is a little different so it's really customizable and there are no set standards you have to follow," Hester said. "You can have fun with it, be creative, and do your own thing. There's really no wrong way to bullet journal."
This story was originally published on Three Penny Press on December 14, 2020.