Senior Caroline Swirski reflects on her experience with heart complications after COVID-19
By Jankhna Sura, Athens Drive High School
March 1, 2021
After contracting a mild case of COVID-19 in late November 2020, Senior Caroline Swirski could not have predicted what was to come—a rare inflammatory condition and an irregular heartbeat. 
At the time, her coronavirus symptoms matched those specified by the CDC; she felt cold-like symptoms and congested sinuses for several days. As the last in her family to test positive for COVID-19, Swirski was more worried about the health of her mother, who had battled cancer the year prior, than her own. 
Yet six weeks later, Swirski developed a fever, body aches and an inability to eat, leading her to assume she had the stomach flu. After three days though, a new wave of symptoms arrived. She began to experience extreme upper abdominal pain, a rash and yellowing skin resulting from jaundice, and decided to visit Urgent Care.
"They [Urgent Care] said, 'You need to go to the emergency room' and so I went to the emergency room. They did some labs and told me my liver enzymes were high, and that the labs were all abnormal and showing inflammation. I was diagnosed with Multisystem Inflammatory Syndrome for Children (MIS-C)," said Swirski. 
MIS-C is a new, rare syndrome in children and teenagers which causes inflammation, limiting blood flow and damaging the heart, kidneys and other organs. Assumed to be caused by COVID-19, MIS-C usually develops four weeks after exposure to the virus and begins with unusual weakness or fatigue, abdominal pain, a red rash, vomiting and more. 
As of Feb. 8, 2021, there have only been 2060 cases of MIS-C reported in the United States. Swirski stayed at the hospital for three days and was treated with intravenous immunoglobulin (IVIG) and steroids for the inflammation.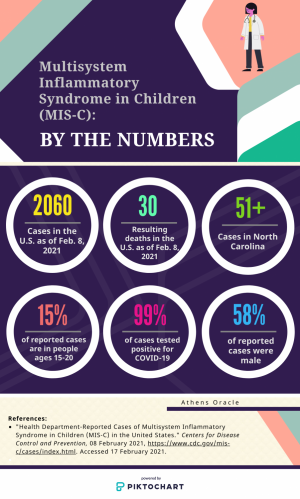 "At the time I wasn't thinking, 'Wow, this is such a rare thing that I have and this is scary.' I wasn't scared, I just wanted to get better. I wanted it to be over and done with so I could be back to normal," said Swirski. 
She soon recuperated, but later started to experience heart arrhythmia—a condition in which people have an irregular heartbeat and, in Swirski's case, an extra, premature beat. According to the Mayo Clinic, problems with heart rhythm occur when the "electrical impulses that coordinate your heartbeats don't work properly," which causes one's heart to beat too fast or slow.
"MIS-C is known to cause complications with your heart. For me, they caught it really early and were hopeful that it wouldn't have inflamed my heart, but it had," said Swirski.
As of now, Swirski is working to recover and is strictly limited in her physical activity as exertion stimulates heart arrhythmia. To prevent arrhythmia from occurring and inducing further heart damage, she has been instructed not to work or exercise (with the exception of walks).
"It's really hard because I'm a really active person and I just have to sit around and be a lump all day," said Swirski. "A word of advice is [to] trust your gut. If you think something is wrong, don't wait to go to the doctor. The reason it wasn't as bad for me as it could have been is because I went to the doctor because I knew something was wrong and I didn't wait for it to get better."
In the next week, Swirski will receive an MRI to determine whether she has scarring in her heart. If the results show that she does not, she will complete a stress test by moving on a treadmill as doctors measure her electrocardiogram (EKG) at different levels of activity to determine her next course of action. Swirski remarked that "everything that could have happened did happen," but is hoping for the prospect of normalcy in the coming weeks and urges others to take the virus seriously.
"You always think it's not going to happen to you and then it does. It's so easy to think, 'That's just that other person, that isn't going to happen to me.' Well, I was that other person; it happened to me," said Swirski. "I was a perfectly healthy 17-year-old and now I'm having heart problems. It sucks, but people need to see that it's not just an old people thing. People are dying. Young people are dying. People our age are dying."
This story was originally published on Athens Oracle on February 22, 2021.