Nicole Heffington looks to lead Blue Streaks to third consecutive OAC championship game: The story behind one of DIII's best
By Kyle Kelly, John Carroll University
March 3, 2021
Rebuilds are not easy. 
But when you have a player like Nicole Heffington, the torment is lessened and ultimately rewarded. If not for a game on Feb. 10, 2018, the John Carroll University Women's Basketball Team might never have won an Ohio Athletic Conference championship the next season, played in the game the year after or have been favored for it this season.
All it took was that one win against Ohio Northern University.
Leading up to tipoff in the Saturday afternoon game that took place over three years ago, the Blue Streaks were 5-17 and on the brink of missing the OAC Tournament. 
The Polar Bears came into the game the No. 15 team in the country and had previously beat the Blue Streaks by 38 points nearly two months prior. A possible upset the likes of this one are only shown in movies, not at a Division III university in suburban University Heights, Ohio.
Heffington wrote the script.
The Upset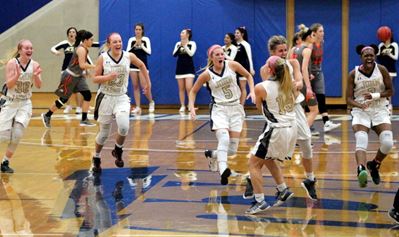 Led by a game-high 21 points by the eventual OAC Freshman of the Year, Heffington and the Blue Steaks knocked off the ONU Polar Bears 68-66 — a win that put a dreadful freshman season in the rearview mirror for Heffington and gave her a taste of what was to come.
"We always say that all it took was one game to have a lot of success, just to turn around our season," Heffington told The Carroll News. "We felt that even though the win didn't change the outcome of our season, it just really helped us out, to change our mindsets for the next coming year."
Former JCU head coach Kelly Morrone, who is now the head coach at Merrimack College — a Division I program located in North Andover, Massachusetts, — is now facing a similar challenge with the Warriors (3-10). Morrone was at the helm of the John Carroll rebuild and knew that day when her team beat Ohio Northern, they had turned the page. 
"That ONU win changed everything for us," Morrone told The Carroll News. "It didn't take away from all of the losses, and it didn't take away from the other wins. It made us understand that was a year we needed to go through and that was all of the lessons that we needed to learn.
"That signature win made them feel that everything they were going through was going to be worth it."
One year later, it was.
The Blue Streaks had a magical season that resulted in an OAC Tournament championship victory, thanks to a last-second three-pointer by Shmoo Pryor against none other than Ohio Northern. Heffington played 35 minutes in that game — trailing only OAC Tournament MVP Kahrin Spear (37 minutes) — and finished with 12 points and a team-best seven rebounds.  
Not only would a conference championship hardly have been possible without Spear's performance on the court, but it also would have been nearly impossible without her off-the-court leadership as well. Heffington might not have been a Blue Streak without Spear.
"Definitely Kahrin Spear," Heffington said of which player tutored her the most. "She gave the underclassmen a lot of love. I know that's not something that every upperclassman wants to do. But she was always the one helping us out, on and off the court. 
"I think having her here to start — I kind of knew her in high school because we played each other (Spear attended Chardon) — she helped me decide on John Carroll. Just playing with her, she was really impactful for me."
Heffington attended Mentor High School and was a two-time First Team All-Greater Cleveland Conference selection. In her high school career, Heffington scored over 1,000 points. By the time she was a senior, Heffington had plenty of options to choose from to continue her basketball career.
The Recruitment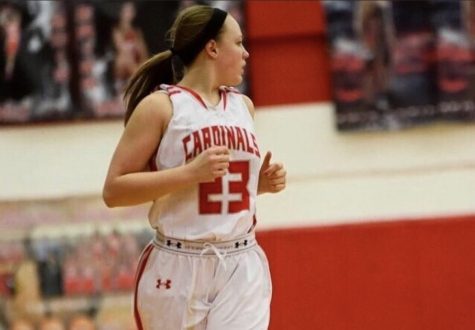 The recruitment for Heffington was not easy.
"We thought [JCU] would be a great option for her," Morrone said when scouting Heffington. "At that time, we were undergoing a hardcore rebuild. That was in the back of my mind too, knowing how much of a competitor she was. Did I have a good shot at her and convince her to come to a team that wasn't winning at the time?"
Morrone persisted and brought Heffington to John Carroll. It included a pitch that is rarely made with such honesty to potential players.
"The reality was that we told her, 'Wherever you go, you're going to win,' " Morrone said. "'Here, you could build a legacy for what you helped start and that's a really special story to have in your life.' That's something that she wanted to do and was invested in. She was like, 'Let's go.' She came (to JCU).
"When she finally called me and said she was committing, I took a deep breath and had a good night's sleep."
Heffington took recruiting visits to OAC rivals Baldwin Wallace, Capital and Mount Union. She even had an offer to play Division II basketball at Notre Dame College. However, the opportunity to attend JCU and play under Morrone prevailed. 
"The team and the coaching staff that was here just made it feel like home," she said. "I just really liked the campus."
The Construction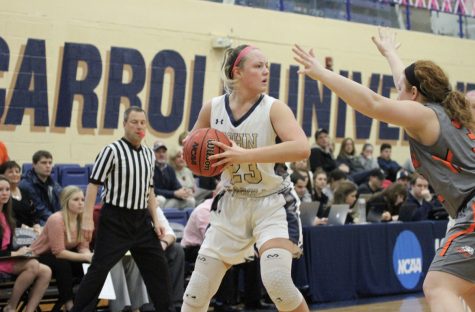 To begin Heffington's career, the Blue Streaks lost nine of their first 11 games. Heffington was one of a few bright spots as she averaged 16.3 points, 6.3 rebounds and 2.9 assists per game. Her rookie performance made the selection of OAC Player of the Year a no-brainer. 
No one was more surprised than Heffington that she accomplished so much her first season in Blue and Gold.
"Honestly, I was very surprised that I did well that season," Heffington admitted. "In high school, I was one of our best players, but I didn't think that coming in here — I knew it was going to be a change of scenery and pace — that I was going to do well my freshman year."
Morrone knew right away that Heffington was only one season away from her first career accolade. 
"When we got her, we knew she was going to be Freshman of the Year. I knew what she would be able to do," Morrone said. "I think Freshman of the Year isn't just your numbers but how you impact your entire team. The impact she had on the team as a whole was noted by the conference. We were closer than what we probably should have been. You could see the momentum shifting because we had a player like her."
The Championship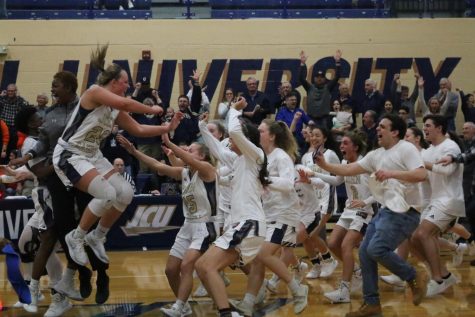 The momentum Morrone is referring to was the upset victory versus Ohio Northern and the three consecutive wins that followed. It ignited a 2018-19 season that resulted in not only a conference tournament championship but a regular-season conference championship banner as well. 
John Carroll concluded conference play on an eight-game win streak. The season ended in the first round of the NCAA Tournament with a 62-54 loss against Middlebury College.
Heffington was named OAC Player of the Year and was also recognized nationally by D3Hoops.com as All Great-Lakes First Team All-Region. The Blue Streaks went from being the hunters to the hunted.
The Expectations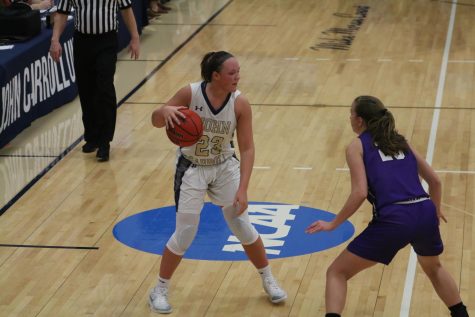 The following season, the Blue Streaks went on a tear in the conference, as they won 13 of their first 14 OAC games. Heffington was well-known throughout the conference as the best player and was defended like it. Meanwhile, another sophomore emerged.
With all of the attention turned towards Heffington, Olivia Nagy blossomed into a consistent scorer and elite defender. Heffington went from being the shining star to the supporting act. Still, Heffington left no doubt with her play on the court as she garnered First Team All-OAC honors for the third consecutive season; however, playing alongside Nagy was an adjustment.
"I had never played with another dominant center. Having Liv step up her sophomore year and fill that role, I think it helped take a lot of pressure off, knowing we had that big presence inside," she said. "I think we both give credit to each other when it's due. She's been really awesome at stepping up into the role of needing another big scorer on our team. I was really proud of her for that season."
The Blue Streaks blitzed through the remainder of the regular season and the first two rounds of the OAC Tournament. Then, the season ended with an 80-63 loss in the conference championship game against Baldwin Wallace.
The Snub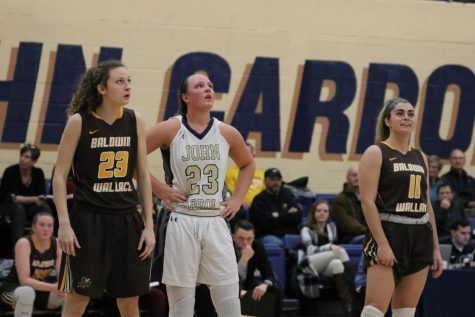 During the 2019-20 season, John Carroll had become a mainstay in the top 25 rankings and posed a 23-5 record. Despite the multitude of successes, JCU was left out of the 64-team NCAA Tournament. 
"We didn't play well in the championship game. We all knew it. I think there was regret from individual players, as a team, as a staff, all of us felt regret like we wished that we could just get that game back," Morrone recalled when she told her team they were snubbed. "You don't get to have those opportunities back. That game taught us a lot and gave me a lot of content to explain to them, that when you are speaking championship and beyond that, you can't miss moments, and you have to take care of business.
"[If you don't], it comes to an imperfect system and subjectivity of how this field of 64 is picked. It is imperfect. I have been on that committee, and I know how those conversations can go. The only way you can guarantee winning a national championship is that you have to win the games you are supposed to."
The way last season ended left a bad taste in the team's mouth, according to Heffington.
"We definitely should have gotten that bid," she said. "That just motivated us more for this season. We were ready to begin immediately after that season ended, ready to get back to the gym and see what we could have done better. I think that helped us analyze what went wrong and use that to our advantage this year."
The Pandemic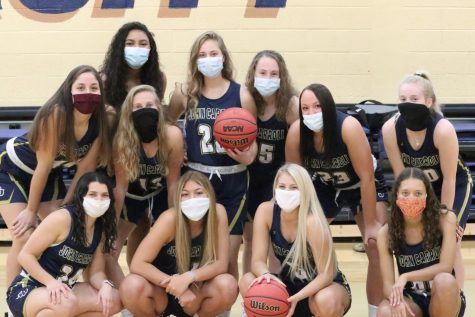 It turned out that it would be nearly 11 months until the Blue Streaks had the opportunity to get back into work. The COVID-19 pandemic postponed all sports in the Ohio Athletic Conference until Jan. 1, 2021. Leading up to that date, the players were not sure if they'd even have the opportunity to play this season. The circumstances during that time were more adverse than the 8-18 freshman season.
"It was hard to get everyone to stay motivated over that time — not knowing if we were going to have a season, when we would play or if we'd play. I think our team did a great job of sticking together and realizing it will be worth it if we have a season," Heffington said. "Just keep staying in shape and going to lifts and agility. Sometimes we didn't want to attend because we didn't know what the purpose was. Just reminding each other every day that the season might come and if it does, we'll be ready with all of the work that we've done. It turned out to be worth it."
Now, the Blue Streaks are 10-2 in the first season under first-year Head Coach Beth Andrews. By beating Otterbein 78-61 on Feb. 26, John Carroll clinched their second OAC regular-season championship. The win secured the No. 1 seed in the tournament and home-court advantage throughout. 
Andrews admitted that having Heffington and a great group of seniors has made the transition into her first season as head coach nearly seamless.
"I couldn't have asked to start at a better time and with a greater group of girls," Andrews said, who spent the previous two seasons as an assistant coach. "Having the three years of Heff, we've really grown together. That's what makes our team work so well. We are able to have those conversations, and I was able to build a relationship with them when I came here when they were sophomores and now sending them away as seniors."
Heffington is the engine that makes the team run.
"I think Heff is the heart of the team," Andrews said. "She is always trying to improve herself while always making sure others are having fun around her. She was a kid that had the ability and opportunity to go play somewhere else. She chose John Carroll for the feel of the University, the campus, and she came in freshman year and made an impact. She really is a program changer."
The Legacy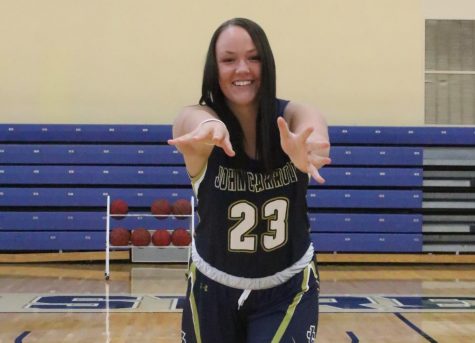 Heading into tonight's game at Wilmington, Heffington is currently ranked second in all of Division III in career-made field goals among active players (573) and fourth in points (1,488). Depending on the outcome of this week's slate of games, Heffington could be regarded as the best women's basketball player in the country. 
"It's a great feeling just to know that all of my hard work over the past four years has paid off," Heffington said. "Just coming into practice every day with the mentality that I want to be one of the best out there. I want to lead my team to be one of the best teams out there. It makes me proud that my hard work has paid off."
Heffington is only 131 points away from becoming fifth all-time in career points at John Carroll. If you would have told Heffington that 3.5 years ago, she would have never believed it. Although, her mindset the day she set foot on campus was to be one of the best.
"I knew I wanted to come to John Carroll and make an impact on our team, but I had no idea that I would be making an impact on the entire program as a whole," she said. "I am really glad that I came to John Carroll and was able to do this for myself. Obviously, I wouldn't have been able to do any of this without my teammates."
This story was originally published on The Carroll News on March 2, 2021.