'Losing so much showed me how much I still have to be grateful for': Sophia Bailor recounts her experiences as a trauma survivor
By Davi Jacobs, Richard Montgomery High School - MD
March 4, 2021
Senior Sophia Bailor has her heart set on becoming a paramedic. Although few high school students have their career path already planned, Bailor's choice is influenced by the traumatic events she has experienced throughout her life. 
In eighth grade, Bailor's mental health spun out of control. Although she had dealt with Complex Post-Traumatic Stress Disorder for the majority of her life set off by trauma she had undergone in early childhood, the transition into high school became too much to bear. 
"The world isn't built to accommodate and accept people with severe mental illness," she said. "I felt I couldn't function, that I was experiencing things nobody spoke about and I went from being this very high functioning human to being very, very sick." 
Her personal denial of where she was at the time caused her to self-harm.  
Shortly after starting high school, Bailor attempted suicide for the first time. She returned to school after undergoing psychiatric hospitalization and treatment, leaving her three months behind the rest of her classmates.
She felt disconnected from her peers. "I wasn't able to speak much, which is something called traumatic mutism and happens often with severe PTSD," Bailor said.  "Just saying to peers I was out of school because I was in a psychiatric hospital was something that even just a few years ago was much more stigmatized than it is now."
 With the exception of a few who understood her situation, teachers were unsure of how to approach Bailor. This gap in understanding contributed to the isolation she felt.
She was hospitalized later that year after her second suicide attempt. 
"
I felt I couldn't function, that I was experiencing things nobody spoke about."
— Sophia Bailor
 "I lost a lot of friends because they found it hard to understand, which I don't blame them for, but I did find support in people who stayed and accepted my situation and didn't pressure me to act fine," she said. "There is this kind of expectation to appear fine, and a lot of times people, with the best intentions of course, don't know what to to do when somebody they know is struggling, especially when it's not something where one day they're struggling and then they magically get better."
After looking back on her own experiences, Bailor emphasized the importance of sticking around for someone you care about through their struggles. 
"One of my favorite statements to say to others and to hear is 'I'm holding emotional space for you.' You don't have to pretend to be okay, but if you want to pretend to be okay, that's okay, if you want to get together and scream, that's okay, if you want to get together and sit in silence, that's okay. Wherever you are, I'm here."
For anyone struggling with their mental health right now, Bailor stresses the importance of reaching out to others and asking for help.
"I told my mom outright I wasn't okay, I was living every day just surviving.  I didn't exactly know what I needed but just reaching out brought help," she said.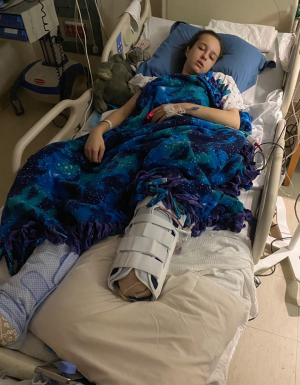 Bailor's family started training a service dog when she was a sophomore, tasked to alert the presence of a panic attack or flashback through increased heart rate and act as a weighted blanket to perform deep pressure therapy.
"She helped me get through the school day alone which was where I struggled a lot," Bailor said. 
Bailor made it through sophomore year, but the summer before junior year, her progress relapsed, and she struggled silently.
On July 29, 2019, Bailor suffered a traumatic injury after her third suicide attempt. 
"I was resuscitated multiple times and shifted between life and death for a few hours. I went into hypovolemic shock and it took me weeks afterwards, months even, to comprehend what had happened."
Ultimately, Bailor lost her lower leg. 
"The shock of waking up and realizing I had injured my leg and was still alive was a lot to handle. I felt like I had catapulted back so many steps because I now had to learn to recover mentally and physically with a new body."
Bailor lost the ability to play soccer and run, two major parts of her life, and she was crushed.
Throughout her recovery, Bailor found strength in hearing other people speak bluntly about their mental health.
"There was a lot of shame initially because I inflicted it. Eventually, after sharing and talking with other people, I realized what I had gone through was not rare: a lot of people struggle with mental health and not enough think about it. I found strength and purpose in staying alive to tell my story to others, and that is still something I rely on for sure."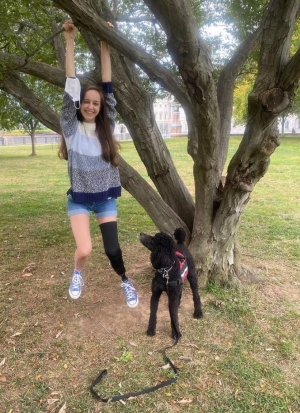 Bailor strongly believes in reforming America's mental health care system after personally witnessing its gaping holes. 
"There is this lack of respect for people with mental illness, which I believe stems from stigma and this belief that people cause their mental illness. When my limb salvage surgery did fail and the subsequent surgeries that followed, I was told I caused the problems I experienced from medical professionals and it was a lot of gaslighting stemming from my mental health history." 
Bailor now works with the Brain and Behavior Research Foundation to fund humane research for people with mental illnesses. She also does a lot of public speaking specifically targeting social work students on empathy in the mental health field. 
Bailor is currently balancing EMT school with classes at school. This career path choice is very personal to her. 
"The people who responded when I was actively dying and treated me with humanity and dignity really pushed me to go into that field and to treat other people who are experiencing physical and mental crisis with respect and humanity and understanding," she said. 
Mental illness still impacts every part of Bailor's life, but she is learning to accept herself.
"When you lose a really big part of who you are or lose anything in life, it quickly shows you how much you took for granted. In my life, losing so much showed me how much I still have to be grateful for, and some days all I feel grateful for is I am breathing and that's okay."
This story was originally published on The Tide on March 2, 2021.