Corey's Closet thrift store creates meaningful opportunities
By Matt Vogel, Londonderry High School
March 5, 2021
Looking for an inexpensive way to expand your wardrobe and give back to your community? Corey's Closet has everything you need to develop your style while making a positive change for the store's employees.
Corey's Closet is a 501 (c) nonprofit organization located in Hooksett, New Hampshire. The unique thrift shop employs individuals with developmental disabilities to teach the skills necessary to be as independent as possible.
The organization was started in 2017 by Brenda and John Sliwerski as a way to help their son Corey find success in the workforce as a young adult with special needs. 
"There weren't a whole lot of options for [Corey] when he graduated. The programs weren't really equipped to find anything," Mrs. Sliwerski said. "We had heard about a place in Tennessee that was doing this called Our Thrift Store, and we checked it out and decided to do it here."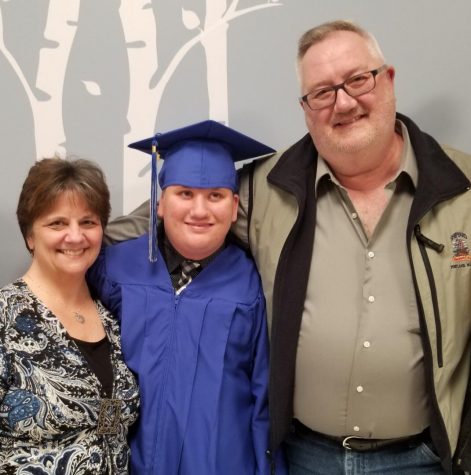 Even though the store is now constantly bustling with customers, this originally wasn't the case. However, social media platforms like Instagram and Facebook have really helped the business take off.
"Our first year was really tough because we didn't have money to spend on advertising, but I think that Facebook and word of mouth really helped us," Sliwerski said. "Last year was probably our busiest even with COVID."
Similar to customers, finding help was originally a struggle. As the business grew, more and more individuals came out to help and support the Sliwerskis.
"We hired more help because at the other store we were doing a lot by ourselves," Sliwerski said. "We had volunteers that worked with my husband all day, but pretty much it was [Mr. Sliwerski] and I."
One employee, cashier Rachel St. Louis, has been at Corey's Closet since the initial opening of the current building. She has found a passion for the thrift shop business and helping customers fulfill all their shopping needs.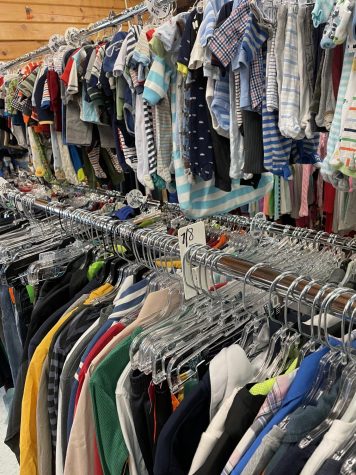 "We sell a lot of different kinds of items, so it's nice to see people buying things that they've been looking for or don't have enough money to afford elsewhere," St. Louis said. "Really nice to see that happen."
St. Louis has found that the store doubles as a thriving business and friendly social community. She's made deep connections with both her fellow employees and the customers who regularly come in. 
"I like working with the volunteers or anyone with disabilities, it's really fun to get to know them and work with them," St. Louis said. "I think the overall atmosphere is very welcoming and has people you want to be around."
The store hasn't only taught St. Louis about the operations of a business, but has opened her eyes to the needs of customers. She's learned how to best assist those who struggle more with the shopping process.
"[Working here] helps me have more compassion for people who come in with a lower income or need help finding things," St. Louis said. "I just try to put in 100% every day."
While Corey's Closet is thriving, the Sliwerskis are currently looking to better help the needs of their employees by searching for a job coach to work with the individual disabilities of the associates.
"It's proving to be kind of a challenge, finding people that are qualified to do that job," Sliwerski said. "I think it's harder than trying to find a cashier or something in retail."
Even without this job coach, the Sliwerskis have seen incredible growth in their employees. In particular, they've been able to watch Corey operate the store as his own and utilize the skills he's learned to be an efficient employee.
"[Corey] owns it. He just loves the customers and is very social," Sliwerski said. "And he just loves to tell them what the specials are and hand out business cards and greet them."
Aside from his work habits, Corey has helped ensure that the environment of the shop is always positive and cheerful. His personality has made sure that employees and customers alike enjoy coming in to shop.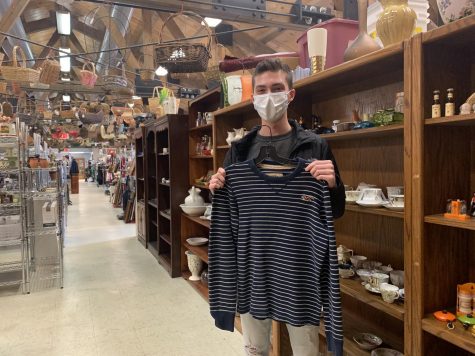 "Corey has been a joy to work with. He clearly cares about everyone on staff and makes the Closet a great place to be," St. Louis said. "Without him and his parents, I would not be blessed with this job."
With constant donations and loyal customers coming into the shop every day, it would appear that Corey's Closet is ready to extend its branches out even further. However, the Sliwerskis don't plan on expanding too much anytime soon. 
"I think Corey's Closet is kind of like a koi where you've got this little fish pond and you kind of grow to your environment," Sliwerski said. "I don't personally have any intention to get any bigger, but I think this size is what we're trying to maintain."
While operating a store has its challenges, running Corey's Closet has taught Mrs. Sliwerski much more about the business field and the world itself.
"I think my biggest challenge is learning to slow down and just kind of appreciate what's going on in front of you and taking the time to realize that we're all different," Sliwerski said. "It's hard being so hung up in the business of going going going, and you just kind of have to remove yourself from that sometimes and appreciate what it is."
This story was originally published on The Lancer Spirit on March 4, 2021.