'Once on This Island' makes history with diverse cast
By Sapna Amin, Coppell High School
April 19, 2021
"Once on This Island" sheds light on the Haitian retelling of Hans Christian Andersen's "The Little Mermaid" with flashlights as props, stage lights and a color-changing screen that canvases the stage while acting as a mirror for the audience's emotions.
This musical features an ethnically diverse cast of talented actors, singers and dancers. This inclusivity that was highlighted and celebrated accurately reflects the audience members who sat with amazement.
[Students of color being represented] and the fact that I can be a part of this history is awesome because this is the first time this has happened at [CHS]," said senior Jadalyn Van, who plays Ti Moune.. "Even though some people were upset about it, I'm glad it happened."
Even though you are sitting in your seat throughout this musical, it is a full-body experience. It sends chills down your spine from the emotion it evokes, shifting your eyes across the stage in anticipation and giving you no other choice but to tap your foot along with the lively music filling the CHS Auditorium.
The musical was initially planned to be "Legally Blond," but after the Black Lives Matter movement resurged in the summer of 2020, CHS theater director Karen Ruth decided to change it to "Once on This Island" which cast a majority of people of color.
"Being Hispanic and mixed, when 'Legally Blonde' was first announced [as the musical] I was really discouraged because I didn't see myself in the show," senior student director Isabella Enriquez said. "Then during March while the Black Lives Matter movement was happening, it felt even worse to do 'Legally Blonde' because it seemed tone-deaf and didn't acknowledge what was going on."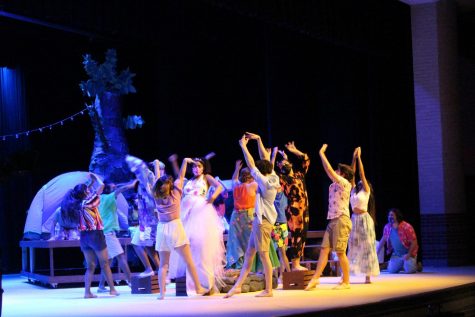 A storm produced by the mighty Gods Asaka (senior Camila Villarreal), Papa Ge (junior Emma Hoque), Erzulie (sophomore Faith Smith) and Agwe (freshman Siddharth Gunasekaran) leaves a young Ti Moune (Coppell Middle School East eighth grader Sweetie Ansah) orphaned. Thankfully, two old peasants on the island Mama Euralie (Senior M.J. Green) and Tonton Julian (senior Deionte Moore) take her in and raise her as their own.
"The reason I liked this show so much because it shows a Black family living their life," Ansah said. "They are not the antagonists or villains, they are celebrated."
Once she grows up Ti Moune Daniel (sophomore Graham Gorman) catches her eye and she begins to love him from afar. Daniel, a French boy who lives on the rich side of the island where his father Armand (junior Brendan Raley) colonized, later gets in a car crash. Papa Ge, the demon of death, almost takes his life when Ti Moune begs the island people to help her save him. Tonton Julian travels by cane to the rich side of the island to retrieve help.
"Once [when I was a child] I was at McDonald's and I was playing a white boy," Van said. "Then he left and said his mother wouldn't let him play with me because I'm Black. That was really disappointing and I channeled that memory when I sang a lot of the songs."
Ti Moune trades her life for his and nurtures him back and they fall in love despite the islander's gossip and ill will. Unfortunately, Daniel has been engaged to Andrea (senior Zoe Cripe) since they were children. Papa Ge returns to remind her she surrendered her soul for a man she can never marry and presents a way out if she kills him. Though heartbroken, Ti Moune vows to always protect him and waits outside the gates of the hotel where he is wed.
Love conquers death and as she dies, the audience realizes love outlives death. In the end, her spirit is reincarnated into a tree where she protects Daniel for the rest of his life. Her experience creates a bridge between the two worlds, which are divided by wealth and race, and Daniel's son can love and be with a girl on the other side of the island.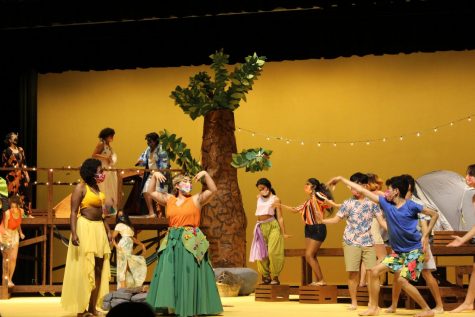 "As a younger student who is going into freshman year, I will absolutely be an advocate for a more inclusive cast because of this experience," Agwe said. "Moving forward, I don't think this will be a one-time thing because we can look at how great this show turned out."
Though the future is unknown, just like the death that Papa Ge represented, the people of color in the audience and the theater department can hope to see these changes continue in hopes that "Once on This Island" is not a singular production selection.
"This musical has shown [the audience] can trust [people of color] in these performances," Enriquez said. "They are not and will not be the last decision, they will be considered upfront because we've seen how talented they are. We have given them this chance since our previous shows haven't really given them the same level of footing. The show showcases every part of this department and not just the small fraction of the specific pool of people that we pull from every year."
To see characters that represented the community of people of color possibly inspired many children and adults alike.
"I don't see myself as a role model, but I hope little girls of color and even girls my age, will see this and realize that there is a place for them in theatre," Van said. "I saw the revival of 'Once on This Island' in 2019, and it was the first time I connected with a character. I want to do what Hailey Kilgore did for me for other aspiring actresses of color. "
To see the musical for yourself you can buy tickets here. It will be held in the CHS Auditorium tonight, April 23 and April 24 at 7:30 p.m. and Sunday and April 25 at 2:30 p.m. Virtual streaming will be available on April 23, April 24 and April 25.
This story was originally published on Coppell Student Media on April 17, 2021.