Students create fanpage for beloved teacher
By Audrey Menzies, Piper High School - KS
April 21, 2021
Social sciences teacher Chris Brindle has been a beloved teacher for 12 years, but something out-of-the-ordinary happened this year. A student who chooses to stay anonymous created an Instagram fan account for Brindle named @iheartbrindle. 
Though the student decided to remain anonymous they described their hope to bring some joy into Mr. Brindle's life following the passing of his wife last April due to Creutzfeld-Jakob-Disease (CJD). CJD is a degenerative brain disorder that leads to dementia and, ultimately, death. 
Many students enjoy the content posted on iheartbrindle.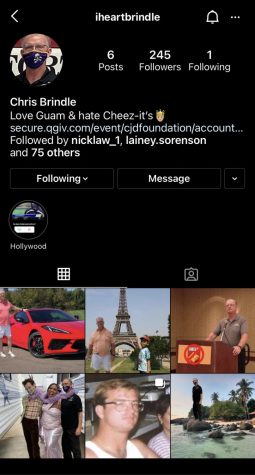 "I think the iheartbrindle account is something funny that brings many students across Piper High School together as we all think very highly of him," said freshman Annabelle Kump. "Mr. Brindle is by far my favorite teacher I have ever had. He is just such a kind-hearted person and makes everyone so happy." 
Though freshman Hynna Matthews does not have Brindle as a teacher she still really enjoys the account.
"I'm disappointed that I won't have Mr. Brindle as my teacher, but he seems like such a fun and amazing guy," Matthews said. "It's nice to see how much all of his students love him. The account almost makes me a little jealous that I won't have him, I would love to get to know all the funny parts about him."
Brindle is known for hating Cheez-its and loving Guam as he lived there when he was younger. The account plays back at this and makes edits tying into those things. 
"I think the account has very funny content that captures Mr. Brindle's personality with the Guam and Cheez-its stuff," Kump said. "It almost kinda captures his double life and a side of him students might not always see."
Iheartbrindle contains many edits using photos the owner of the account has found from his personal Facebook account.
"@iheartbrindle is strange," said sophomore Ethan Weber. "I love it because it shows awareness for CJD and to help those in need, but its execution is a bit weird. Editing him into strange places with old pictures of him without his consent could be problematic."
Brindle fully supports the page and even created an Instagram specifically to look at the account. 
"I think it's kind of cool," Brindle said. "I didn't have an Instagram so somebody was telling me about and I didn't even really know what it meant. I told my friend about it that doesn't live here and they have Instagram so they looked it up and they saw it before I did, and she said, 'it's funny but it's tasteful and that she can see that they love you.' I think it was a wonderful thing for people of a totally different generation to feel like this would be a neat thing to do and a fun thing to do."
A large aspect of the account is the fact that it is anonymous. Many students believe that the anonymity adds to the enjoyment of the account. 
"The account is good staying anonymous," Weber said. "It would be cool to see who runs the account and who edits the pictures. They've done really well but the anonymity is a nice question that doesn't need to be answered."
Kcpipernews reached out to the owner of the account for an interview but they decided to stay anonymous and did not want their name in the story. 
This story was originally published on KC Piper News on April 19, 2021.