AAPI students react to rising wave of anti-Asian hate crimes
By Liz Frisbie, Richard Montgomery High School - MD
April 23, 2021
According to CNN, a hate crime is defined as a crime that is motivated by prejudice on the basis of sexual orientation, religion, gender, gender identity, disability or race. There are four main reasons why people commit hate crimes: thrill-seeking and entertainment, defense, retaliation and as a mission (they believe it is their duty to cause harm to a specific group). 
Data from a CNN survey showed that even though overall hate crimes fell by 7 percent in 2020, hate crimes targeting Asian Americans rose by 150 percent. In addition, the number of non-criminal acts of prejudice, or hate incidents, against Asian American and Pacific Islander (AAPI) people also rose. 
The model minority myth, which states that Asian Americans are in a higher class than other minority groups, has led some to believe that Asian Americans have never faced discrimination. Co-Vice President of RM's Asian American Club Jessie Chen said, "Asian American racism is too normalized for people to realize that Asian Americans also face discrimination and micro-aggressions on a daily basis." However, anti-Asian sentiment has always been present in the U.S., from the first Chinese Exclusion Act of 1882 and the Japanese internment camps during World War II, to the 1982 murder of Vincent Chin, a Chinese-American man. 
"
The school has yet to implement a conversation on the recent rise of Anti-Asian hate crimes."
— Eileen Chen
At the beginning of the pandemic, many people blamed China for the spread of COVID-19, fostering feelings of fear and distrust towards all Asians and leading to name-calling and other acts of hate. For example, Chinese-owned establishments and restaurants were avoided; according to the Official Website of the City of New York, business in Flushing, Queens dropped 40 percent. In addition, some, such as former President Donald Trump, referred to the virus as the "Kung Flu" or the "Chinese Virus." "I've definitely seen microaggressions, especially when COVID was just getting big. I heard some upsetting things said to people around me," freshman Aparna Ganesh said.
These seemingly small incidents progressed into bigger ones, such as Asian students being bullied because of their race and racist graffiti being painted on buildings. 
More serious offenses against Asian Americans have also been committed. Many have reported being called racial slurs while going about daily business. Vicha Ratanapakdee, an elderly Thai-American man was assaulted during a daily walk in San Francisco on Jan. 28, 2021, simply for being Asian, and he later died from his injuries. 
Closer to home, on Feb. 12, Lunar New Year, four Asian-owned restaurants were broken into in Howard County, Maryland. Among the looted and vandalized were Kung Fu Tea, Urban Hot Pot, and Bonchon in the Columbia Mall, as well as East Moon Asian Bistro in Ellicott City. "As an Asian American establishment, the fact that these attacks came on Lunar New Year, such a celebrated time of year for us, is heartbreaking," the franchise owners of the Bonchon and Kung Fu Tea locations said, according to Washingtonian.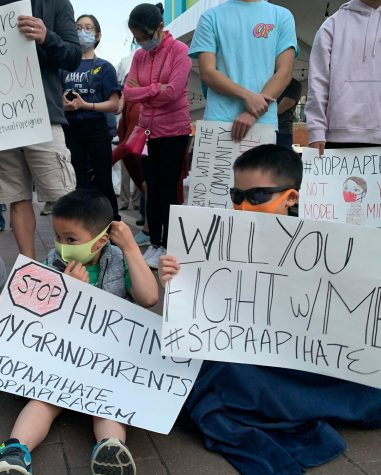 To help out other Asian Americans affected by hate crimes, the owners started a GoFundMe to raise money for Stop AAPI Hate, an organization dedicated to tracking and stopping hate incidents, especially those in response to the COVID-19 pandemic. 
Another serious hate crime occurred on March 16 in Atlanta, Georgia, where eight people were killed across three spas. Six of the dead were women of Asian descent, with four of them being Korean. Although police did not attribute the murders to a hate crime, many, including Georgia State Rep. Bee Nguyen, do. 
Even though many hate incidents have been reported, it is very hard to get perpetrators charged with a hate crime. Even if the racial motive might be obvious, there is no widely recognized sign of anti-Asian thinking, so it is difficult for hate crime charges to move forward. 
However, the number of people charged with hate crimes against Asian Americans might grow larger as the publicity of the hate crimes increases. "I feel like it [anti-Asian hate] is starting to appear in the news more often," Ganesh said, "I also hope people who are in places to reach a bigger audience speak up about it too, like politicians or influencers."
As the prevalence of anti-Asian hate crimes becomes more widely recognized, many people have been speaking up by going to protests; demonstrations were held across the country following the deadly shooting in Atlanta. At Richard Montgomery, the Asian American Club attended a vigil in support of all people affected by hate crimes targeting Asian Americans. "It was comforting to see a large number of people willing to fight and stand with the Asian American community," Jessie Chen said. 
"
Many preach that they are anti-racist, but stay silent when it isn't 'trending' to speak up."
— Kaia Lee-Espiritu
However, RM students in the Asian American and Pacific Islander community still feel that they are not getting enough support. "I've seen the conversations we've had on events like the Washington riot, and the school has yet to implement a conversation on the recent rise of Anti-Asian hate crimes," Co-Vice President of RM's Asian American Club Eileen Chen said. "These conversations can be the start to dispelling the model minority myth… so we feel as if our issues and feelings feel valid." The President of RM's Asian American Club Kaia Lee-Espiritu also said, "After the Atlanta shootings occurred, there was barely any support given to students, most importantly AAPI students. No one checked in on us to see how we felt or guided us through our feelings about this hate crime."
To give support to the AAPI community at RM, students should educate themselves, talk about the recent events, and acknowledge the recent anti-Asian hate crimes. Additionally, students should call out their classmates if they say something racist and check in on their AAPI peers. Lee-Espiritu said, "Many preach that they are anti-racist, but stay silent when it isn't 'trending' to speak up … We definitely need to keep speaking out and letting the AAPI community know that we are here for them."
This story was originally published on The Tide on April 20, 2021.