Gold Medal Friendship
Maddie Sandquist and Lexi Shannon win gold at the 5A State Wrestling Championships.
Senior Maddie Sandquist paced the purple mat in her lucky cherry pie socks. Junior Lexi Shannon played a game of solitaire on her phone. Each tried to distract themselves before their final matches. 
The best friends entered the 5A State Wrestling Championships with plans to leave as champions together. But as the pressure of the championship round loomed on Friday night, the two fought off nerves. 
Nothing – and no one – could bring them down though. The two, who have been inseparable for the past three years, accomplished what they set out to do. They dominated their weight classes and won gold.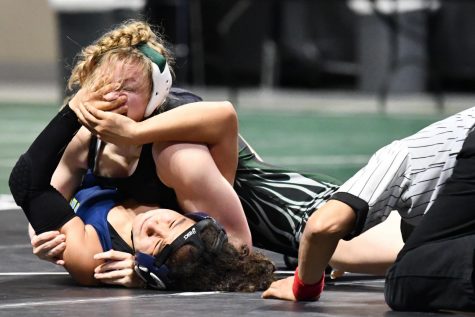 "Winning state is amazing, but winning it with Maddie is just so special," Shannon said.
Sandquist, who won the 138-pound weight class for the second-consecutive year, was awarded Most Outstanding Wrestler and ended her senior year 30-0. Shannon won the 219-pound weight class and finished 28-1. The girls won all of their matches at the state meet by pins.
"I felt confident that we had the two best wrestlers but you always feel a little nervous because you never know," wrestling coach Jeff Knight said. "I mean, at this level everyone's good but I just really felt that if both of the girls wrestled their best there was no one that could be 'em." 
Knight and assistant coach Eric Coovert encouraged the girls throughout the day. Before their final matches, Knight urged the girls to just make sure to wrestle their match.
"[I told them] don't let anyone throw something quick or catch you off guard," Knight said. "Just know that if we extend the match, you're the better wrestler."
The two-championship night was the ultimate moment of Knight's coaching career. 
"They love it," Knight said. "They work at school, they go to club, they just constantly live, breathe wrestling — but then they take care of business in the classroom. They are just all around student-athletes."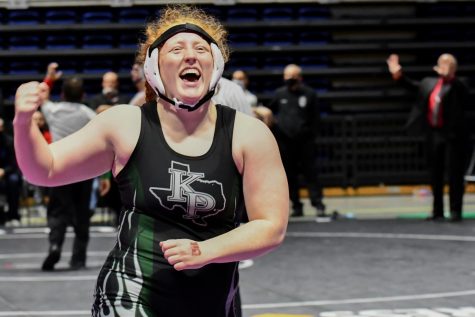 The girls had large fan bases throughout the day cheering them on. Many of their school and club teammates, friends and family showed up at the Berry Center in Cypress. They could always be found right behind the mat the girls were competing on. 
"They are the best," Sandquist said. "KPark is the best. My team is the best. I love them so much."
Sandquist, who won 165 career matches at Kingwood Park, also won the title in 2020 and was making her fourth appearance in the state tournament. Shannon was making her third appearance at state. 
The pair cheered on each other during their matches and shared emotional moments throughout the day. 
"I'll miss my best friend, but I'm ready to come back next year and get the same outcome," Shannon said.
The duo spent Saturday cheering on club teammates at the 6A State Wrestling Championships. With her final high school match behind her and a decision still to make about where she will compete next year in college, Sandquist had her sights set on one thing when the championships were over — food. 
"I want to go to The Cheesecake Factory," Sandquist said. "I really want food."
This story was originally published on Park Times on April 24, 2021.