A Zoom full of strangers
Due to the online learning environment, unfamiliarity faces freshmen students as they end there first year of high school with little knowledge of their campus or peers.
As summer approaches, many students have yet to attend an in-person class or interact face-to-face with their classmates. Instead of being inside classrooms together, lessons have taken place in kitchens and living rooms, or from behind black screens. And while this adjustment has affected all students and teachers, one group that has been uniquely affected by it is this year's freshman class.
"I'm in dance class with Ms. Murray," freshman Marshall Clifton said. "She was teaching us a dance and giving it all of her energy. I was on speaker view, I couldn't see anyone else, and she kept calling me out specifically, like 'Marshall, do you have a question?' 'Marshall, how are you doing?' And when she stopped spotlighting herself, it went back into gallery view and no one else had their camera on. That's a lot of pressure."
Although the intimacy of inviting a new class into your home might feel uncomfortable for some, it can feel natural for others.
"I don't mind it," Clifton said. "I know it's really helpful for teachers to feel like they have a connection with their class, especially right now. It's not my favorite thing to do because of fatigue, but I usually have it on in all of my classes."
"
No one's going to know how to interact with other people. We don't know what's socially acceptable anymore because we've been in tiny Zoom boxes for so long."
— freshman Marshall Clifton
The ability to see students faces can facilitate a sense of normalcy to Zoom classrooms that helps create connections, a critical step for new students who haven't had the chance to interact socially with classmates and form new friendships.
"In performance theatre, my major, pretty much everyone has their cameras on," Clifton said. "During warm ups and group performances, everyone's usually participating. Sometimes, it feels really nice because it feels like we're a real class and a real community."
Especially in classes where seeing students is critical to the course content, having Zoom cameras on allows for a more successful class experience.
"It is very important to see the students while they dance," Dance Director Natalie Uehara said. "Not only to see their progress, but also to ensure that dance technique is being done properly, for safety reasons. The feeling of dancing in a community group, which is so important in a dance class, is also impossible to accomplish without the cameras on."
But it's not that simple for a student to choose to turn their camera on.
"If I've had a bad day, or if I've been crying in between classes, I don't necessarily want the entire class and teacher to see my red eyes and messy hair," Clifton said.
Some freshmen find it difficult to keep up the appearances during their Zoom calls, especially when grouped in a class of strangers. With in-person learning, students can sit near their friends, or select a seat where they may feel more hidden from others. But with Zoom cameras on, there's nowhere to hide.
It is super weird staring at yourself," counselor Cristela Garcia said. "It's not normal to look at ourselves for 8 hours a day. How can this not have an effect on mental health? And again, if a camera is off, the teacher has an even harder time making a connection, then the student doesn't feel valued… it can become a cycle pretty quickly."
For students, using their cameras can take their focus away from their teacher's lesson and more on themselves.
"I get self-conscious when I have to stare at myself for too long," freshman Naomi Pearson said. "In regular school, you're not looking at yourself the entire time, you're looking at everybody else and you probably won't notice if your shirt is bunched up weirdly or something." Aside from personal choice, a number of students don't have access to the technological needs required to turn on their camera or may not be in a situation that permits them to do so.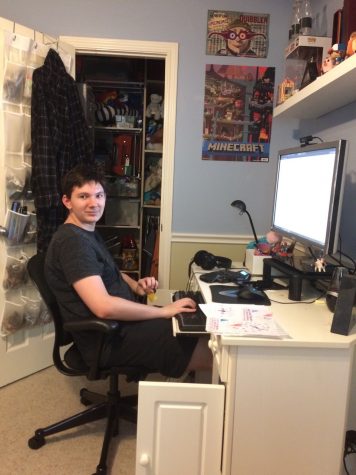 "Sometimes, it's out of the student's control," Clifton said. "If you don't have a working camera or your internet's really bad, or you're babysitting someone, you can't turn your camera on."
In a typical year, students new to campus would have the opportunity to work together in class, on projects or in extracurriculars, but in a year where so much of those interactions has been limited, making new friends has been placed on hold.
It's much harder to create relationships through screens," Uehara said. "Without these relationships, development and creativity is not as easy."
For teachers, getting to see their students makes their job more fulfilling.
"Teaching to black screens is draining and makes us very sad," Uehara said. "Most teachers are doing everything they can to make online learning engaging, so we students don't reciprocate with screens on, it makes us feel so defeated."
Many students understand the importance of interaction for their teachers and try to reciprocate as much as possible. Teachers derive energy from their students. With black screens, there's no way to judge student reactions.
"Teachers want to know their students are paying attention," Pearson said. "I can imagine being a teacher and going, 'Hey guys, what's up?' and hearing no response and seeing nobody. That isn't good."
For many teachers, learning begins by connecting with students and seeing their reactions, a step that builds relationships and creates community, but also a step that is challenged by the numerous variables of virtual instruction.
"I feel like having cameras on can be helpful for teachers and having them off can be helpful for students," Clifton said. " I feel like they've become a divide."
"
In regular school, you're not looking at yourself the entire time, you're looking at everybody else and you probably won't notice if your shirt is bunched up weirdly or something."
— freshman Naomi Pearson
This division will be one with long-lasting implications in education, even as things return to normal and more students start to attend school in-person again.
"I think the elephant in the room is no one's going to know how to interact with other people," Clifton said. "We don't know what's socially acceptable anymore because we've been in tiny Zoom boxes for so long."
The 2022 school year will be greatly affected by virtual learning, with half of the school coming in with little knowledge of their campus or classmates.
"Next year there will be two grade levels, ninth and tenth, that have never been to campus," Garcia said. "The faculty is going to have to work together to make sure all the students feel welcomed when they come back. It is going to be important that the students let us know what they need to make the transition easier."
Ultimately, the choice to turn on cameras is at the discretion of the student, who has many factors to take into account. Whether they are in a busy environment, feeling Zoom fatigue, or experiencing an unstable connection to the call, there are several reasons for a student to turn their camera off. But, when they have the ability to turn on their camera, they create the possibility to form a community, which is a vital step in the social development of teens.
"They've allowed us to actually talk to people and see people," Pearson said. "They've allowed things that can't really happen online, to still happen."
This story was originally published on The Shield Online on April 15, 2021.