A Dream in Motion
By the age of 11, Delaine Tyler had already decided her future career path. Ever since, she's been working toward a goal that many little girls only dream of- the goal of becoming a ballerina.
Like many young girls, Delaine Tyler, freshman, started dance classes as soon as kindergarten began. At five years old, dance was just one of the activities Delaine's parents enrolled her in. Now, 10 years later, Delaine spends seven days a week putting in 20+ hours at Nolte Academy working towards her dreams of becoming a professional ballet dancer.
"My dream company is New York City Ballet," said Delaine.
This career path wasn't on the mind of Delaine's parents when they signed her up for classes at Nolte. Delaine showed interest in many things as a child, and dance was just one of them.
"She really wanted to do [dance]. I had taken her to Nolte Academy's Nutcracker since she was a toddler and she loved that. She was very interested in dance and sports when she was small, and did do both until she was about ten or eleven. At that time it became clear that dance was her path," said Sloane Tyler, Delaine's mother.
As Delaine grew, so did her passion for dance. When choosing between her other childhood interests and dance, the deciding factor was the performance opportunities associated with dance.
"I like performing a lot. That was the main difference between choosing dance and basketball. I like performing in front of people and expressing myself through dance," said Delaine.
Sloane said the shift in their mindset surrounding dance was initiated by Delaine's teachers.
"As she got older, her teachers started communicating with us about her potential. That's when we started thinking more seriously about where dance could lead for Delaine," said Sloane.
When Delaine was 12, her dreams of becoming a professional dancer became a true possibility when she was accepted into the School of American Ballet (SAB) for their five-week intensive program.
Delaine headed to New York City on her own that summer. Summer intensive programs are opportunities for students that are serious about a career in ballet to build recognition, technique, and to explore training from the most highly experienced professionals.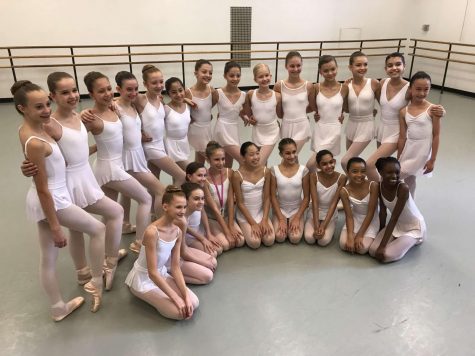 "It's very hard to get into those schools… I go to Chicago to audition. It's very intense, there's a lot of good dancers there… I had the amazing opportunity to get picked," said Delaine.
Delaine dreams of one day working for the New York City Ballet, one of the most prestigious and widely recognized companies in the country. By attending the SAB summer intensives, she has the opportunity to follow the path from the intensive, to the school, and finally to the New York City Ballet.
"Since I'm going to SAB this summer, they could ask me to stay year-round and I'd stay there all year… [I'd] do school there, [I'd] train everyday in ballet… In a couple years they could ask me to be an apprentice with the New York City Ballet. That's the dream," said Delaine.
However, the possibility of training at that level is not possible without tremendous amounts of intense training and preparation at home.
Nolte Academy is still Delaine's home studio after all of these years. She trains in all areas of dance, but ballet is at the center of her dance education.
The owner and artistic director of Nolte Academy is Leslie Nolte, who Delaine said has been a huge part of her support system even before she decided she wanted to pursue a career in ballet.
"My dance teacher, Leslie Nolte, has always been very supportive. Her daughter went through this too, so she really gets it," said Delaine.
Delaine said her biggest supporters are at home- her mom and dad.
"They've supported me in everything, they pay for everything. I'm like 'Can I take this class?' and they say yes because they know it reaches my end goal. They've always just been really supportive of me," said Delaine.
The support from her parents is essential to her success, but Sloane said that supporting her daughter is the easy part.
"She does all the hard work and is so completely dedicated to her training that we are happy to get her where she needs to be, and help her manage the schedule," said Sloane.
Without her parents' support, Delaine explained this career opportunity would not be a possibility. However, because of her dance pursuits, Delaine had to learn to support herself 1,000 miles from home.
"My parents weren't there, I was alone for five weeks… I had to learn how to do laundry, how to do 'parenting things' by myself," said Delaine.
The dance world has helped Delaine grow both technically in dance and as a young adult. With all the time that dance takes up, Delaine has had to develop a work ethic that supports her intense training. This has spilled into her work ethic here at Liberty as well.
During the first and second trimesters of the 2020-21 academic year, the ability to balance her dance education with her school work was supported by Iowa Conservatory (ICon). This program, created by Nolte Academy, is a space for students that are serious about their art form to prioritize their time effectively in order to support their future career goals. The schedule works in conjunction with the Iowa City Community School District's online program, allowing students to do school work on alternating mornings and afternoons with performing arts classes during their asynchronous time.
When the third trimester began Delaine decided she wanted to come to high school in-person for the first time. However, this required adjustments to be made in order to support her goals to train professionally.
At Liberty, freshman students are required to be enrolled in at least six classes, with one required trimester of PE. For students like Delaine with specific career paths in mind, counselors work to find a schedule that accommodates the students needs, while also ensuring the ability for students to receive required education.
Mayra Hoskyn, counselor, worked with Delaine to formulate a school schedule that worked with her dance schedule. This included approval for Delaine to have five classes at school instead of six, with two study halls built in to her day in order for her to be able to attend extra dance classes in the mornings without missing core classes.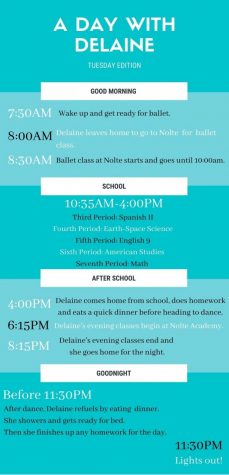 "[Delaine] needed the flexibility in her schedule in order to meet the demands of her dance career. Delaine is doing very well and managing a great balance at school and in dance." Hoskyn continued. "Because she's in 9th grade we have plenty of time to get the credits she needs to be on track for graduation."
These accommodations have made it possible for Delaine to continue to work toward her career goals without diminishing her education.
"[On] Tuesdays and Thursdays I go to Iowa Conservatory at Nolte for ballet class [in the morning], and then I come to school during third period," said Delaine.
Delaine attends the school for the entirety of the day on Mondays, Wednesdays, and Fridays. After school, she goes to dance everyday.
The dance studio isn't the only place Delaine's hard work shines. While it has been challenging with her full schedule, Delaine strives to do all school work on time and to the best of her ability.
"Usually I do a lot of homework in the car, when I'm going to dance. I try to utilize my study halls as much as I can, but sometimes that's not enough. I try to use my time wisely and finish my homework so I don't have to do it at night super late, but sometimes that does happen and it's kind of rough, but you get used to it," said Delaine.
Juggling a rigorous dance schedule alongside school responsibilities doesn't leave Delaine much down time. It is important for her to utilize the time she has as effectively as possible to ensure she is able to get everything done.
After a long school week, most students utilize the weekend as a time of relaxation and catch-up, but this is Delaine's time for extra rehearsal, and even performance and competition opportunities. Though her primary focus is ballet, Delaine trains in nearly all styles of dance.
Nolte's competition team, Affect, allows Delaine to participate in every style of dance, while also maintaining a focus on ballet. Affect requires dancers to take technique class during the week while also participating in rehearsals on the weekends. Competition season, which Delaine says is  her busiest time of the year, consists of multiple weekends traveling over the course of one to two months. Each weekend, Delaine competes in 16 Affect dances, including solos, duets, and groups.
"One of the most intense parts of the year is right now, because we've had five competitions in a row and that's really hard to manage because it's all weekend and sometimes you don't get back until midnight and then you have to go school the next day. It's very challenging, but it's definitely one of the most fun parts of the year," said Delaine.
Delaine's most intense time of year is preceded by audition season, which also requires out of town travel and hours of practice and performance.
Both audition and competition season take place during the school year. After school concludes, Delaine's focus shifts to summer programs. Over the past four years, Delaine has attended these programs in both New York and Seattle, and spent last summer at home.
"Last summer I got into SAB again, it went virtual. I did it at my house, just in my living room," said Delaine.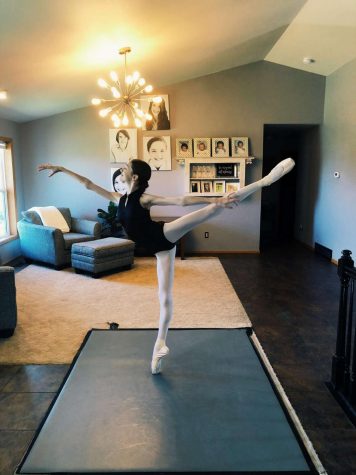 This summer, Delaine will attend the SAB summer intensive in New York City for the third time.
With an increasingly difficult and demanding schedule, Delaine hasn't experienced much of a "normal teenage life."
"I'm gone all summer, I don't get to go hang out with my friends all day, I'm in New York for five weeks. I never have time to hang out with my friends, I'm always at dance. They're like 'Can you come hang out?' and I'm always like 'I have dance,'… It's what I have to do to pursue my goals," said Delaine.
While she said missing out on normalcy is rewarding, dance has also brought challenging times.
"Dance is very hard… A lot of people think like 'Yeah, I can do ballet, it's not that hard,' but it's like, really hard," said Delaine.
Both mentally and physically, Delaine has had to overcome obstacles in the dance world. Through both personal experiences and advice from others in the dance community, Delaine has worked to develop a mindset that has catapulted her growth.
"I just try to focus on myself. Like 'I did the best I could so I can't really do anything about it now,' have that mindset… There can be more than one person in a room that is very good… I want to be a professional dancer, so I have to work hard for myself. Saying 'Oh she's better than me,' that's not helping you… You don't have to have the mindset like 'She's so good, she's so good,' just have the mindset of like 'I'm so good,'" said Delaine. 
Delaine's love of dance and her intense desire to achieve her goals are acknowledged by many, but especially by her mom.
"My biggest hope for Delaine is that she gets an opportunity to dance professionally. I believe in her abilities 100%, and she absolutely has the mindset and drive to succeed," said Sloane. "It's a super competitive landscape for not that many spots – so my hope is just that the opportunities will be there. She has a killer instinct, talent, has had the best training at Nolte, and in New York and Seattle over the last few summers, and she loves to dance – so we are hoping for big things."
This story was originally published on The Live Wire on May 10, 2021.