GSA hosts celebration for National Coming Out Day and Queer History Month
Coming out means "expressing myself," "accepting yourself and others" and "truly being yourself." Those are some answers to the question of, "What does coming out mean to you?" posed to the Archer community at the celebration for Queer History Month and National Coming Out Day. The answers, written on papers that were hung around a rainbow flag in the courtyard, were part of an affirmation activity hosted by Gender Sexuality Alliance (GSA), who invited the community to join the celebration at lunch on Oct. 14.
"It was really fun for me to see how this all came to fruition," GSA co-advisor Dani LeNoir said. "Our board is really passionate about visibility in this community and making sure that the issues of the queer community are heard and that all queer students on this campus are seen and valued and know their worth. It's just really awesome to be a part of helping them bring this to life."
National Coming Out Day was created in 1988 to mark the anniversary of the 1987 March on Washington for Gay and Lesbian Rights. For over three decades it has been celebrated on Oct. 11 and, according to an NBC article on National Coming Out Day, "has turned into an annual celebration to acknowledge LGBTQ people and to raise awareness for their ongoing fight for equality."
"The goal of the celebration was to bring community to people within the queer community and to give people [a place] to share their experiences coming out or also feel supported if they cannot come out or if they're struggling to figure out how they want to come out," GSA board member Sadie Long ('24) said. "For me, [the day] meant celebrating the individuality within the community because there's so many different experiences and intersections of identity."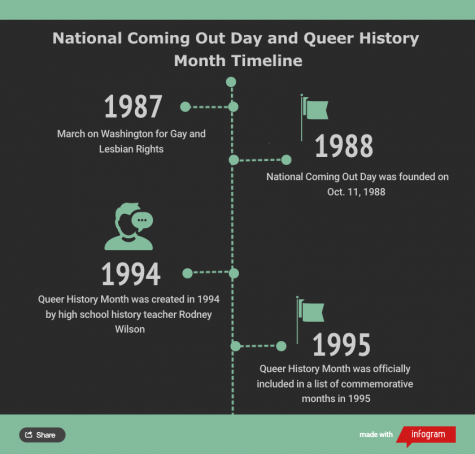 Queer History Month, also referred to as LGBTQ+ History Month, is an annual month-long observance that "allows the opportunity to extensively learn about the history of the LGBTQ+ movement, and what factors and measures will be successful in building communities and providing role models who will best represent and address the issues of the LGBTQ+ community," according to National Today. Queer History Month was created in 1994 by Rodney Wilson and was officially included in a list of commemorative months in 1995. October was the selected month as it coincided with the already established National Coming Out Day.
"It is really supporting the bravery of queer people—the history of coming out—because it is a pretty big deal in a queer person's life to really share themselves with other people," GSA board member Remi Cannon ('24) said. "And it's very important to educate other people—cis and/or straight allies—on how to receive them and support them and understand that it is a big deal and it's something to be celebrated … because more than likely they're going to have somebody in their life that is a part of the queer community or involved in the queer community."
In past years, the celebration of National Coming Out Day has been in partnership with events led by the Girls Empowering Girls (GEG) Club. This year, however, the belated celebration was led solely by GSA which, according to GSA co-advisor Stephanie Ferri, added to the focus of Coming Out Day.
The celebration incorporated a variety of activities: music by queer artists sounded throughout the courtyard, jewelry making stations were organized with colored beads to correspond to pride flags of students' choosing and an affirmation station allowed students to write down affirmations for those in the queer community or what coming out means to them.
"We learned a lot from the way GEG had done their celebration," Ferri said. "We took from that the poster activity where students could write positive affirmations for people in the queer community and also talk about what coming out means to them which I think also then allows students to think about other ways that they've come out outside of their sexual identity."
Ferri took note of the "really key and really important" aspect of bringing the whole community together for the celebration.
"Coming out is the idea of not being insular within just the queer community … so I the [celebration] being a larger community celebration is key to the coming out component of being recognized and seen," Ferri said. "So I think that aspect contributed to the success. It's validating to have everybody out there engaging with the posters and celebrating, not just members of the group."
Coming out does not have to be part of everybody's life, Long said, reflecting on another fundamental aspect of the coming out.
"You don't have to come out to be valid within your own identity," Long said. "To some people, it's really important—it's a really big step—but it doesn't have to be and the community is always there to support people whether they're out or whether they're not out."
"
Coming out means something different to every single person whether that's within a large group, within their family and friends or even just to one person. So it's about celebrating the differences that also bring us together."
— Sadie Long
During the celebration, GSA set up a poster in the courtyard that informed students about the alliance, its leadership board, goals and meeting times. Written on the board was a "what we do" section which outlined GSA's focus to discuss queer history and current events, connect over personal experiences and share and discuss queer media through games, crafts and activities as well as through council and affinity time.
"What contributed to the success [of the celebration] was our leadership team and them being actively involved and excited about getting the event going," Ferri said. "I've been part of GSA and the club advisor for around a decade, and I find that the success of the club really depends on those leaders and their connection to the community."
National Coming Out Day, celebrated in the United States since 1988, has gained more international recognition in recent years.
"In some ways we've come really far; The fact that National Coming Out Day is recognized on such a large scale means so much, but it also recognizes that even though we have come so far we have a lot, a lot of ways to go," Long said. "Hopefully one day people won't have to come out if they don't want to. It's [will be] more accepted within society, but it's a celebration of queerness and of what that means to the individual person."
Echoing Ferri's earlier statement, LeNoir emphasized the value of community-wide participation in the celebration of National Coming Out Day and Queer History Month.
"I want to [state] the importance of the kids having a sense of belonging within the school, not just in GSA," LeNoir said. "That's why it's important to have the entire school part of this [celebration] so that we're all on the same page of trying to create this community of love and comfort for all of our students."
This story was originally published on The Oracle on October 19, 2021.