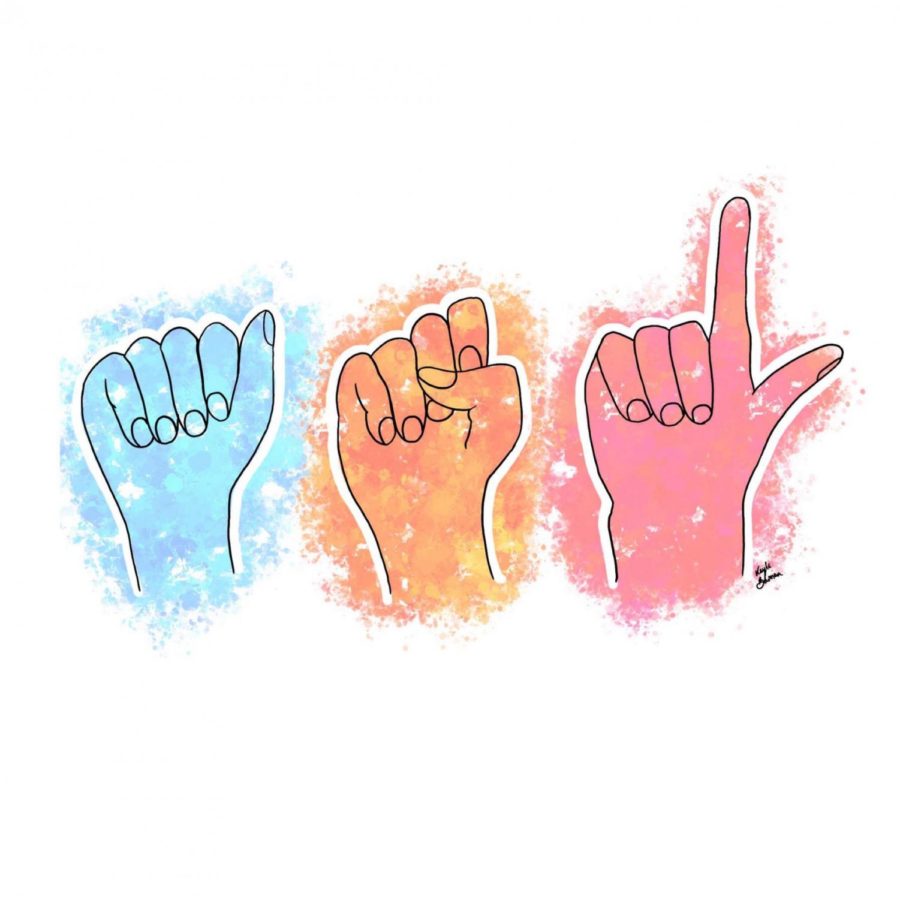 Kayla Bowman
American Sign Language (ASL) isn't just a language used by deaf or hearing-impaired individuals. It is used by thousands of Americans to communicate with those who have hearing and/or speaking disabilities. These include friends and family members as well as first responders, employers, teachers, coaches, church officials, health professionals, etc.
George Veditz, a former president of the National Association of the Deaf of the United States in the 1870s, once said, "Sign language is the noblest gift God has given to deaf people."
Given the prominence and importance of the language, high schools should permit students to take American Sign Language as their language elective.
ASL should be a course that all students should be permitted to take. This is an important language for teenagers to learn so that they can have a means of communication with people who may not have the luxury of hearing or may have trouble speaking.
"In my opinion, implementing an ASL elective would allow students to become more aware of the deaf/hard of hearing as well as promote a better understanding of the community," said BPHS senior Kylie Moon.
"American Sign Language is the third most commonly used language in the United States, ranking behind English and Spanish," said George Mendenhall, the principal at the Western Pennsylvania School for the Death (WPSD). "Thus, learning ASL would be of great assistance to the deaf community as it would make communication much easier, especially in the community (think doctor's appointments, going to restaurants or drive-thrus, going to stores, attending events, etc.)." 
"When my brother, who has autism, was younger, he didn't know how to talk and the doctors said that he wouldn't really be able to talk," said BPHS junior Kayla Bowman. "So, my family started teaching him some sign language."
Bowman also recounts a situation at her job when knowing sign language would have come in handy.
"There was this one instance at my job where a customer came in and only spoke sign language. Nobody knew how to sign to him except for one of my co-workers, and she was able to communicate with the customer."
"The deaf/hard of hearing community wants students to learn ASL because it's fun and it helps for communicating with the deaf community and interacting with them easily," said Amaya Boyett-Williams.
Boyett-Williams is a 16-year-old student from Tucson, Ariz. She was born with hearing loss in both of her ears. She attended the California School for the Deaf in Riverside, Calif. until 2014 when she moved to Arizona.
"I had surgery for my CIs (cochlear implants) when I was 5 almost 6 years old, but when I had them, I didn't hear for a whole month," said Boyett-Williams. "Then, a month later I did hear with my CIs. So, ever since then, I hear everything, but it's hard to hear with the masks."
There are no schools around Boyett-Williams that teach ASL as a language elective. While she knows how to use sign language, she wishes that school districts will add ASL for students to learn.
"It helps to communicate/connect with deaf/hard of hearing people," she said.
Audibly impaired individuals often feel isolated from the rest of society, so having more people who can communicate with them may make them feel more understood and included in our world.
"It is difficult to communicate with hearing people, especially when they don't have patience or are not understanding of my communication needs," said a senior from WPSD. "This frustration has increased exponentially with masks because of COVID-19. All I ask is for others to share kindness and try to gesture or work with deaf individuals rather than getting frustrated or blowing them off."
"Adding ASL as an elective in public schools will provide a bridge in communication between the mainstream world and the deaf community and would eliminate any misconceptions about deaf individuals and the deaf community," said Mr. Mendenhall.
Even if one does not personally know someone who needs to communicate by sign language, knowing how to sign could potentially come in handy when you least expect it.
"I believe it's important for the student body to have an option to learn ASL," said BPHS junior Sydney Edwards. "Many people are in a circumstance where they must use this language in order to communicate. Learning ASL can help to break barriers from those who don't have to use ASL to those who do."
And many other BPHS students feel the same way. An Instagram poll posted on the school's newspaper's Instagram account asked students, 'If BPHS offered an American Sign Language course as a language elective, would you take it?' Out of 180 students who answered, 146 (81%) said they would take the class while only 34 (19%) said they would not.
While learning ASL may be difficult, it could give students the opportunity to learn a language that would be useful for them in the future. Since many universities require students to have a certain amount of foreign language credits in high school, many students are taking a language they don't really care for just so they can get into certain colleges. Languages like Spanish, French, Latin, and German may be useful for some students on their road to success, many are just learning the language for the credits.
"I would take ASL if it were a class opposed to Spanish or French because I would find it more useful in my day-to-day life," said BPHS sophomore Meghan DeHaven. "Schools want us to take a language to help us for our future, but I do not feel other languages would help me."
DeHaven took Spanish her freshman year and dropped the class her sophomore year because she felt it was unnecessary to her future. She was only taking the class so that she could receive an elective credit. 
DeHaven said, "Taking an ASL class would also be helpful for talking to my hard of hearing friends."
ASL is a useful language for every student to know and also counts as a foreign language at many colleges around the United States.
Over recent decades, many states passed legislation to recognize and identify ASL as a distinct foreign language. This commissioned many universities, colleges, and high schools across the country to not only accept but to administer the language. 
Currently, 145 universities in America are accepting ASL as a foreign language including the University of Pennsylvania and the University of Pittsburgh. To see the full list of universities and for further information about ASL in universities, click here.  
Also, a GED diploma also allows students to attend college and study for a bachelor's or master's degree in ASL. Many career opportunities are available for those who speak the language.
For example, for almost every police reporting, there is always someone in attendance who will translate the given information into American Sign Language. So, if a student is interested in joining the Police Force, he/she may have many more career options by knowing ASL.
There are many other occupations in knowing sign language. They can be from a Sign Language Interpreter to a Social Worker. Other settings where careers in sign language occur are hospitals and clinics, social service agencies, and schools. To see more careers related to sign language click here. 
Knowing sign language can be a very resourceful skill. Giving students the opportunity to learn it at school can increase the number of people in the United States who can communicate with people who are hard of hearing or have speaking disabilities. Many students would benefit from this chance to learn to sign, even if they don't pursue a career in it. 
"Adding ASL as an elective in public schools will provide a bridge in communication between the mainstream world and the deaf community and would eliminate any misconceptions about deaf individuals and the deaf community," said Mr. Mendenhall.
This story was originally published on Hawk Eye on November 10, 2021.