Op-Ed: The Negative Impacts of Virtual Proctors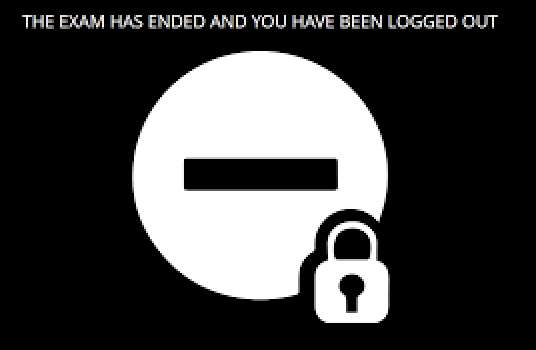 By Mason Cruz-Abrams, Vail Mountain School
November 12, 2021
"The exam has ended and you have been logged out." I was greeted by this message during a midterm I was taking. The explanation? I had stopped screen sharing with Proctorio, an online "proctor" service that supposedly prevents breaches of academic integrity. This seemingly nefarious behavior was actually caused by something all Mac users experience: my cursor touched the top right corner of my screen, instantly sending my computer into sleep mode. I was forced to have a lengthy discussion with Proctorio support and lost ten minutes of exam time before I was allowed to continue my exam. I spent the remainder of the test bouncing between fear that the test would get shut down and anxiety about time running out. The course I was taking was one where "hard work" and "taking notes" were touted as guaranteed pathways to success; however, it was never mentioned that a negative perception of a student's home environment by either a virtual proctor or teaching staff, normal background activity of one's computer, or external noise in one's home could be a roadblock to a good grade.
Online proctoring services such as Proctorio have been proven to be invasive, discriminatory, and counterintuitive to the mental health of students. The requirement of such services invokes additional anxiety in test-takers' minds that they will be penalized for factors beyond their control, such as a glitch in their computer, noise from a sibling, or technology that is not new enough to satisfy the service's demands. If anything occurs that upsets the software, students risk adversely affecting their course grade, which can hurt their cumulative GPAs, and subsequently, their futures. 
A commonly overlooked element of these services is that they require scans of students' rooms and ID's. Before every exam, a student must use a government-issued passport or driver's license to "prove" their identity. An instructor from the course that the student is taking reviews all testing images and video, so there is no need for identification to confirm the identity of students; regardless, sensitive information such as passport numbers and drivers license numbers are recorded and forwarded to those who review the examination. Students' rooms are also under review. At the beginning of every exam in my course, I was forced to use my computer to "show my test environment." Not only did this constitute a significant invasion of privacy, it took up valuable test time, since the exam time limit did not pause for the room scan. 
Education is already expensive, and many institutions have not changed their tuition to reflect a shift to online learning. For example, the four-credit virtual course I took cost $3,400 for a total of 7 weeks of instruction, or around $57 an hour, considering the 8 hours a week of class time.  Since the class was virtual, none of classroom space, dorms nor supplies needed to be provided, so the theoretical cost of the class should have been nothing more than the salary of the instructors and a Zoom premium subscription. So where, one might wonder, did the nearly quarter-of-a-million dollars in tuition from a class of about 60 students go? A large part of it went toward Proctorio fees.
Phyllis Erdman, the Executive Associate Dean for Academic Affairs at Washington State University, told her staff in an email that "extensive use of Proctorio could be very costly to the college." Budgeting for software that hasn't been proven to make a massive difference in academic integrity on exams is increasing the barrier of entry to colleges and universities for many low-income students. The University of Illinois at Urbana-Champaign announced in February that it would discontinue using Proctorio past its Spring semester due to the "significant accessibility concerns associated with Proctorio, along with other worries about privacy, data, and security." This is the type of change that needs to occur across higher education: it needs to be recognized that it's difficult enough to learn from home, and that invasive online proctoring services do nothing but increase the challenge facing students already struggling to adapt to an online-learning environment. 
The entire purpose of these services is to prevent academic dishonesty, but what if they don't even do that? According to VICE, students are "easily cheating" test proctoring software without getting caught, using FaceTime, screen-mirroring technology, and putting notes in places that the room scan doesn't notice. All of these beg the question: do these services actually make a difference? The answer is, unfortunately, that they don't. This technology is more likely to hurt well-intentioned students than ill-intentioned ones. The fact of the matter is this: these services are detrimental to academic progress, and as such, all institutions should end the continued use of them for online learning.
This story was originally published on Gore Range Gazette on November 10, 2021.