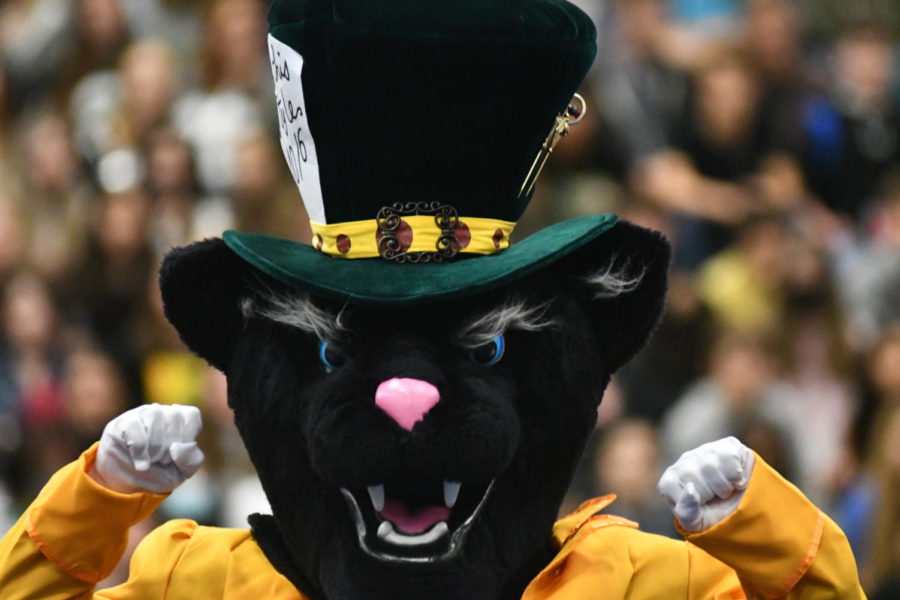 Alicyn Logue
Ashton Smith rushed from one event to another.
He dressed in his Parker the Panther suit for Friday night football. The next morning he posed with little kids at the Silver Star dance camp.
He then rushed to stand near the band bus and wish them luck on their way to a competition. That night he put on zombie face paint for the Trunk or Treat event at school.
Smith goes non-stop — most of the time, in a panther suit.
The senior cheer captain, 5-time cheer All-American and a four-year letterman hardly resembles the nonverbal 3-year-old boy his mom used to worry about.
"When you come from a child who is autistic and has no friends, no desire, doesn't really know what their purpose is — and then finds something, it changes his life," Leslie Brocken, Ashton's mom, said. "As a mom it's almost a sigh of relief and very freeing to know that your child has found something and that they belong now and they have a purpose."
When Smith was young he kept to himself and preferred to be alone. Since becoming the KMS mascot in eighth grade Ashton became outgoing and talks to almost anyone.
"[Becoming mascot] changed his world," Brocken said. "All of a sudden he had lots of friends. He was able to expose himself to other people and realize 'Oh, OK.'"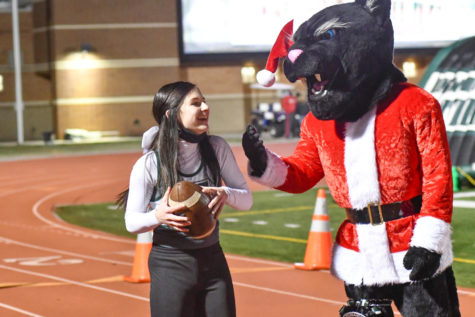 Smith was introduced to the world of mascotting in sixth grade when his elementary school principal asked him to be Woody the Racoon at Woodland Hills Elementary spirit nights and events.
That is where it all started. He was Woody for two years before trying out for Kingwood Middle's mascot in eighth grade.
Finally, Smith had found his "thing."
"Even though it was hard, I never told myself to quit," Smith said. "I still kept on going because it generally felt like a calling to me. The only thing that I hate about being called a mascot is being called a furry 24/7. I'm not a furry."
He earned the mascot role on varsity as a freshman when he arrived at Kingwood Park.
It only took a few weeks before mold in the costume was making him sick. A new costume solved that problem, but then he had to deal with the heat and dehydration. He'd wear the suit 30 minutes a day to build up his endurance. Every time he prepared for an event, he hydrated days before it.
To keep from overheating he tried using cooling towels, water bottles and even headbands in the suit. What ended up working most was eating healthier, working out and simply building up the endurance.
"It is recommended for mascots to stay in the suit for 45 minutes and take a break before going back," Smith said. "Mostly, it is knowing your limit. And if you know your limit, don't go past it because mascots are at risk of having a heatstroke or passing out. Anything can happen in that suit."
Smith has made Parker his own. He has made signature dance moves, props and costumes for Parker. All costume and prop ideas are Smith's. Brocken helps put them into action.
Smith wants to continue to mascotting past college. He said walking away from Parker will be hard.
"It's sad, honestly, knowing that after this there are no more tryouts, no more skits, no more Parker," Smith said. "And knowing that after this there is no one to pick up the pieces, because once I'm gone, I'm gone."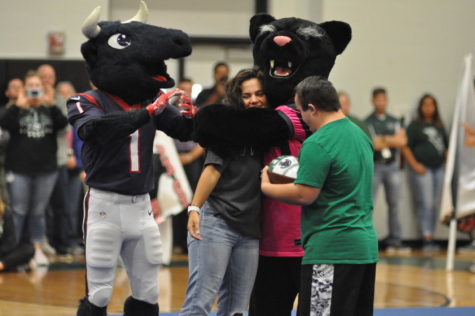 During Smith's freshman year, he met the Texans' mascot Toro at a pep rally. Toro visited to participate in a homecoming proposal, and Smith has stayed in touch with him. He even trained at a higher impact training camp with Toro and Orbit, who is the Astros' mascot.
"He wants to go all the way with [mascotting]," Brocken said. "That's his joke with Toro — 'Enjoy your job while you have it.'"
To Smith, mascotting is his job even now. He balances being Parker with two part-time jobs and schoolwork. He practices at least 10 hours a week in addition to representing Kingwood Park at school, district and community functions.
His teammates describe him as focused, dedicated, spirited and kind hearted.
"He adds a lot of enthusiasm and craziness to the team," senior cheerleader Madison Kerr said. "He's an amazing teammate, because if you're down he'll try to talk to you about it and bring you up."
Smith credits Parker for helping him grow into the person he is today.
"I'm not fully autistic but I am on the spectrum to a sense," Smith said. "I was very timid. I wouldn't really speak to anybody, like I generally just wanted to be on my own and be a one-man show.
"It has influenced me to just be bigger. Yes quite literally in the suit but also to change my mentality to be bigger. Get bigger goals, obtain bigger goals."
This story was originally published on Park Times on November 29, 2021.