Bridget Crossman
While running from the cops, a driver killed Bellaire alum Fnan Measho while he was working as a valet on Oct. 1 at Prospect Park. Measho was a college freshman at the University of Houston and the breadwinner for his immigrant parents and three younger siblings. While at Bellaire, he was heavily involved in athletics.
"He was the biggest cheerleader for the track and cross country team," track teammate and friend of Fnan junior Bridget Crossman said. "He gave his teammates pep talks and got excited for them when they hit personal records and accomplishments. He was always making everybody laugh. When I found out about his death, I immediately just went outside and started crying. My friend's cat came up and started comforting me. It was like a little sign from God, or maybe even Fnan."
According to Crossman, Measho cared for everyone.
"Fnan didn't really say 'I love you' but he showed it in his own little ways," junior Bridget Crossman said. "He's still bringing people together through love and joy, just like he did when he was here."
Measho was a fun and quirky guy who liked to watch anime with his friends.
"One memory that comes to mind about Fnan is when he promised me that he would not run with me anymore unless I watched ten episodes of anime before the next day," senior Dylan Ballard said. "I watched it even though it wasn't my style because I would do anything for Fnan. The day after I watched the episodes, we talked about it throughout the whole run, and then he said I had to watch another twenty if I wanted to run with him the next day. There was always something funny like that going on."
Yearbook adviser and teacher Andrea Negri had Measho as a student in her Principles of Arts and AV class.
"I can picture where he sat in my fourth period class in the old building," Negri said. "I can still hear the way he'd go 'Miss' when I was giving him a hard time or when he was starting to give me one."
Negri found out about his death on Oct. 2 just before she went to bed.
"I remember the night of the accident – I saw a story that said it was a Bellaire graduate," Negri said. "I didn't automatically assume it was a student I knew. Then, when I saw his name, I really shouted, 'Oh, no!' That was my Saturday night, and I just spent the rest of the weekend alternating between being really angry or really sad. It's just a stupid way for anybody to leave this earth. When a student dies, I think a lot about the potential and what could have been."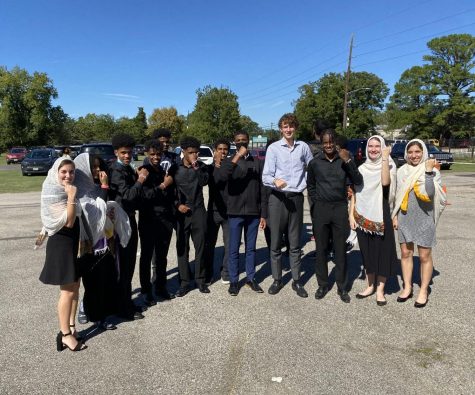 In addition to Measho's family and friends, over 10 of Measho's old cross-country and track teammates attended Measho's funeral on Oct. 16.
"It was amazing; so many people showed up," alumnus of Bellaire and close friend of Measho, Filimon Fiseha said. "The whole cross-country team and Coach Johnson. The funeral made me feel so good knowing Fnan touched so many people's hearts."
Fiseha spoke at Measho's funeral and said that Measho taught him many life lessons.
"Fnan taught me to never give up," Fiseha said. "I remember when he first joined our cross-country club, and he told me that he was going to be one of the fastest people at Bellaire. I laughed and told him, 'Good luck', but Fnan actually did what he said he was going to do. His determination, commitment and dedication has inspired and taught me so much. This is a trait I will always admire of our beloved brother Fnan."
The funeral and burial were held at Debre Eyesus Eritrean Orthodox Church and conducted in Tigrinya, an Eritrean dialect.
"I think that the burial was worse emotionally than the biography," Crossman said. "When they put his casket in the ground, there was a collective wail and his parents were crying out things like 'Bring my son back', which my friend Soliana translated for me since I can't speak Tigrinya. It was really heartbreaking to watch a parent mourn for their son. It is just… horrible."
Alumnus from Bellaire Abo Jimata said that Measho was one of his closest friends.
"We lived pretty close to each other," Jimata said. "He used to come over to my house every day, and we used to go to school together and come back home together. Fnan and I shared a lot of miles and routes these past three years, and now knowing that I won't be able to see him anymore breaks my heart. "
Jimata said Measho was always there for him.
"I hope he knows how many people's hearts he touched and I hope he knows how many people cared about him," Jimata said. "Rest in peace Fnan."
This story was originally published on Three Penny Press on November 16, 2021.