Omicron causes long lines, delayed tests, student absences
There were around 100 students absent every day before winter break, according to attendance clerk Amy Gayosso. On Jan. 3, the first day back, there were 570 absences. That's about 15 percent of the student body.
"It feels like we keep dwindling, one by one," junior Rahel Ayele said. "I always notice when another person doesn't show up. It feels eerie going to school every day."
First detected in the US on Dec. 1, the Omicron variant is more contagious than previous variants, which has led to a drastic increase in COVID-19 numbers.
"Before winter break there were around 3 active COVID cases at a time," school nurse Chanthini Thomas said. "Now, we're getting almost ten times that amount every day."
Because of the rise in cases, Principal Michael McDonough released an announcement Wednesday evening regarding final exams.
"As a campus, we have agreed upon a near three-week window for students to make up their exam(s)," McDonough said. "This range of time will run from Jan. 19 – Feb. 4, 2022. Each student will organize a scheduled time with their teacher(s) to complete any missed final exam(s). "
In the announcement, McDonough urged students to stay home.
"The health of your child must be at the forefront," McDonough said. "If your child is confirmed positive or presumed positive, then they should be home and not at school. It is important, for the health of everyone, that we all follow these expectations."
Junior Bridget Crossman said she is happy the administration made the announcement.
"It just makes sense with how many people have COVID right now," Crossman said.
According to Thomas, the increase in cases started shortly before students left for winter break.
"On Dec. 14, three days before the start of break, I learned that my husband's friend was exposed to someone with COVID-19," AP Language and Composition teacher Stephanie Ragno said.
Ragno decided to get tested but found that CVS and Walgreens were all booked.
"I ended up having to go to urgent care," Ragno said. "I left school around 1 p.m. and was told I had to wait in my car when I got to the testing site."
Ragno said she had to wait in her car for six hours until finally getting tested around 7 p.m.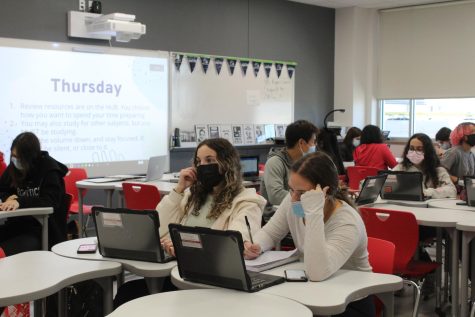 "This wasn't just a one time occurrence because three days later, the same thing happened to my husband," Ragno said. "He arrived at the testing site around 2 p.m., but didn't get tested until 9 p.m, seven hours later."
According to Crossman, it's gotten a lot harder to get tested in the past few weeks.
"I have gotten COVID tested multiple times over the past year and on average it only took 15 minutes," Crossman said. "However, on Dec. 17, right when it seemed like everyone was starting to contract COVID, my brother started feeling unwell."
Crossman said her family decided to get tested and was shocked when they pulled up to the testing site and found 10 cars waiting in front of them.
"I had only maybe seen one or two cars in the past," Crossman said. "Although the actual test only takes a couple of minutes, the whole ordeal took over an hour just because we had to wait in line."
To try and provide testing opportunities, Houston ISD hosted testing on six campuses on Jan. 2, the day before school resumed.
"I had never been COVID tested before, so I was excited when I got the email from HISD saying Bellaire would be a testing site," AP Statistics teacher Glenda Kubena said. "As soon as I saw it, I signed up for an appointment at 3:45 p.m."
Kubena thought it would be a good idea to get tested since she had been around family over the holidays.
"Once Sunday rolls around, I get to my appointment 10 minutes early," Kubena said. "The line is wrapped around the school; it seemed to be like a mile long. I just waited in my car, but the line was going slowly."
Around 4:30, 45 minutes after Kubena's appointment time, she first saw the front of the school where she was supposed to get tested.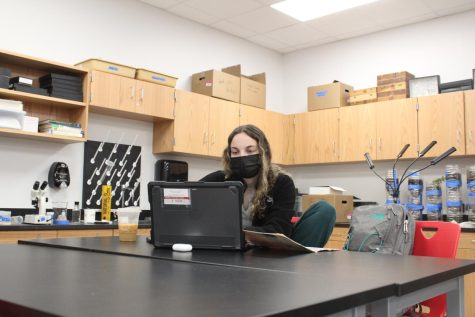 "All of a sudden, the police officers start waving at people, and the line starts going fast, and I thought, 'oh my gosh, they're getting everybody in,'" Kubena said.
However when Kubena got to the front of the line she realized why the cars started going faster: the testing site was closed.
"It just makes no sense," Kubena said. "I assumed they ran out of tests but I had a confirmed appointment. They must have known how many people were coming. But no, I wasted over an hour of my life and vacation in line, and I still don't have a test."
Kubena said the unavailability of tests will only worsen attendance issues.
"I have kids home sick in every class," Kubena said. "If they aren't able to get tested quickly and accurately, then it will only prolong their absences. But here we are in school, moving forward. All I can say is thank goodness that every single one of my COVID positive kids is vaccinated."
Because Kubena is concerned students will get behind, she is hosting COVID office hours in the afternoon for all students at home.
"I want to try and help and see if they're ok," Kubena said. "If I'm exposed, that would be terrible. I would have to stay home and not even run Teams calls. I am very conscientious about my calendar and pacing when I teach, but this could mess it up. To make matters worse, there are almost no substitutes to cover for sick teachers."
HISD is in the process of setting up more testing sites.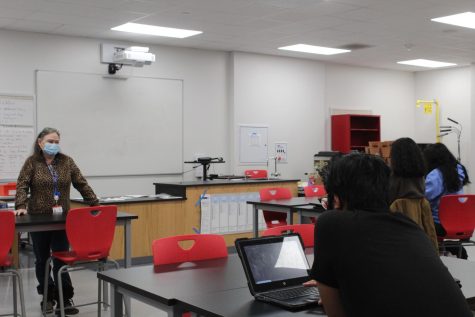 "All HISD parents can fill out a one-time consent form for their children to get tested for COVID," Thomas said. "However, testing isn't currently available to everyone as HISD is only rolling out testing in some schools, and we were given no information as to when this opportunity will be available at Bellaire."
In light of the surge in cases, Thomas said the most important thing she can tell people now is, if they aren't feeling well, to stay home.
"Get a PCR test," Thomas said. "It's the people that go to school sick that are spreading it to others. Many people here aren't vaccinated and could have bad symptoms. Body aches? Chills? No sense of taste? Just please don't come."
This story was originally published on Three Penny Press on January 9, 2022.